Package at Oakland federal building rendered safe; authorities say suspicious device was 'hoax'
OAKLAND, Calif. - A federal building in downtown Oakland was evacuated Wednesday afternoon after a possible explosive device was found, authorities said. By 5:30 p.m. the package was rendered safe, according to Alameda County Sheriff's Department. Authorities now characterize the device as a "hoax."
Oakland police said the possible bomb was found at the Ronald V. Dellums Federal Building on Clay Street.
At around 12:30 p.m., a man acting suspiciously was allegedly seen on video leaving the item near some planters in a courtyard.
According to the Federal Bureau of Investigation, a written note was included with the device. The FBI said this was a "hoax device designed to get our attention."
"I would call this a hoax device, best way to describe it. Not going to get into details on what it looked like or how they put it together," said Lt. Ray Kelly, an Alameda County Sheriff's Office spokesman. "When we got into the package and took it apart that's when we discovered the message."
Investigators say it was a handwritten note addressed to law enforcement officers, but would not comment on what the message said.
"There was a specific message for law enforcement that was left. We have since taken all that evidence and turned it over to the FBI," Kelly said. 
And even though it wasn't a real bomb, the FBI says the suspect could face federal charges.
"There's potential for weapons of mass destruction charges. We really need to determine the motivation behind it though before we can go down that path," said John Blair, Asst. Special Agent in Charge at the FBI's San Francisco office.
In summer of 2020, a federal officer was killed and his partner was shot at this federal building. 
The commotion disrupted business for many working in the area. 
Raynesha McGhee-Reed, who was also working in the Federal Building said she was on the 15th floor when she had to leave, with no time to collect her things.
"It's frustrating," said McGhee-Reed, shivering outside in short sleeves and explaining the possessions she'd had to leave behind, "My coat, my shoes, my bag, my phone."
Police also evacuated surrounding businesses as a precaution.
Alejandro Sauceda works at a fitness club right across the street. He says as soon as staff heard the evacuation orders they helped some two dozen members get out.
"I immediately took action and went upstairs and started getting all of our club members together, so we can get them out of the building as soon as possible," said Saucedo, "I was thinking safety, safety, safety."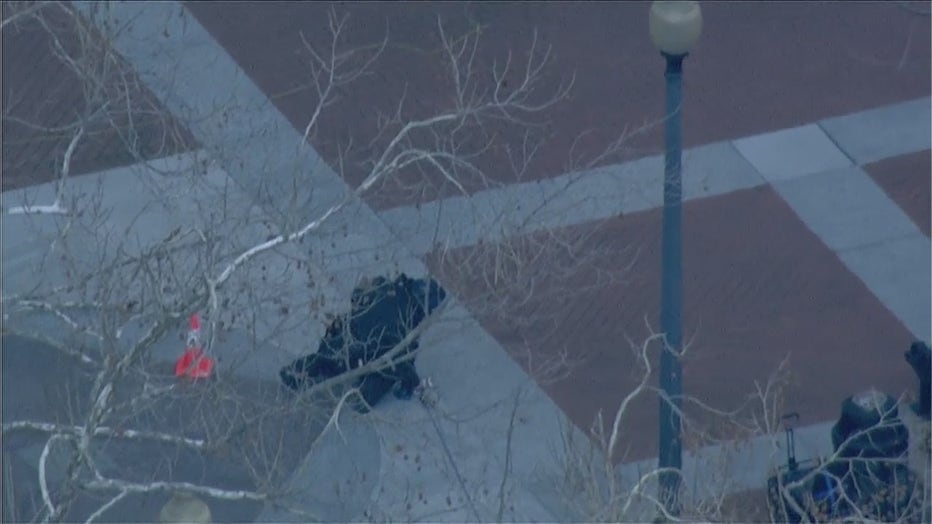 Police said they are concerned about a device left in a courtyard at the Oakland federal building by a man who was acting suspiciously.  (KTVU FOX 2)