Phillies fall 4-2 to Giants, set new low before break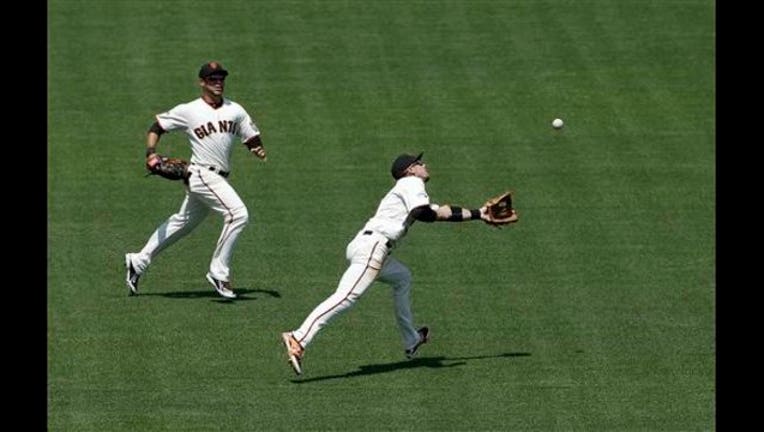 article
SAN FRANCISCO (AP) — The Philadelphia Phillies were in quite a rush to get out of San Francisco on Sunday after completing the worst first half in franchise history.
No team in baseball might need a break more than them.
Andrew Susac's three-run homer highlighted a four-run fourth inning against Chad Billingsley, handing the last-place Phillies a 4-2 loss to complete a three-game sweep.
Philadelphia (29-62) set the franchise record for the most losses before the All-Star break, surpassing the previous mark of 61 in 1997.
"One good thing is we have that four-day break. We can go home, relax, take the pressure off," interim manager Pete Mackanin said. "Pitching and defense are the main things. Our defense is OK, but our pitching needs work."
Billingsley gave up 10 hits in five-plus innings. Ryan Howard hit two catchable balls that dropped in the outfield to drive in Philadelphia's runs, including one in the ninth.
But the Phillies never really challenged the reigning World Series champions.
The loss capped a forgettable first half for the Phillies, who have dropped five in a row. Ryne Sandberg resigned as manager June 26, and Mackanin has failed to stop the slide so far.
"It's been difficult. But we still have to go out and play hard, try to learn and hope things get better," said shortstop Freddy Galvis, who went 0 for 3.
San Francisco (46-43) is suddenly looking like a contender again — though playing the Phillies helps.
Chris Heston (9-5) allowed one run and seven hits in 6 2-3 innings. He struck out seven and walked none to help send the Giants into the break on a high note.
"We're not where we want to be, obviously, but you just want to hang in there. You're a nice win streak away from being where you want to be," manager Bruce Bochy said.
The Giants got going by turning three double plays in the first four innings, with Buster Posey starting two of them.
The All-Star catcher, playing first base to get a rest from his regular duties, snagged a bunt by Billingsley in the third and a hard-hit grounder by Maikel Franco in the fourth before smoothly throwing to second each time.
Susac, who started in Posey's place at catcher, also threw out Cesar Hernandez trying to steal second in the first inning. But his biggest contribution came at the plate — not behind it.
After Brandon Crawford's RBI single, Susac hit a three-run drive onto the netting that covers the kale garden over the wall in center. It was Susac's third home run this season.
Santiago Casilla gave up a run in the ninth before getting his 23rd save in 27 chances.
SERIES SWEEPS
It's the seventh time the Phillies have been swept in a series of at least three games this season. The Giants hadn't swept Philadelphia in San Francisco since September of 2000.
TRAINER'S ROOM
Phillies: 2B Chase Utley fielded ground balls and resumed running as he continues to progress from a right ankle injury that landed him on the disabled list June 24. He hopes to begin hitting again Friday.
Giants: LHP Jeremy Affledt (strained left shoulder) could make a rehab start before returning this month.
UP NEXT
Phillies: Philadelphia starts a six-game homestand against the Marlins on Friday. The post-break rotation is expected to begin with Adam Morgan (1-2, 4.32 ERA), followed by Billingsley and Cole Hamels.
Giants: San Francisco starts a six-game road trip Friday at Arizona. Bochy said the post-break rotation depends on how much Madison Bumgarner pitches in the All-Star Game, but Tim Hudson (right shoulder) will start one of the first five games. Bochy indicated he'll stick with a five-man rotation but will need to decide which starter is the odd man out now that Bumgarner, Heston, Hudson, Ryan Vogelsong, Matt Cain and Jake Peavy are all healthy. Tim Lincecum (bruised right forearm) is still not ready to rejoin the rotation, Bochy said.