Randle powers Stanford past Rhode Island in NIT second round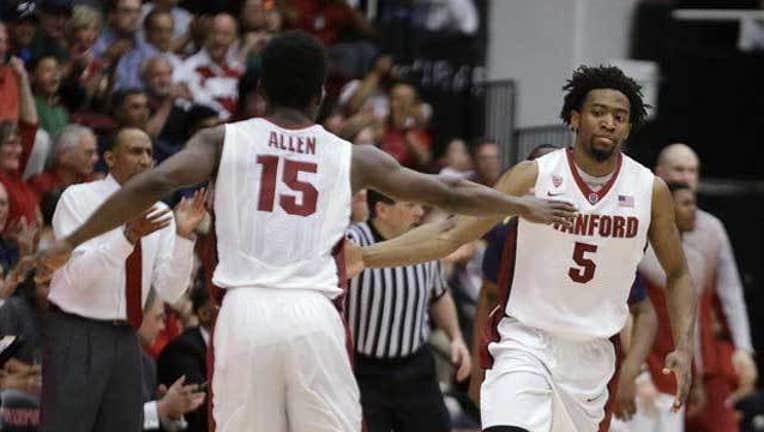 article
STANFORD, Calif. (AP) — Chasson Randle scored a career-high 35 points to lead Stanford to a 74-65 victory against Rhode Island in the second round of the NIT on Sunday.
Randle came into the game with 2,275 career points, third on Stanford's all-time list, and now needs 27 to break Todd Lichti's school record.
"I just want to keep winning, to be real," Randle said. "It would be a great achievement to be the all-time leading scorer, but I just want to go out on a right note with this team."
Anthony Brown had 16 points for Stanford (21-13) and Stefan Nastic added seven points with 11 rebounds. Randle made 9 of 16 from the field and 15 of 19 free throws.
E.C. Matthews had 24 points and seven rebounds for led Rhode Island (23-10). Hassan Martin added 16 points and eight rebounds.
Stanford, which won the NIT title in 1991 and 2012, outscored Rhode Island 36-12 from the free throw line, taking 49 foul shots compared to 21 for the Rams.
"It's been an amazing season for us," Rhode Island coach Dan Hurley said. "Obviously, the difference in the game was in the free throws. The free-throw discrepancy played a huge role in the game. I was so proud of the way we fought, but I thought we deserved better than what we got there."
Stanford led 44-41 with 12:45 left to play, but went on a 12-5 run to extend its lead to 56-46 with under six minutes left. Randle made it 60-51 with a pair of free throws after a flagrant foul on Rhode Island's Jarvis Garrett.
"We knew coming in that they were a very tough team," Randle said. "They're scrappy, do whatever it takes to win the game. We just wanted to respond. I think our guys did a good job of that."
Randle scored 18 points in the first half as Stanford built a 31-27 lead. He made Stanford's first six field goals, and his teammates were 0 for 18 until Marcus Allen's tip-in with 3:55 left.
"My dad was here today," Randle said. "For him to be here today and be able to see that is special to me."
___
TIP-INS
Rhode Island: The Rams fell to 5-16 all-time against Pac-12 teams. Rhode Island's last victory against a Pac-12 team was on Nov. 26, 2002.
Stanford: Randle surpassed his previous career high of 33 points, which he accomplished three times. ... Stanford improved to 4-0 all-time against Rhode Island and beat the Rams on the 17th anniversary of its 79-77 comeback victory in the 1998 NCAA Midwest Regional Final.
UP NEXT
Rhode Island: Season is over.
Stanford: Hosts Vanderbilt on Tuesday in the quarterfinals.