Regulators OK 'net neutrality' rules for Internet providers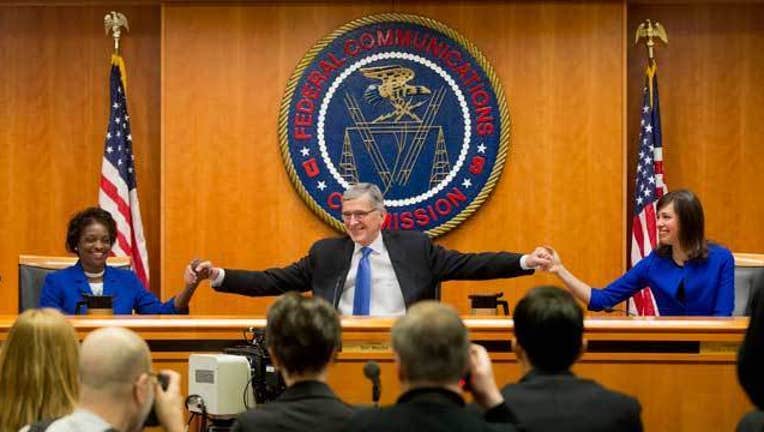 article
WASHINGTON (AP) — Internet service providers like Comcast, Verizon, AT&T, Sprint and T-Mobile now must act in the "public interest" when providing a mobile connection to your home or phone, under rules approved Thursday by a divided Federal Communications Commission.
The plan, which puts the Internet in the same regulatory camp as the telephone and bans business practices that are "unjust or unreasonable," represents the biggest regulatory shakeup to the industry in almost two decades. The goal is to prevent providers from slowing or blocking web traffic, or creating paid fast lanes on the Internet, said FCC Chairman Tom Wheeler.
The 3-2 vote was expected to trigger industry lawsuits that could take several years to resolve. Still, consumer advocates cheered the regulations as a victory for smaller Internet-based companies which feared they would have to pay "tolls" to move their content.
Net neutrality is the idea that websites or videos load at about the same speed. That means you won't be more inclined to watch a particular show on Amazon Prime instead of on Netflix because Amazon has struck a deal with your service provider to load its data faster.
Opponents, including many congressional Republicans, said the FCC plan constitutes dangerous government overreach that would eventually drive up consumer costs and discourage industry investment.
Republican FCC Commissioners Mike O'Rielly and Ajit Pai, who voted against the plan, alleged that President Barack Obama unfairly used his influence to push through the regulations, calling the plan a "half-baked, illogical, internally inconsistent and indefensible document."
Michael Powell, a former Republican FCC chairman who now runs the National Cable and Telecommunications Association, warned that consumers would almost immediately "bear the burden of new taxes and increased costs, and they will likely wait longer for faster and more innovative networks since investment will slow in the face of bureaucratic oversight."
Sen. John Thune, R-S.D., chairman of the Senate Commerce Committee, said he would pursue industry-friendly legislation, although it was unlikely that Obama would sign such a bill. The FCC's five commissioners are expected to testify before a Senate panel March 18.
"One way or another, I am committed to moving a legislative solution, preferably bipartisan, to stop monopoly-era phone regulations that harm Internet consumers and innovation," Thune said in a statement this week.
It's not true that consumers would see new taxes right away. The Internet Tax Freedom Act bans taxes on Internet access, although that bill expires in October. While Congress is expected to renew that legislation, it's conceivable that states could eventually push Congress for the ability to tax Internet service now that it has been deemed a vital public utility.
"Read my lips. More Internet taxes are coming. It's just a matter of when," Commissioner Pai said.
For years, providers mostly agreed not to pick winners and losers among Web traffic because they didn't want to encourage regulators to step in and because they said consumers demanded it. But that started to change around 2005, when YouTube came online and Netflix became increasingly popular. On-demand video became known as data hogs, and evidence began to surface that some providers were manipulating traffic without telling consumers.
By 2010, the FCC enacted open Internet rules, but the agency's legal approach was eventually struck down. FCC officials are hoping to erase the legal ambiguity by no longer classifying the Internet as an "information service" but a "telecommunications service" subject to Title II of the 1934 Communications Act.
That would dramatically expand regulators' power over the industry by requiring providers to act in the public's interest and enabling the FCC to fine companies found to be employing "unreasonable" business practices.
The FCC says it won't apply some sections of Title II, including price controls. That means rates charged to customers for Internet access won't be subject to preapproval. But the law allows the government to investigate if consumers complain that costs are unfair.
Also at stake Thursday was Obama's goal of helping local governments build their own fast, cheap broadband. Chattanooga, Tennessee, and Wilson, North Carolina, have filed petitions with the agency to help override state laws that restrict them from expanding their broadband service to neighboring towns.
The FCC approved these petitions, setting a precedent for other communities that might want to do the same.
Nineteen states place restrictions on municipal broadband networks, many with laws encouraged by cable and telephone companies. Advocates of those laws say they are designed to protect taxpayers from municipal projects that are expensive, can fail or may be unnecessary.