Rep. Barbara Lee officially launches U.S. Senate campaign
OAKLAND, Calif. - Congresswoman Barbara Lee (D-Oakland) officially announced on Tuesday that she's running to replace U.S. Senator Dianne Feinstein in 2024. 
"The Senate needs a perspective that I bring with my life experiences, as a progressive Black woman who not only fights for what is right, but also gets the job done," Lee told KTVU in her first TV interview of the campaign. "I have a proven record, I have experience on many issues working with Democrats and Republicans to get the job done. That gap needs to be filled, I'm really looking forward to this campaign and to winning." 
Lee will look to take her campaign and message beyond the Bay Area and try to appeal to Democrats, Republican and independents. 
"I'm going to go everywhere I can so people can understand I see them, and that I want to be their champion and put forth my work I've been doing all along in Congress on their behalf," said Lee. 
Lee is currently serving her 12th term in the House and points to her work, championing social justice issues. 
She also famously was the lone member to vote against the war in Afghanistan after 9/11. She hopes to share her personal experiences with voters including integrating her high school cheer team, having an abortion, and being a survivor of domestic violence. 
On the issues, she says California's priorities are her priorities. 
"The climate crisis has got to be a priority for me, it is now," Lee said. "Secondly, housing, it's unconscionable we have so many unsheltered people and I think the federal government should do more."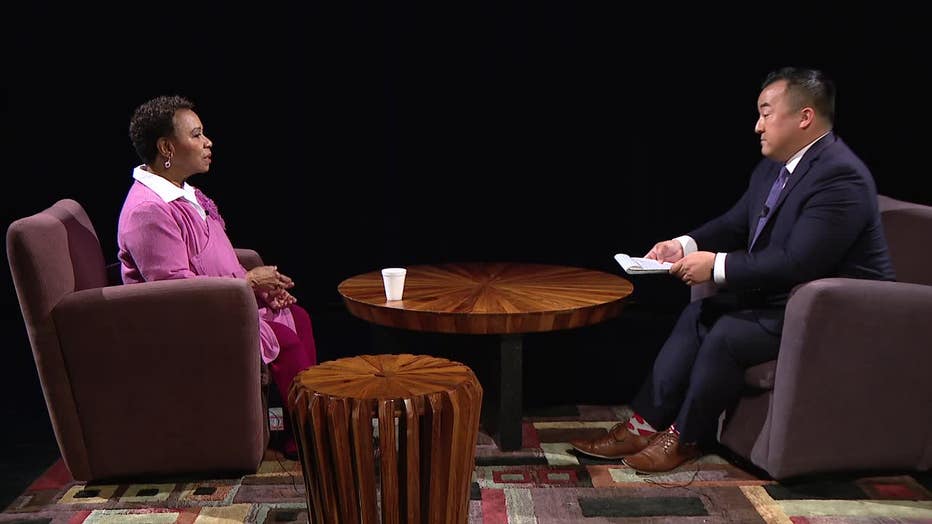 Lee chose to launch her campaign during Black History Month. There are currently no Black women in the US Senate, there have only been two in the upper chamber's history.
"Not only do I intend to fight for people who look like me, I intend to fight for the whole state and everyone—because I know what challenges are and I know what people are faced with, with their everyday lives." 
Lee is jumping into a race that includes Southern California representatives Katie Porter and Adam Schiff. 
All of them, tout their progressive values. 
"When you look at the issues I've championed over the years, some call me the OG: Not original genius, it's original gangster," Lee said.  "I've been out there fighting for structural change, institutional change, not tinkering around the edges." 
As the three candidates – and whoever else joins in the field -- make their case to voters—endorsements are being rolled out. 
Former House Speaker Nancy Pelosi already endorsed Schiff. 
Lee knows she won't get everyone's approval. 
"I respect the speaker and she has the right to endorse who she wants to endorse, we'll be rolling out my endorsements," said Lee. "The point of an election is you connect with the voters."
Connecting also costs money, and latest reports show Lee's campaign has about $52,000 compared to Porter's $7.4 million and Schiff's $21 million. 
Lee contends she raises millions for others in the party and says she has a winning strategy.
 "I'm going to raise money for a campaign that's going to be a campaign of getting people to the polls," said Lee. "I'll have enough for the media and to do anything the traditional way, also enough money to go to the voters." 
One issue donors have raised: her age. 
Of the three confirmed candidates trying to replace 89-year-old Feinstein: Porter is 49, Schiff is 62 and Lee is 76. 
"I say try to keep up with me first of all, but secondly, let me just say experience counts for something," Lee said.
Lee thanked her East Bay constituents for their continued support and said she's ready to get her message out.  
"People have to be inspired," Lee said. "And I know how to inspire people, because I'm authentic, I'm going to tell the truth, engage them, and let them know they're going to be seen."