Residents of Oakland complex remain displaced after storm floods garage, leaving cars inundated
OAKLAND, Calif. - Frustrated residents of an Oakland apartment complex remained evacuated from their homes on Tuesday, after the massive storm over the weekend flooded out their building's garage, leaving tenants not only displaced but many unable to access their vehicles for days. 
DaVina Brown said she and dozens of families from the Coliseum Connections apartment complex, located across from the Coliseum BART Station, were forced to leave their homes on New Year's Eve because the flooding forced the power to be shut off.  
"PG&E cut power to the building because all electrical panels are in the flooded garage," she said in a Facebook post on Tuesday, adding, "At least 40 families are now homeless. Some of us had vehicles parked in the garage that is now FILLED WITH WATER. Our vehicles have been sitting in water for now 72 hours."
SEE ALSO: Bay Area storm photos show flooding and damage
SEE ALSO: Bay Area rains: Trouble everywhere
She shared how one of neighbors who was in a wheelchair had to scramble to evacuate. 
"We had a man living in a building living on the third floor. He had to climb out of his wheelchair to scoot out the building to get out," Brown said.  
She told KTVU, as of Tuesday, the garage remained flooded and work crews had not made much progress in draining the area. She also said the complex's garbage room was located in the garage, so the floodwaters were mixed in with floating trash.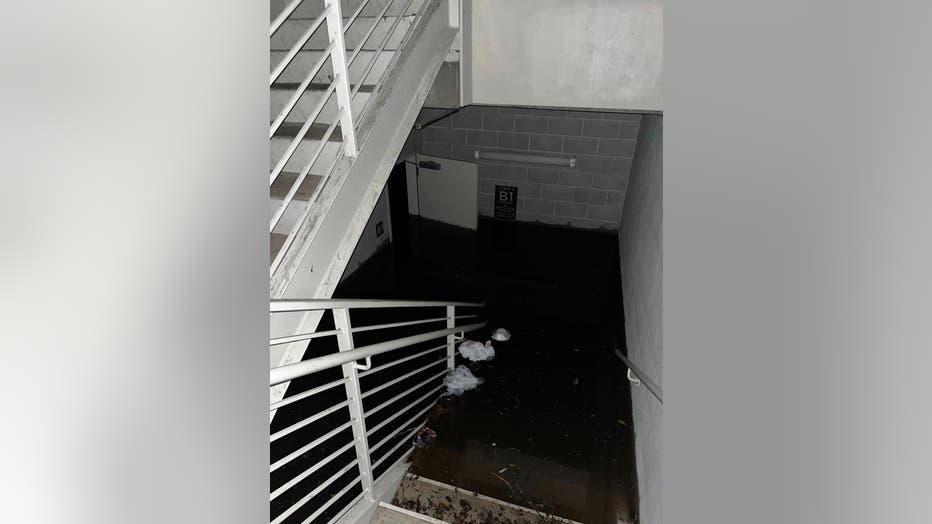 Flooded garage at the Coliseum Connections apartment complex in Oakland. Residents said the storm on Dec. 31, 2022 led to major flooding, forced the power to be shut off and prompted the building to be evacuated.  (DaVina Brown)
"Many just paid rent, bought groceries, made car payments, & some just moved into the building within days of the flooding. Some like myself work from home & some had all their work equipment in their vehicles and are unable to work," she said.
Brown shared video from a neighbor who was among some residents who took the risk of going into the garage and driving their vehicle out through the floodwaters.
The residents were being put up at the nearby Courtyard Marriott hotel. Brown said that they had initially been told they would be able to return home by Thursday, but she said that's now been extended to Sunday. 
The Oakland woman also expressed concern that it could be even longer with the forecast showing another powerful storm was set to hit the region, with more rain expected to make the flooding only worse.
Another major concern, she said, was the security of people's homes. Brown said the complex had been victimized multiple times by thieves who had targeted the property, noting mail theft has been a reoccurring problem. 
She shared the most recent letter from management that said, "We have security that will be patrolling 24 hours a day for the next few days while the power is being restored to the building."
Despite that promise, Brown expressed doubt that enough was being done to prevent thieves from taking advantage of the situation. 
KTVU has reached out to Coliseum Connections' management, which did not immediately offer a comment. A building official did direct inquiries to the Oakland Public Works Department, suggesting the flooding was caused by the city's storm drain issues. We did reach out to the department but did not receive a response by the time this story was published. 
Brown said she and her family had to start the new year in a hotel room and got emotional as she explained that her 18-year-old daughter, who was home for the holidays from college, was distressed as she got ready to head back saying, "I have to leave my family in this mess to go back to school."
Brown also expressed compassion for many of the other residents who, she said, were really struggling, especially the families with young children. "It breaks my heart when I look at the children & the babies stuck in this hotel whose lives have been turned upside down," she wrote on Facebook.
The mother of three noted that dinners were being provided, but the residents were on their own to secure the rest of their meals, which was getting expensive, especially since they had no way to cook their own food in their hotel rooms.
Brown included a positive note amid the difficult situation, saying she and her neighbors were coming together and offering each other support.
But she also added that they needed more assistance, as she put out a call to her community, saying any donations, including food would help, until they're able to get back home.
"Everyday we are displaced it gets rougher and it's just the beginning. We've done great as a community supporting one another, but our resources are limited," she said, adding, "I'm praying that we get some type of resolution soon I WANT TO GO HOME."