Rockets' Howard appears ready to play in Game 2 vs Warriors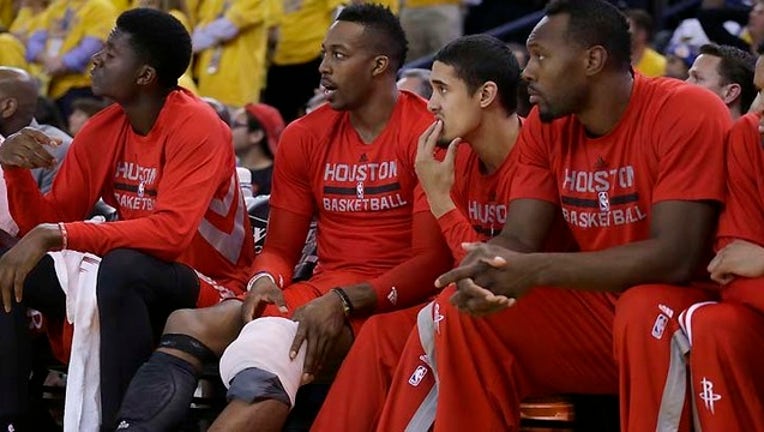 article
SAN FRANCISCO (AP) — Houston Rockets center Dwight Howard appears ready to play in Game 2 of the Western Conference finals against the Golden State Warriors, although he's not ready to say as much.
Howard participated in about half of the Rockets' morning shootaround Thursday in San Francisco with a black brace over his sprained left knee. During the portion of practice open to reporters, Howard worked on his post-up game — turnaround hook shots, short floaters and a few dunks. He didn't do any running.
"It feels pretty good. Hopefully, it feels a lot better tonight," Howard said. "I believe that it's going to be healed. I'm not going to try to worry about it too much. I'm going to try to prepare for tonight."
It was a major turnaround from Wednesday, when Howard sat out practice after an MRI confirmed the injury. Howard hurt his knee in a first-quarter collision with teammate Josh Smith in Golden State's series-opening win Tuesday night.
Howard came back into the game in the second quarter but lacked his usual athleticism and eventually left less than a minute into the fourth. He finished with seven points and 13 rebounds in 26 minutes.
"I want to be out there," Howard said, "but the most important thing is that I'm out there for the whole series."
Smith and James Harden said they were encouraged by Howard's progress and were optimistic he would play. Rockets coach Kevin McHale said Howard remains a game-time decision.
Howard said his ability to jump felt "OK" at shootaround. He didn't get a chance to run, which is something he plans to test out during pregame warmups.
Howard said the swelling and pain in his knee has subsided. Trainers taped up his knee, then put a strong brace around it for the morning workout.
"It's kind of weird, but with the brace on it feels better," he said.
Howard missed 41 of 82 games during the regular season, mostly due to issues with his right knee, but had been playing as well as he has in years during the playoffs.
If Howard can't play, the Rockets could turn to rookie Clint Capela as their starting center. The Switzerland-born Capela, who also played in the NBA Development League this season, had nine points on 4-of-4 shooting and four rebounds in 13 minutes in Game 1.