Sandusky emphatically denies he's guilty of abusing boys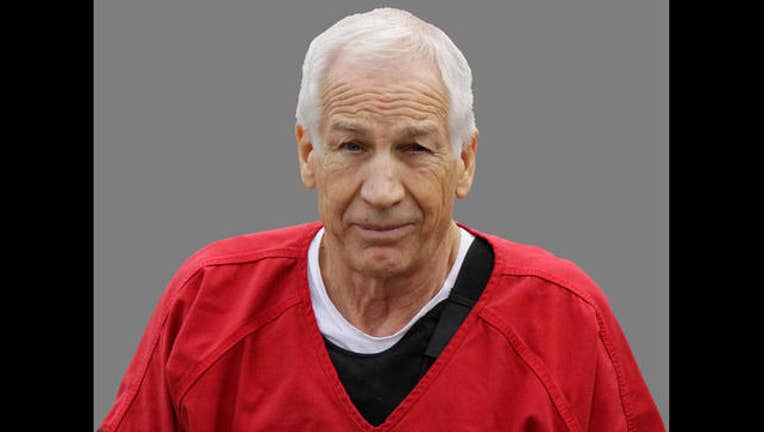 article
BELLEFONTE, Pa. (AP) — Jerry Sandusky forcefully asserted his innocence and described his own sexual history Friday during an hour of testimony as he seeks to have his child sexual abuse conviction overturned or be granted a new trial.
The former Penn State assistant coach was the first witness called in what is scheduled to be a three-day proceeding that focuses largely on whether he received adequate legal representation during his 2012 trial.
He emphatically denied being guilty of sexual abuse and claimed to have never had oral or anal sex with anyone, contradicting victims' trial testimony.
"Absolutely not, that idea is absolutely foreign to me" and "disgusting," said Sandusky, 72, currently serving a 30- to 60-year prison sentence for a 45-count conviction.
Sandusky said he was unfamiliar with criminal court proceedings and relied on his lawyers' advice in waiving a preliminary hearing, not testifying on his own behalf and making other decisions.
He said his lead lawyer at the time, Joe Amendola, told him a preliminary hearing, with testimony from his victims, would add to the public's negative perception of him. But he lost a chance to get more information about the prosecution's case and force witnesses to make on-the-record statements they might contradict at trial.
He was out on $250,000 bail and there were concerns prosecutors might seek a higher amount if he did not waive the hearing.
Asked Friday if he understood what was occurring, he responded: "not totally."
"I know a lot more now," he said. "I couldn't tell you at that point in time the significance of it and what it meant."
Another major topic during the hearing was an interview Sandusky gave to NBC's Bob Costas shortly after his arrest. Sandusky said the plan had been for Amendola to go to New York for the interview, but after he arrived there he decided it would be better to have Sandusky call in and assert his innocence.
Sandusky said he was unprepared and caught off guard when Costas asked if he was sexually attracted to children. He responded: "Sexually attracted, you know, I enjoy young people. I love to be around them. But no, I'm not sexually attracted to young boys."
He was "absolutely surprised," Sandusky testified Friday. "I didn't expect anything that happened. I was not in a good emotional state."
Amendola testified Friday that he told Sandusky beforehand he did not have to answer every question but did not warn him his words could be used against him at trial, as later occurred.
"Never in the world did I anticipate that kind of response," Amendola said.
During the trial, Amendola told jurors in his opening statement that they would hear from Sandusky. But he testified Friday that he warned Sandusky that taking the stand could be perilous after Sandusky's adopted son Matt alleged to investigators midway through the trial that Sandusky had abused him.
Amendola said Sandusky might have then said something that would allow prosecutors to call Matt Sandusky as a rebuttal witness, a risky move that Amendola described as ultimately Sandusky's decision.
But Sandusky testified: "I was a novice and I assumed that Mr. Amendola was the expert on this and that I would take his advice. If he had given me any indication whatsoever that I should testify I would have testified."
The hearing also delved into questions about the identity of the young man known as Victim 2, who former Penn State graduate assistant Mike McQueary testified was abused by Sandusky in a team shower in 2001. A man who claims to be Victim 2 has settled with Penn State, but did not testify.
Amendola said Victim 2 first met with his investigators before trial and said Sandusky did nothing wrong, then hired a civil lawyer and made an abuse claim.
"When he changed his story it raised a lot of questions in my mind ... to the point where he was useless to use," Amendola said.
Eight young men testified at trial that they were abused as children by Sandusky, who spent decades at Penn State under head coach Joe Paterno before his retirement in 1999.
Sandusky previously lost direct appeals to the state's Supreme and Superior courts. The hearing is scheduled for two more days, Aug. 22 and Aug. 23.
Copyright 2016 The Associated Press. All rights reserved. This material may not be published, broadcast, rewritten or redistributed.