SF city supervisor proposes ban on street vendors in the Mission District
SAN FRANCISCO, Calif. - San Francisco Supervisor Hillary Ronen is proposing a ban on vendors on Mission Street for 90 days, in an effort to improve safety for city employees who are tasked with keeping the streets clean and clear.  
SB946 passed in 2018, which decriminalized sidewalk vending in California. 
The law allows local authorities to adopt non-criminal laws to protect public health, safety, and welfare.
The reason Supervisor Ronen wants to take a harder stance with vendors on Mission Street is more than money and the small businesses that suffer because of the fenced items. 
She said, "Department of Public Works employees who are enforcing the law are wearing bulletproof vests, to work every day and many of them are advocating through their union to be reassigned because they don't feel safe doing their job in the Mission. They've had their lives threatened, they've been assaulted."
When asked about San Francisco Police Department's role, Ronen said, "SB 946 doesn't allow SFPD to enforce laws relating to vendors at all."
A recent fencing operation bust led to public works employees seizing hundreds of stolen goods.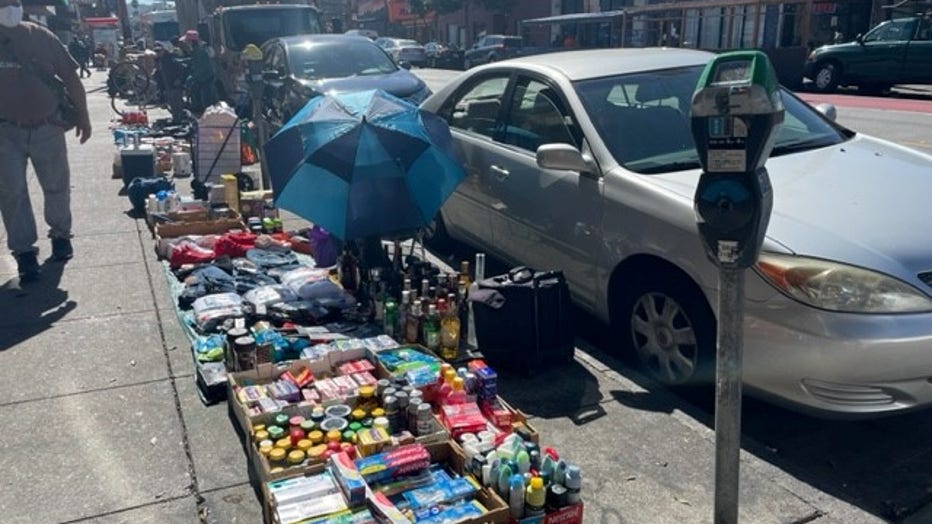 Items for sale in the Mission District San Francisco (Alice Wertz)
Some say, fenced goods are not unusual in this area. Even though some sellers are legitimate. 
Brandon was looking at a large spread of used tools laid out along the curb line, sharing that he brings his own stuff to sell. He makes the trip up from where he lives in Sunnyvale to sell his unwanted stuff.
I asked him, "What do you sell? "
"Anything! cords, socks, hats, anything and everything they'll buy it right here. "
 "I used to donate the stuff to the Goodwill but instead of doing that, I bring it here."
For vendors, it can be a way of survival, especially for new arrivals and those suffering from poverty, according to a neighbor named Raul, who offered, ''That's how people bring food to their families."  
Supervisor Ronen said, the Mission isn't the only area where vendors are a problem. It's citywide.
Stream KTVU on your TV by downloading Fox Local on your Roku, Amazon Fire, AndroidTV or AppleTV device for free. More details here.
She said, "Our small businesses are about to shut down because people can't get into their stores and our residents aren't using public transportation anymore, because they're scared to get on the bus or on BART."
Ronen said she's working with the mayor, city attorney and others to address the issue of safety for city workers and cutting down on the fencing operations. 
With a proposed temporary ban on vendors on Mission Street for 90 days, she hopes to evaluate how it goes and see if the ban cuts down on issues.
"We also need to bring back a sense of civility and order and safety and vibrancy to our commercial corridors in our streets, and that's the balance we're trying to strike. "
Supervisor Ronen says she's working with state legislators like Scott Weiner and others to amend the state law to limit street vendors, giving cities like San Francisco more authority for regulating street vendors.