SF cop sues department over traffic stop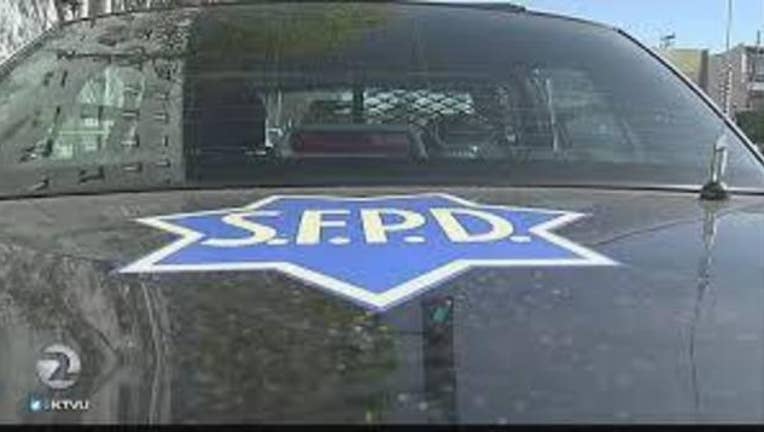 article
(KTVU) San Francisco - Here's KTVU crime reporter Henry Lee's Rap Sheet blog for August 3, 2016:
SF COP FILES NEW SUIT: An African American San Francisco police officer who says he was racially profiled by white colleagues during a traffic stop has filed a new federal civil rights lawsuit against the city.
The complaint, filed in U.S. District Court in San Francisco, says Officer Lorenzo Adamson was wrongfully singled out for criminal prosecution and termination because of his first suit over the traffic stop.
Adamson said he was stopped in his Honda Accord by a field training officer on Lane Street in the Bayview neighborhood about 8:15 p.m. May 30, 2013 for not having a license plate.
Officer Brian Stansbury immediately asked Adamson if he was on probation or parole, a question that made Adamson believe he was being racially profiled.
Adamson says he objected to Stansbury's question and told the officer, "What does not having a plate on my car have to do with being on parole or probation? Shouldn't you be asking for my license, registration and insurance?" the suit said.
Stansbury replied, "That's what we do out here," according to Adamson.
An attorney for Adamson has said his client's license plate had broken off and was inside the car.
Stansbury warned Adamson that he would take him out of the car if he didn't answer his question, the suit said. Adamson got out but became concerned because he believed being asked to exit his vehicle for a traffic violation deviated from standard police procedure, the suit said.
When an officer grabbed Adamson's wrist and told him to sit down, Adamson said he was an officer at the Bayview Station.
Officers then forcefully tackled him to the ground.
A federal jury found that two of the officers didn't use excessive force, and Adamson voluntarily dismissed the remainder of his first lawsuit.
Adamson wants to be reinstated to his former position and wants the department to fully investigate the officers involved in his traffic stop. 
"Despite the fact that all three of the officers who arrested plaintiff on May 30, 2013, had committed multiple acts of misconduct in connection with the arrest, subsequent investigations, and litigation, none of the three were disciplined," the new suit says.
The city has not responded to the latest suit in court. 
EX-PITTSBURG COPS SUE CITY: Two former police officers sued the city of Pittsburg today, saying they were forced to resign and effectively fired because they accused the Police Department of fraudulently reporting its crime statistics.
Elisabeth Anne Terwilliger and Michael Sibbitt filed separate lawsuits in U.S. District Court in San Francisco.
Both joined Pittsburg police in 2012. They say they learned early on in their careers that the department was instructing officers to "falsify crime reports, refrain from documenting use of force, and submit police reports for lower crime classifications to result in the appearance of lower crime statistics in the City of Pittsburg."
Among other things, they say the department often misclassified certain felonies as "suspicious circumstances."
The two officers spoke to each other about this, and Sibbitt "complained internally" and reported the "fraudulent policies" to outside agencies, including the Contra Costa County sheriff's office, the suits say.
Pittsburg police began retaliating against Terwilliger for associating with Sibbitt, her suit says. The department placed her on administrative leave in 2014 and refused to reinstate her unless she "sacrificed" Sibbitt for submitting an inaccurate incident report, the suit says. 
"When she refused to lie for the department's cause, she was accused of undefined 'alleged misconduct' and threatened with criminal prosecution if she did not resign from the department. Defendant's threats and actions resulted in plaintiff's constructive termination" in 2014, the suit says.
The complaints also accuse the department of sabotaging both of their hopes for employment elsewhere by "misrepresenting her background and reason for termination to prospective employers."
The complaints seek unspecified damages and names the city of Pittsburg and Police Chief Brian Addington. The defendants haven't responded to the suits in court.
At Addington's request, Contra Costa County District Attorney Mark Peterson examined all of the department's police reports that had been classified as "suspicious circumstances" last year.
Of 204 reports, 103 should not have been documented as crimes and not suspicious circumstances, Peterson found.  But the 103 reports only represent 1 percent of all police reports written that year and even if they were correctly classified, it would have only had a "minimal impact" on the city's crime rate, the prosecutor said.
You can see Henry Lee daily on KTVU. If you have a tip for Henry, send an email to Henry.Lee@foxtv.com or contact him on Twitter