Sinkholes continue to swallow up roadways throughout the Bay
From Daly City to Santa Cruz County, to Oakland, to San Mateo County-sinkholes continue to swallow cars and cause traffic nightmares in parts of the Bay Area after nearly two weeks of relentless rain. 
A sinkhole opened on Highway 92 near Half Moon Bay. This major traffic hazard triggered a hard closure in both directions. 
"Safety is our number one priority, so right now the highway is unsafe for motorists to travel on," said Pedro Quintana with Caltrans. 
Pedro Quintana with Caltrans said officials first noticed a dip in the road that later formed into this massive sinkhole. 
Motorists are being detoured to Highway 1. There's no ETA on reopening.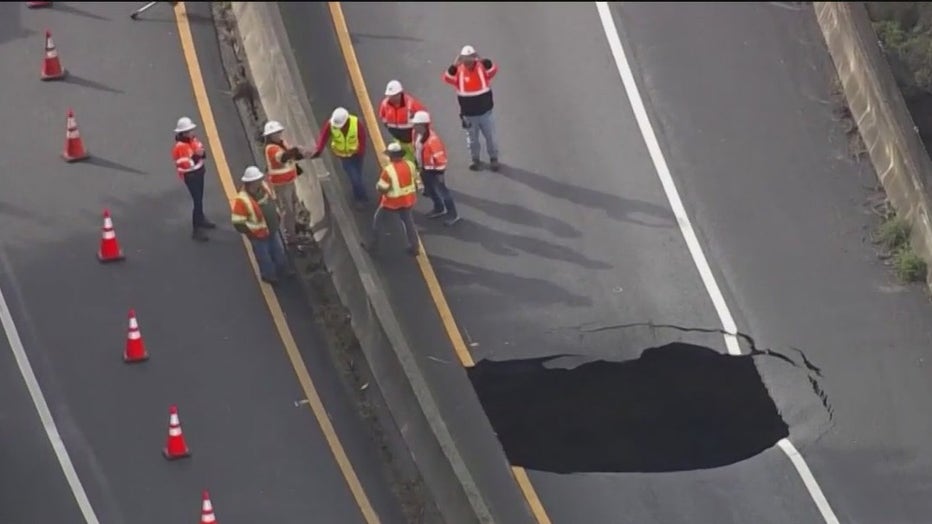 "Caltrans understands this is a major impact for residents in Half Moon Bay and even businesses along Highway 92 as well," said Quintana. "We have crews and also our geologists and our engineers who are currently out there trying to get to the bottom of how this sinkhole happened."
RELATED: Sinkhole closes stretch of State Route 92 in San Mateo County
Meanwhile, in Oakland, a sinkhole spans the entrance to the zoo. A culvert collapsed during historic rains New Year's Eve. The zoo was hoping to reopen Jan. 17 but a mix of bad weather and supply chain issues prevented repairs from even starting. 
Nik Dehejia, the CEO of the Oakland Zoo said, "When you think about three years of COVID and the downturn in the economy, we were hoping to end '22 on a high note, and here we are first weeks of 2023."
Dehejia said they had to order a new culvert and repairs should be complete by early next month. 
The animals are doing well. Zoo staff have used the exit road to get up the hill. They also just took in an orphaned mountain lion cub named Hazel. 
"Our staff are incredibly resilient. Sadly, we've done this before. We are experienced with shutdowns. So there is a little bit of fatigue. But, you know we rally together," said Dehejia.