San Jose, South Bay bracing for next round of rain
SAN JOSE, Calif. - San Jose city officials are working to evacuate unhoused residents in low-lying areas as an atmospheric river hits the South Bay. 
"So we're going to take every necessary precaution, get out there and make sure people are aware that we have another atmospheric river coming…that poses some extra risks for those living near our waterways," said Mayor Matt Mahan, while walking the banks of the Guadeloupe River under darker, rainy skies and gusty winds.
Earlier on Thursday, Santa Clara County officials issued a local state of emergency. The Office of Emergency Management has since been activated by the County.
Representatives from the National Weather Service and California Office of Emergency Services have also arrived in San Jose to work with local authorities to manage a "Level 2" activation of its Office of Emergency Services.
SUGGESTED:
"To make sure we are fully capable to respond to any emergency or disaster that may occur," said Kia Xiong, a spokeswoman for the Santa Clara County OEM.
San Jose officials said city crews had been doing prep work on storm drains since the summer. But now, blowing wind and debris can still cause problems, clogging the flow of water and resulting in localized flooding.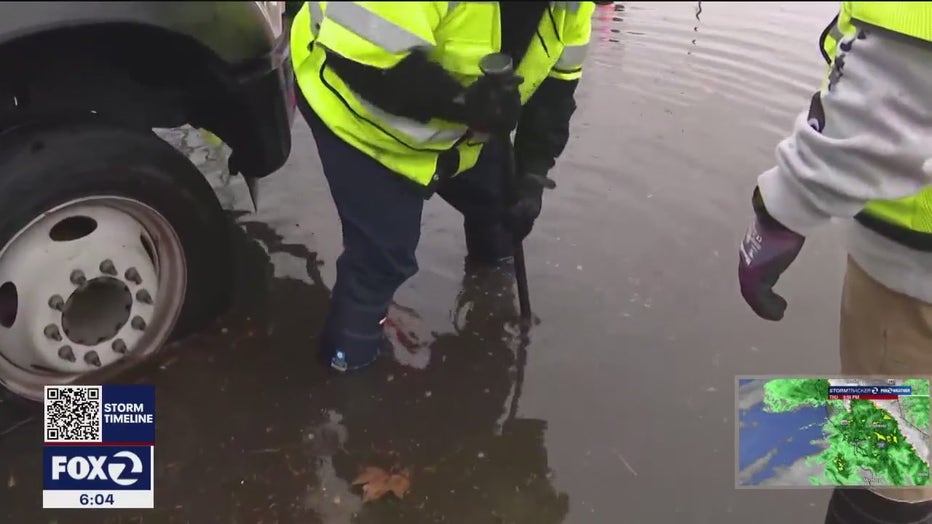 City workers trying to unclog blocked drains in Santa Clara County.
"They're working 24 hours a day. They're monitoring low-lying areas where we typically see flooding. They're responding to those calls…in between calls, they're checking storm drains to make sure they're not covered by debris…clearing trash and leaves which may be upstream from them," said Colin Heyne, a spokesman for the San Jose DOT.
The county's OES activation begins at 8 p.m. Thursday. Additionally, 13 county warming centers are open, with two overnight centers activated in the South Bay.
Jesse Gary is a reporter based in the station's South Bay bureau. Follow him on Twitter, @JesseKTVU and on Instagram, @jessegontv