Starbucks to close 7 San Francisco stores this month
SAN FRANCISCO - Starbucks announced this week they are closing seven of their San Francisco store locations by the end of the month. 
The coffee chain that has brought cappuccino, latte and other specialty espresso drinks to the masses, made the announcement on Monday in a letter from the company's regional vice president for Northern California to San Francisco district managers. 
The stores affected by the closures are mostly concentrated in San Francisco's downtown and Financial District. These areas have notably lagged in foot traffic as the city continues to emerge from the coronavirus pandemic. Remote work and hybrid schedules are still a thing for many in the tech sector, whose employees once occupied downtown offices. 
Starbucks lists the following locations will be closed effective 10/22: 
Mission and Main
Geary and Taylor
425 Battery
398 Market
4th and Market
555 California
Bush and Van Ness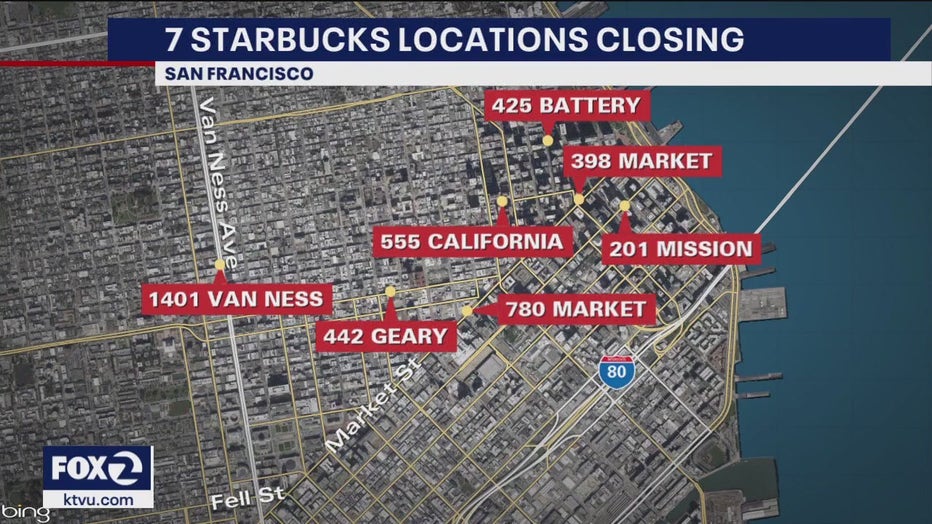 Despite the closures, the company letter indicates the newest Starbucks location recently opened at Powell and O'Farrell in the Union Square area. They also returned to a former location at 333 Market Street. A third new downtown location to have opened in the last six months includes a store at Powell and Sutter. 
A Starbucks spokesperson said all employees from the stores that are closing will be offered the opportunity to transfer to other locations. 
Stream KTVU on your TV by downloading Fox Local on your Roku, Amazon Fire, AndroidTV or AppleTV device for free. More details here.
In addition, the company is spending $2.5 million in renovations at four other San Francisco locations. 
Starbucks representatives say the reason for the closures is that the company is reevaluating their portfolio to see how customer's needs can best be met in the community. 
But customers we spoke with said they like the convenience of having many Starbucks around. The store at Mission and Main streets is the go-to spot for people who work in the area. 
"I come twice a day in the morning and right now It's just really nice to be able to walk across the street," customer Michael Richards said. 
"Starbucks has always acted very quickly in shifting business strategies. If something's not working, they're like gone," said Aidan Compton, owner of Compton's Coffee House. 
Compton said he was the store manager for the Starbucks on Stockton and Sutter streets before opening up his own coffee houses in North Beach neighborhood and on Fillmore Street. He said Starbucks has a lot of stores that are no longer generating the business they did before the pandemic. 
"As soon as downtown cleared out, business dried up for everybody," Compton said. 
"There's more variety here, so people have more to choose from," said Vas Kiniris a small business consultant. Kiniris is the former executive director of the Fillmore and West Portal Merchants Association. He said business closures are never good, but that Starbucks is adjusting to changing consumer trends. 
The popularity of other types of beverage shops are likely a factor. 
"The emergence of boba shops that we see in the marketplace right now is a big reason for the closures of some of these mainstream coffee shops like Starbucks," said Kiniris. 
Customers we spoke with said they did not know Starbucks was planning to close stores in the city. 
"It's San Francisco. A lot of things are closing due to the economy, due to a lot of issues going on in the city, so I'm not surprised," said customer Veronica Aquino.  
The company has also been at the center of a youth-led union movement, where several hundred stores in the U.S. have unionized in less than two years, according to Starbucks Workers United. At least two San Francisco stores have successfully unionized. 
Starbucks maintains 40 company-owned locations throughout San Francisco.