Stocks drop on weak jobs data, jitters over Yellen comments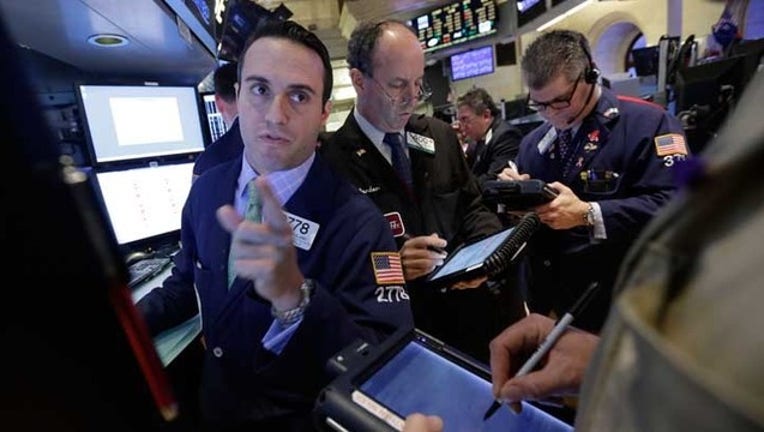 article
NEW YORK (AP) — U.S. stocks fell across industries on Wednesday as investors worried over stock valuations, economic growth and rising interest rates.
Markets started the day higher, propelled by a jump in energy stocks, but then quickly gave up the gains. A comment from Federal Reserve Chair Janet Yellen suggesting that stocks are generally overvalued added to the selling pressure.
Uncertainty over how quickly interest rates will climb also weighed on markets as yields on bonds continued to rise. Some market experts think the Fed will have to increase its short-term rate relatively soon to fight inflation. The yield on 10-year U.S. Treasury note rose to 2.23 percent, its highest level in two months.
"There are creeping worries that inflation, which was seen as non-existent, will soon be part of landscape," said Mark Luschini, chief investment strategist for Janney Montgomery Scott. "There is data suggesting the Federal Reserve will not be in a hurry to raise rates, but people are worried."
Eight of the 10 industry sectors of the Standard and Poor's 500 index ended the day lower, led by a 1.2 percent slump in telecommunications companies.
The S&P 500 fell 9.31 points, or 0.5 percent, to 2,080.15. The Dow Jones industrial average dropped 86.22 points, or 0.5 percent, to 17,841.98. The Nasdaq composite declined 19.68 points, or 0.4 percent, to 4,919.64.
In economic news, U.S. payroll processor ADP said hiring slowed in April to its weakest pace in nearly a year and a half. But a separate report showed labor costs jumped 5 percent in the first quarter, after a 4.2 percent rise in the fourth quarter.
"I think we're going to get higher rates, and the stock market is going to struggle with this," said Wells Capital Management chief strategist Jim Paulsen, noting that the unemployment rate fell to 5.5 percent in March, down nearly half from its peak less than six years ago. "It doesn't take much to overheat when you're near full employment."
Investors will get a clearer picture on Friday, when the government releases its monthly survey on hiring and unemployment.
The decline in stocks accelerated in midmorning trading after Yellen said market valuations were generally "quite high" in response to a question about risks to financial stability at a conference in Washington.
The S&P 500 now trades at 17.5 times what companies in the index earned in the past 12 months, according to FactSet, a data provider. That is higher, meaning more expensive, than the 10-year average of 14.6 times.
Corporate earnings reports were mixed. Video game maker Electronic Arts rose 3 percent and Lending Club rose 4 percent after reporting results that beat analysts' expectations. EA rose $1.77 to $60.93 and Lending Club rose 73 cents to $18.31.
News Corp., the publisher of The Wall Street Journal, fell $1.03, or 6.4 percent, to $14.99 after its results missed forecasts. Restaurant chain Noodles & Co. also reported disappointing results, and investors sent its stock down $4.01, or 19 percent, to $16.70.
In deal news, shares of Synageva BioPharma soared 112 percent after Alexion Pharmaceuticals said it would pay a huge premium to buy the maker of rare disease treatments in an $8.4 billion deal. Synageva has no products on the market and lost nearly $60 million in the first quarter. Its stock rose $107.52 to $203.39.
The price of oil rose on an unexpected drop in crude oil supplies in the U.S. Benchmark U.S. crude rose 53 cents to close at $60.93 a barrel in New York after having reached as high as $62.58 during the day.
Crude climbed above $60 a barrel for the first time this year on Tuesday following reports that a Libyan oil terminal had closed.
Brent crude rose 25 cents to close at $67.77 in London.
In other futures trading on the NYMEX:
— Wholesale gasoline fell 2.6 cents to close at $2.037 a gallon.
— Heating oil rose 0.1 cent to close at $2.016 a gallon.
— Natural gas fell 0.4 cents to close at $2.776 per 1,000 cubic feet.
The dollar weakened to 119.30 yen from 119.93 yen. The euro strengthened to $1.1369 from $1.1184.
Gold fell $2.90 to $1,190.30 an ounce, silver fell seven cents to $16.50 an ounce and copper fell a penny to $2.93 a pound.