Stranded father attempted to flag down rescuers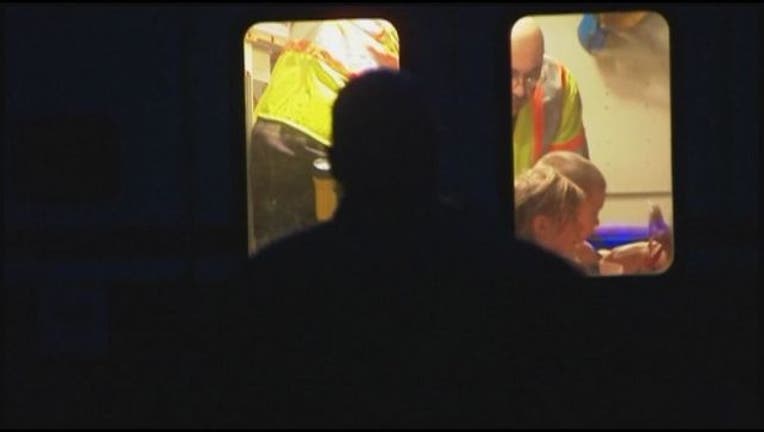 article
OAKLAND, Calif. (KTVU and AP wires) – A father who was stranded in the Sierra wilderness for two days with his young children spent hours attempting to draw the attention of search teams before the family was seen and finally rescued.
Nicholas Vlahos' stepfather told KTVU Fox 2 that his son was an experienced outdoorsman and became stranded when a tree fell across the remote road near a Poker Flat campsite where the family had stayed.
"He had put a pink blanket in the trees and wrote Help in sticks on the grounds," said Bob Wehmeyer.
The family had camped at Poker Flat, but a large tree fell during their stay as a storm front approached and blocked their exit. Valhos then searched for an alternate route and discovered a trail used by off-road vehicles.
Wehmeyer said his son-in-law got about a mile away from the campgrounds in the deep forest when the trail gave way and the truck became stuck.
"He tried to walk back to Poker Flat but with a 3-year-old and a 5-year-old he couldn't make it," Wehmeyer said. "He went back to the truck."
Wehmeyer, who was in the Sierra during the search, said the family was relieved that Vlahos and his children had been found safe.
"It was terrible," he said. "You just didn't know what happened...You're thinking about the kids…You didn't know if they slid off a cliff."
He said a wave of relief swept through the family when they were told Thursday night that Vlahos and his family had been found.
Sierra County Sheriff's Department Deputy Matt Boyd said the family was found "in good spirits" around 8 p.m. "They're all safe."
Wehmeyer said the break searchers got was when they launched a National Guard search helicopter at night.
"They couldn't see him during the day," he said. "But they (the searchers) could see the lights on top of the truck at night."
The family was last seen leaving their campsite at 7:18 p.m. on Tuesday in a black 2015 Toyota Tundra pickup truck and planned to take a drive through a remote and rugged area of Sierra and Plumas counties on their way home.
On Tuesday evening, they were reported overdue returning home from the trip. Deputies searched the area that evening but found no sign of them.
The next day, deputies conducted a more extensive search of the planned route and surrounding areas with the assistance of Cal Fire and a California Highway Patrol helicopter but were unable to find the family.