Student injured in stabbing at San Francisco middle school
SAN FRANCISCO - A student was wounded in a stabbing at a middle school in San Francisco on Friday afternoon, authorities said. 
Officers responded to Francisco Middle School on Powell Street, in the city's North Beach neighborhood, at around 12:45 p.m. on report of a stabbing. 
Video from the Citizens app shows at least three police vehicles and an ambulance outside the school.
Parents told KTVU they received a notice in the early afternoon that their had been a stabbing on campus. The incident allegedly happened in the school's library.
"It's not safe," said parent Arturo Marquez. "When you're working, and you get a phone call, you get nervous or scared that something happened."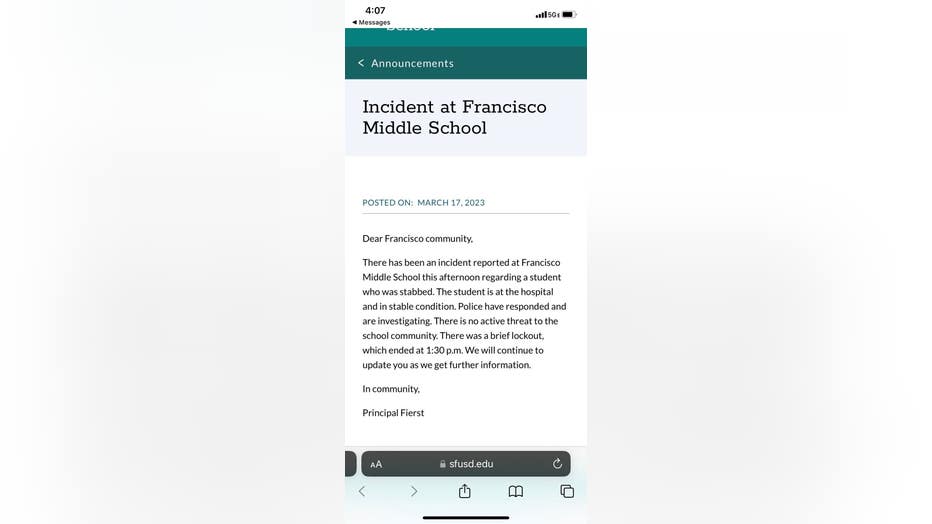 A screenshot of a message sent to parents regarding a stabbing at Francisco Middle School on Friday, March 7, 2023.
Officers located the injured student at the school. The child was transported to a local hospital where he is in stable condition, according to the San Francisco Unified School District. The student is expected to make a full recovery.
Officers detained a juvenile in connection with the incident.
School district spokesperson Laura Dudnick said there will be additional support for students next week when they return to campus.
"We know this can be a difficult experience and that students may be feeling a variety of emotions, so we want students to know they have trusted adults at school that are here to care for them and provide them support," said Dudnick.
Earlier this week, another San Francisco school – Denman Middle School – was put on lockdown after a student brought a gun to school. 
No one was injured in that incident as the gun never went off.
SEE ALSO: San Francisco middle school locked down, district says student brought gun on campus
Bay City News' Katy St. Clair contributed to this report.