Veteran police sergeant kills armed man near Oakland City Hall, sources say
OAKLAND, Calif. - An Internal Affairs police sergeant killed an armed man early Tuesday morning near Oakland City Hall, multiple sources told KTVU. 
The sergeant, who has more than 20 years experience, was on his way to work in an unmarked police car around 4 a.m. when a man on the street, armed with a gun, approached him, sources said.
The man then banged on the trunk of the sergeant's unmarked car and pulled out his weapon, the source said. 
The sergeant tried to evade the man and got back in his car. 
But there was an exchange of gunfire, the source said. The sergeant shot at the man through the back window of his car, the source said. 
The man ended up dying. 
Oakland police later confirmed these details.
In a brief announcement, police spokeswoman Kim Armstead said that a sergeant shot and killed a person about 4 a.m. near San Pablo Avenue and 16th Street near Frank Ogawa Plaza and City Hall. The scene is also right outside the Oakland Police Department Internal Affairs office. 
She also said that other officers responded to that area because of a ShotSpotter activity, which a source said was generated by the sergeant firing his weapon. 
Armstead took no other questions, but added that the sergeant performed CPR on the wounded person before they died and then was placed on administrative leave, as is protocol. 
Investigators from the Alameda County District Attorney's Office arrived before 7 a.m. As per protocol, DA investigators are called in after officer-involved shootings. 
From the visual evidence at the scene, investigators were looking at a 4-door car that had a California exempt plate, which only belongs to police, fire or other state-owned cars. 
Two sources said the car belonged to the police sergeant in question. 
Police confirmed that they recovered one firearm and multiple casings of different calibers at the scene.
Internal Affairs officers conduct investigations into staff misconduct. 
Typically, these officers are highly regarded and have a lot of experience. 
Rami S. said he saw a bit of the aftermath. 
He said he was just getting off work when he got a ping on his phone. His CitizenApp went off, alerting him that something was happening on his block, near his office. 
"Naturally, I pull up the cameras, I see flashing lights, and I decided to come and make my cameras available for police officers as quickly as possible to help reduce crime any way I can," he said. 
Oakland police released a written statement later in the day. 
The sergeant nor the deceased person have been identified yet. 
The District Attorney's office is investigating the case, as is standard protocol when an officer is involved in a shooting. 
Oakland's Community Police Review Agency will also be involved in reviewing the case. 
This deadly Oakland police officer shooting comes one day after Berkeley police shot and killed someone allegedly involved in a car burglary.
KTVU's Lisa Fernandez, Alice Wertz and Sami Mamou contributed to this report.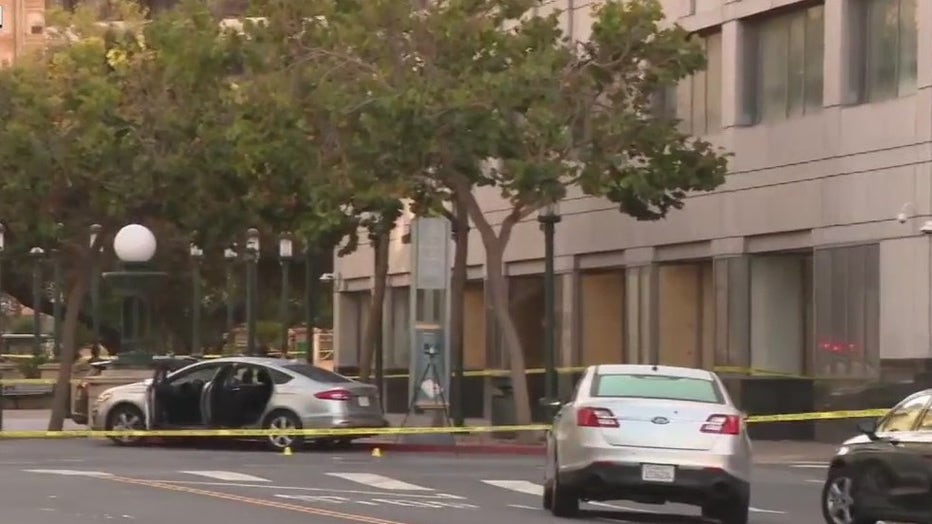 Investigators were looking at a 4-door car that had a California exempt plate, which only belongs to police, fire or other state-owned cars. Nov. 7, 2023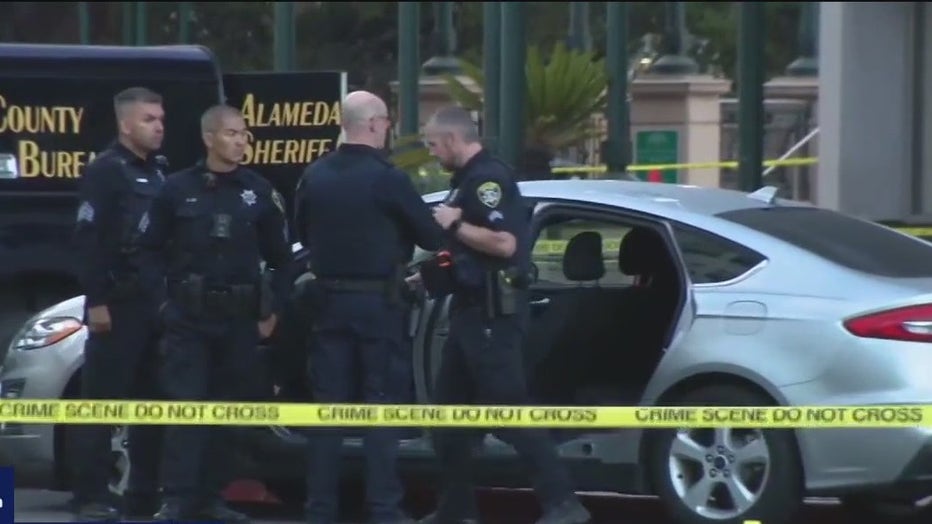 Oakland police stand near City Hall after a deadly shooting. Nov. 7, 2023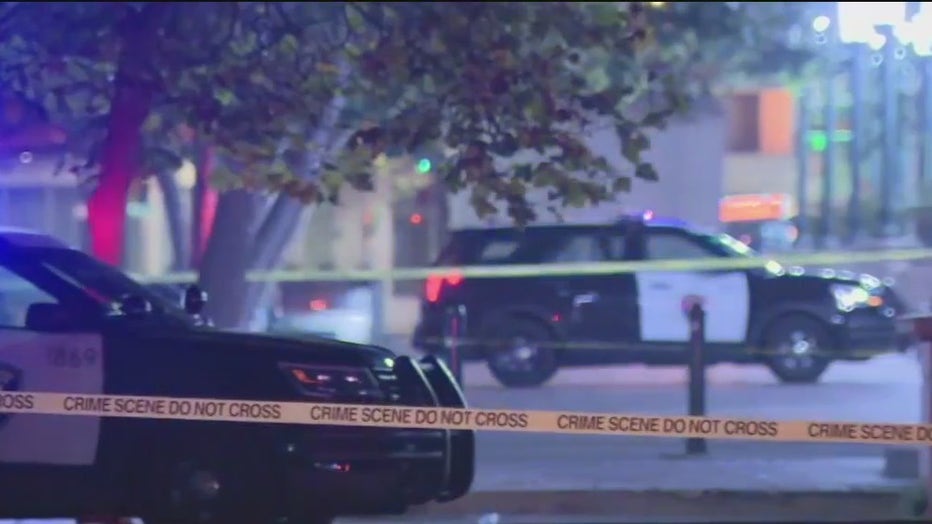 A large police presence was seen early Tuesday morning near City Hall after a deadly shooting. Nov. 7, 2023