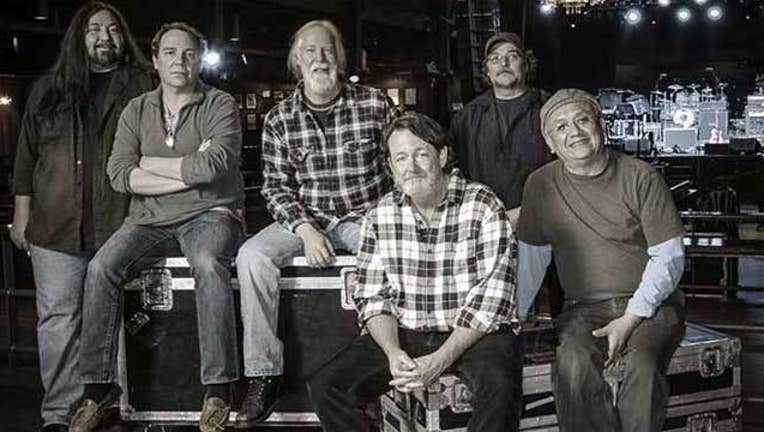 article
One of the many neo-hippie jam bands which inherited the road-warrior mantle left behind by the Grateful Dead, Georgia-based outfit Widespread Panic established a devout grass-roots following on the strength of constant touring and a loose, rootsy brand of Southern rock informed by jazz and blues textures. The group's origins dated to 1982, when vocalist John Bell and guitarist Mike Houser first began playing together while attending college in Athens, Georgia. The line-up gradually filled out and Widespread Panic was officially born.
The band built up its regional following for several years before finally releasing their energetic debut LP Space Wrangler in 1988 on the tiny Landslide label. After several years of relentless touring, they signed to major label Capricorn, which issued the group's eponymous sophomore effort in 1991. A mainstay on the early '90s H.O.R.D.E. tours that cemented the jam-band phenomenon, the group greatly expanded their fan base to more mainstream rock fans.
In June 2002, Widespread Panic returned to the road for their annual summer tour of the States, but within a month, founding member and lead guitarist Michael Houser had to bow out. Houser was battling cancer and returned home to Athens, GA to rest while guitarist George McConnell stepped in to finish the tour. In August of that summer, Houser succumbed to complications from pancreatic cancer at the age of 40.
The band soldiered on in accordance with Houser's wishes and was inspired to release its strongest effort yet, 2003's Ball. The group would go through several line-up changes in the decade that followed, with jam-band veteran Jimmy Herring (Aquarium Rescue Unit, Allman Brothers Band and Grateful Dead affiliates Phil Lesh and Friends and The Dead) joining as lead guitarist in 2006 and drummer Duane Trucks filling in last year so longtime member Todd Nance could take a break.
While the band hasn't issued any new studio material since Dirty Side Down in 2010, the group never has any trouble filling venues across the country during its regular tours. Widespread Panic remains one of the most entertaining improv-heavy rock bands on the scene, as these three shows at the Fox Theater in Oakland will demonstrate.
Widespread Panic
Thursday-Saturday, March 19-21, 8 p.m. $55
Fox Theater