Workers at Chinese-state-owned hotel in SF on strike after foodborne illness complaints
SAN FRANCISCO, Calif. - Seventy hotel workers who are members of a local union plan to strike during this week's APEC summit in San Francisco, a press release from union leaders announced. The union says the strike is in response to their employee meals making them sick. 
Unite Here Local 2 is a union that represents hospitality workers in the SF Bay Area. The union boasts a membership of more than 15,000 workers from hotels, restaurants and food services at local airports. 
Workers at the Chinese-state-owned BEI Hotel in SF suffered food poisoning after the hotel "unilaterally laid off its cooks and outsourced cafeteria meals," starting in May of this year, a press release said. The BEI is a 400-room hotel owned by Beijing Tourism Group, an enterprise managed by a subsidiary of the Beijing government.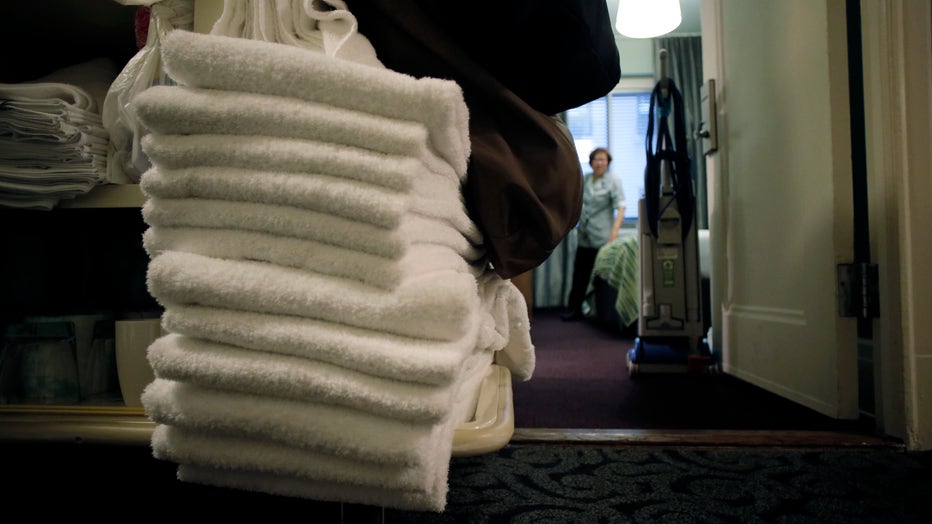 Room attendant cleans a room at a hotel in downtown San Francisco ((Photo By Michael Macor/The San Francisco Chronicle via Getty Images))
"I'm on strike because I recently worked two back-to-back shifts and during the entire 16 hours, I did not eat the cafeteria food because I was worried it would make me sick," said Nida Remigio, a telephone operator at the BEI Hotel San Francisco for 16 years. "Employee meals at the BEI Hotel sometimes sit out for hours without time or temperature control. The food is often cold or covered in oil, and I have even found undercooked meat."
The union says that housekeepers, servers, bartenders, cooks and dishwashers have all attempted to address the outsourcing of the cafeteria food through meetings and petitions before they decided to strike. Unite Here Local 2 has also filed unfair labor practices charges with the National Labor Relations Board. 
The strike is just the latest update in the hotel and union's negotiations process. Workers at BEI say they have not received a raise in six years, though every other major union hotel in SF has agreed to two updated contract agreements in 2018 and 2022. BEI is the only hotel not to sign onto the new agreements, the union says. 
KTVU reached out to BEI via Wyndham Hotels for comment on the matter, but we are still waiting to hear back. 
Tori Gaines is a reporter for KTVU. Email Tori at tori.gaines@fox.com or call her at 510-612-9274. Keep up with her on X @ToriDoesNewsNow.