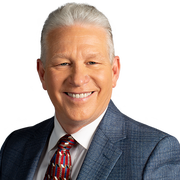 Steve Paulson
Meteorologist
Steve Paulson is entering his 20th year as the Morning Weatherman for KTVU-FOX 2 News. Steve took the circuitous route getting to Channel 2 beginning at KHSL in Chico. His introduction to weather was serendipity. He walked into the station and said he wanted to be an intern. You could actually walk in the front door back then. A quick introduction with the GM led to meeting with News Director who asked: have you ever thought about doing the weather? Realizing this was a possible job with graduation looming in a year, he said: No but I can do it. As Steve found out later, the previous Weatherman had turned in his resignation an hour before Steve arrived! Fake it 'til you make it! He was in the library looking up clouds the next week. We had no internet back then kids.
Steve spent two years at KHSL then it was off to KFTY in Santa Rosa! This is where Steve really learned about Bay Area weather. It rained a LOT in 1982-83! An El Nino year! After a few years, it was down to KICU-Channel 36 (the original) in San Jose. He was there for many years until the station made cutbacks and eliminated the weather. This is when Steve transitioned into an on-air host with the old SportsChannel doing San Jose Sharks hockey in 1993-94. It was the wonderful run to the Western Conference Finals. Once the season ended, though, he had a desire to get back into weather. Realizing failure is simply the opportunity to begin again, this time more intelligently, he was ready to take the next step forward and jumped back into weather to begin another journey. This time in Monterey at KMST.
During his brief three years in Monterey, many weather highlights including being helicoptered in when all roads in and out of Monterey were flooded. This was during the 1994-95 rainy season. The big time presented itself when Steve got the call to do work at KPIX-Channel 5 in San Francisco. This then led to a wonderful weather experience at WBBM-Channel 2 in Chicago! My favorite city after San Francisco. Winter was brutal, but I learned about Lake Effect Snow! Not an easy forecast, but fun. Only in Chicago about eight months before it was off to Denver at KMGH as the Chief Meteorologist. This was like being thrown to the wolves. Denver is a really challenging place to do Weather. The first day on the air was during a Blizzard. Two weeks later, I was dealing with tornadoes. A tremendous learning experience though. Over time, I really enjoyed forecasting snow totals along the Front Range. You're called a Snowbird! I enjoyed snow forecasting better than severe weather. After two and a half years, many changes led to my journey back to California and a path to KTVU.
When he's not playing a weatherman on TV, you can find him exploring the new restaurant scene, going to concerts, hiking, riding his mountain bike, watching classic movies, writing eBooks and naturally, scanning the sky for clouds. Steve always tries to take some vacation to Arizona during the Monsoon Season in August. Steve has two cats named The Dude and Mr. Breeze.
The latest from Steve Paulson
Friday will be dry and partly cloudy but it is expected to rain on Saturday and Tuesday.
This precipitation ends the Bay Area's streak of 44 consecutive days of dry weather.
"It's going to be crazy warm," said KTVU meteorologist Steve Paulson.