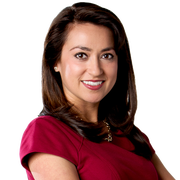 Allie Rasmus is happy to be back reporting in the Bay Area where she was born and raised.
She came to KTVU after working as a reporter in Phoenix, Austin, and Washington, D.C. She won awards for her political coverage based out of the state capitol in Texas. In Arizona's capital city, she covered the immigration debate, the housing market crash and the Great Recession. Here in the Bay Area, she earned an Emmy nomination for a story about the homeless crisis.
Allie graduated from Northwestern University with dual degrees in political science and journalism, and went on to earn her master's degree in journalism at Northwestern's Medill School of Journalism. After graduation, she lived with her grandparents while working for Univision's news bureau in Mexico City. Allie is a member of the National Association of Hispanic Journalists and former NAHJ Ruben Salazar National Scholarship winner.
When she's not at work, you can catch Allie strolling through her favorite Oakland neighborhoods, sampling the great food at restaurants and cafes in Oakland, or hiking the trails in the East Bay hills. She and her husband love taking their two young children to the places Allie loved going to as a kid in the Bay Area: Children's Fairyland, the Oakland Zoo and the Grand Lake Theater. Allie considers herself "East Bay all the way" and never gets tired of enjoying the place with the best climate, culture and people in the world.
The latest from Allie Rasmus
New restrictions could be ordered as early as Monday, July 13 in Sonoma County, after the California Dept. of Public Health announced it was putting the county on its monitoring list.
It's been less than a month since Alameda County health officials issued an order on June 19 allowing outdoor activities, including restaurant dining, outdoor museums, limited religious and cultural services, indoor and outdoor retail (including malls), and outdoor fitness classes.
The White House repeated its calls today to have schools reopen in the fall for in-person, daily instruction. The topic was the main focus of a White House Coronavirus Task Force briefing in Washington on Wednesday. 
The move comes as COVID-19 infections among inmates are sharply rising.
Sgt. Damon Gutzwiller was 38 years old, and was the father of one child. His wife is pregnant with their second child. 
Protesters called on Noel Gallo to commit to supporting the idea of cutting the Oakland Police Department budget by 50 percent or about $150 million.
The video shows a crowd of people involved in a demonstration at Pine and Front streets, in the city's financial district. A captain comes up from behind a man at the protest and shoves him. The man falls to the ground. The man who was pushed, gets up and walks away, and does not appear to be seriously injured.
Signs at demonstrations across the country this week, including the Bay Area, Los Angeles, New York, Philadelphia and Phoenix have called for leaders to "Defund the Police."
"Most of us here are young and hungry for change," said Josiah Jacobs, 19. "We want it now."