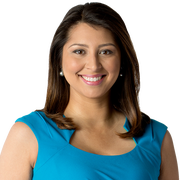 Cristina Rendon reports weekdays for Mornings on 2. She's up before the sunrise to bring the Bay Area reports on a variety of stories and issues.
Prior to joining KTVU Fox 2, Cristina worked at ABC 4 Utah in Salt Lake City. She moved to Utah from South Texas. Cristina is a native of the Rio Grande Valley and began her career at her hometown station, KRGV Channel 5 News, where she covered hurricanes, immigration, and the war against drug cartels in Mexico.
Cristina has the versatility to cover breaking news or feature stories with ease and is a regular fill-in on the anchor desk. Her most memorable stories in the Bay Area include covering the 2014 Napa earthquake, the North Bay and Butte County wildfires, Super Bowl 50 and climbing the Bay Bridge for a story on seismic safety.
The latest from Cristina Rendon