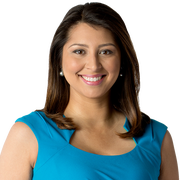 Cristina Rendon
Reporter and Anchor
Cristina Rendon has been with KTVU since 2013. She joined the station as a reporter and was promoted to weekend anchor in 2020. Some of the most significant stories she's covered include the Bay Area protests against police brutality and the North Bay wildfires. 
Cristina was born and raised in San Benito, Texas, on the southern border of Mexico. She attended college at St. Mary's University in San Antonio and St. Edward's University in Austin where she received a degree in Communication.
Cristina worked at KRGV Channel 5 News in the Rio Grande Valley and ABC 4 Utah in Salt Lake City before coming to KTVU.
Cristina loves the Bay Area's perfect weather and variety of outdoor activities available from the coast to the mountains. When she's not anchoring or reporting, Cristina enjoys spending time with her husband and daughter. Her family loves to travel and explore new cities.
The latest from Cristina Rendon