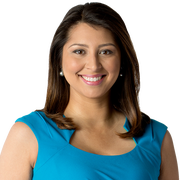 Cristina Rendon is an Anchor/Reporter for KTVU Fox 2 News. She anchors the weekend evening newscasts on Fridays and Saturdays.
Cristina has worked every shift at the station since joining KTVU in 2013. Some of her most memorable stories include covering the 2014 Napa earthquake, the North Bay wildfires, Super Bowl 50, and the Warriors and Giants championships.
Before calling the Bay Area home, Cristina worked at ABC 4 Utah in Salt Lake City. She was a reporter for and host of the "9 at 9" newscast on the CW30. She covered a range of stories, from Utah politics to the annual Sundance Film Festival in Park City. Most notably, she reported on the fight to legalize gay marriage in Utah.
Cristina is a native of the Rio Grande Valley in South Texas. She began her career at her hometown station, KRGV Channel 5 News. She was a Bureau Chief in Brownsville where she covered crime, courts, immigration, and the war against drug cartels in Mexico. She also covered Hurricane Dolly as it made landfall and its aftermath.
Cristina lives in the East Bay with her husband. She enjoys spending time outdoors and traveling.
The latest from Cristina Rendon