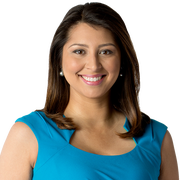 Cristina Rendon is an Anchor/Reporter for KTVU Fox 2 News. She anchors the weekend evening newscasts on Fridays and Saturdays.
Cristina has worked every shift at the station since joining KTVU in 2013. Some of her most memorable stories include covering the 2014 Napa earthquake, the North Bay wildfires, Super Bowl 50, and the Warriors and Giants championships.
Before calling the Bay Area home, Cristina worked at ABC 4 Utah in Salt Lake City. She was a reporter for and host of the "9 at 9" newscast on the CW30. She covered a range of stories, from Utah politics to the annual Sundance Film Festival in Park City. Most notably, she reported on the fight to legalize gay marriage in Utah.
Cristina is a native of the Rio Grande Valley in South Texas. She began her career at her hometown station, KRGV Channel 5 News. She was a Bureau Chief in Brownsville where she covered crime, courts, immigration, and the war against drug cartels in Mexico. She also covered Hurricane Dolly as it made landfall and its aftermath.
Cristina lives in the East Bay with her husband. She enjoys spending time outdoors and traveling.
The latest from Cristina Rendon
One week after a Danville high school reopened for in-person learning, eight students and staff members from a special needs class tested positive for COVID-19.
Krystie Gomes and her family are thanking UCSF Benioff Children's Hospital Oakland for helping her beat cancer.
A group of Oakland chefs prepared hundreds of meals for people who might otherwise be hungry on the day before Thanksgiving.
There is increasing pressure for Gov. Newsom to choose a woman of color to succeed Kamala Harris in the Senate.
Interim Police Chief Jay Hill explained in a social media post on Facebook that he felt the community deserved a response to the department's approach to the incident.
The Moraga School District is preparing for the return of some students to the classroom on Monday, making it one of the first public school districts in Contra Costa County to transition to hybrid learning.
The county has seen COVID-19 case rates climb about 25% and hospitalizations have nearly doubled in the past two weeks from under 20 patients to 40 patients.
The news website, Open Vallejo, recently exposed Hakeem Brown's criminal history that included domestic violence and gun convictions.
Tony Gonsolin, a Bay Area native and pitcher for the Los Angeles Dodgers, is celebrating the team's World Series win over the Tampa Bay Rays.