49ers GM says QB Brock Purdy has 'earned the right' to start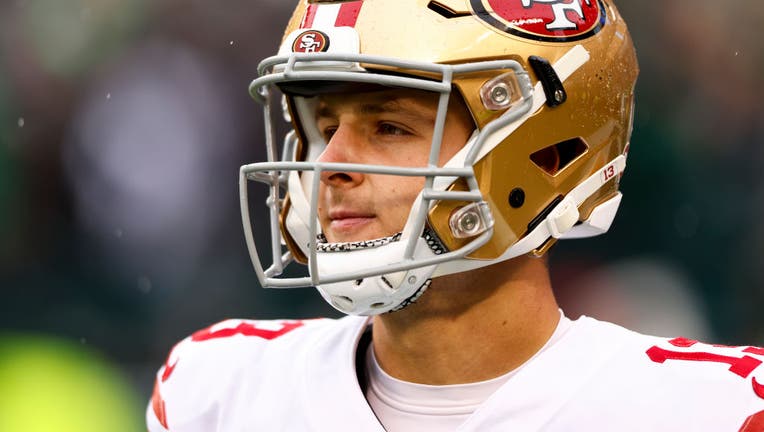 article
San Francisco 49ers General Manger, John Lynch, made a big endorsement in favor of quarterback Brock Purdy on Monday at the annual NFL owners meeting. 
Since the 49ers season ended in a loss in the NFC championship game in January, the quarterback battle between Purdy and Trey Lance, has been the focus of many conversations surrounding the team this off season.
Lynch said that Purdy had "earned the right" to be the starter. 
"He's probably the leader in the clubhouse at that," Lynch said. "If we were to line up, he'd probably take that first snap."
But, Lynch said, the decision would ultimately be up to head coach Kyle Shanahan. 
"I know when we talk, Brock has probably earned the right," Lynch said of his conversations with Shanahan. 
Purdy, who entered last season as the 49ers third-string quarterback, took over when Jimmy Garoppolo went down with a broken foot in week 14. 
Purdy led the team to a 7-1 record after assuming the starting role. 
Though, right now it is still unclear exactly when Purdy will return to the field. 
Earlier this month, Purdy underwent surgery to repair a torn Ulnar Collateral Ligament in his right elbow.
SEE ALSO: Marin native, Darrion Trammell, advances to the Final Four, gives emotional post game interview
Trey Lance also underwent surgery last season to repair a broken right ankle. 
Lance is expected to be cleared in full once organized preseason team activities start up. 
"We're still very excited about Trey," Lynch said. "But, I think the way Brock played, he probably has earned that right to be the guy. But it's certainly a competition, we'll always have that."
Lynch said the team is not interested in trading Lance, right now.
"We listen to anything, but we like Trey on our team," Lynch said. "We're very excited about the way he's progressing, about his opportunity. I think he's chomping at the bit to get back out there, get back under center and be healthy again."
The 49ers front office has been vocal about valuing depth at the quarterback position and until Purdy returns, Lance and Sam Darnold, who was signed on March 13, will each take plenty of snaps.