2 Santa Rosa students arrested after fight, marijuana and weapons found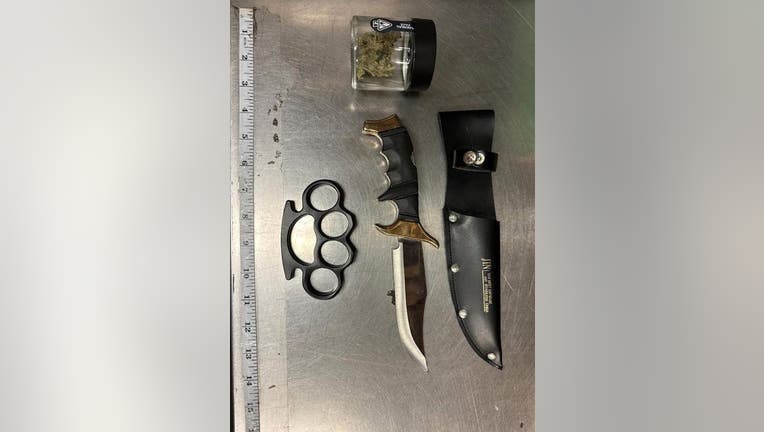 article
SANTA ROSA, Calif. - Two Santa Rosa high school students were arrested Friday morning for possession of weapons after police responded to a school about a fight. 
Santa Rosa police arrived around 10:45 a.m. regarding a fight near Montgomery High School, involving five or six boys on Matanzas Way, officials said. Upon their arrival, officers questioned two students who were walking back to the high school when they could smell "the odor of fresh marijuana," police said.
Earlier this month, 16-year-old Jayden Pienta was fatally stabbed at the same high school during a fight involving two other students.
The two students were searched, and officers found a large buck knife and a tin of marijuana in one student's backpack, according to police. The other student was found with metal knuckles in his pocket, police said. 
When asked about the fight, the students admitted being present but only to watch and didn't participate, according to police. At the same time, three other students with "abrasions and markings" from the fight were in the principal's office.  Police said these students denied the fight even occurring.
A third weapon was found, though police did not identify which student was allegedly carrying it.
It's unclear if these weapons were used in the fight.
Police said the school's officer reported seeing the student, who allegedly had the buck knife and marijuana, leave the school campus before the fight.
This student was arrested for possession of a knife on school grounds, but was taken to Memorial Hospital "due to marijuana usage." After he was cleared, he was taken to the Juvenile Justice Center. The second student was arrested for possession of metal knuckles and was taken to the same center.
These arrests come just after two other students were detained also at Montgomery High School for a separate knife incident Wednesday and a fatal stabbing on a San Francisco Muni bus on Monday also involving juveniles that left one with life-threatening injuries.
That same day later that afternoon in a separate incident, a student at a San Francisco middle school was stabbed and hospitalized, and another detained. 
Earlier this month at a separate Santa Rosa high school, a student was arrested after bringing an unloaded gun to campus.
O. Gloria Okorie is a digital reporter for KTVU. Email O. Gloria at o.gloria.okorie@fox.com or call her at 510-874-0175. Follow her on Twitter @ogloriaokorie.