3 Bay Area sisters are Mattel's newest Barbie dolls
OAKLAND, Calif. - Three Bay Area sisters, who are all corporate leaders, have become Mattel's newest Barbie dolls.
Susan Wojcicki, longtime CEO of YouTube, Anne Wojcicki, CEO of 23andME, and Janet Wojcicki, professor at the University of California, San Francisco, were honored with their own Barbie for International Women's Day.
The toy company said they wanted to highlight seven females in the STEM (science, technology, engineering, and math) fields.
The sisters said they hope to inspire the next generation of women leaders. 
"I think the more we can have these real life role models for young girls, and role models that young girls can actually see themselves in, it's so important," said Janet Wojcicki.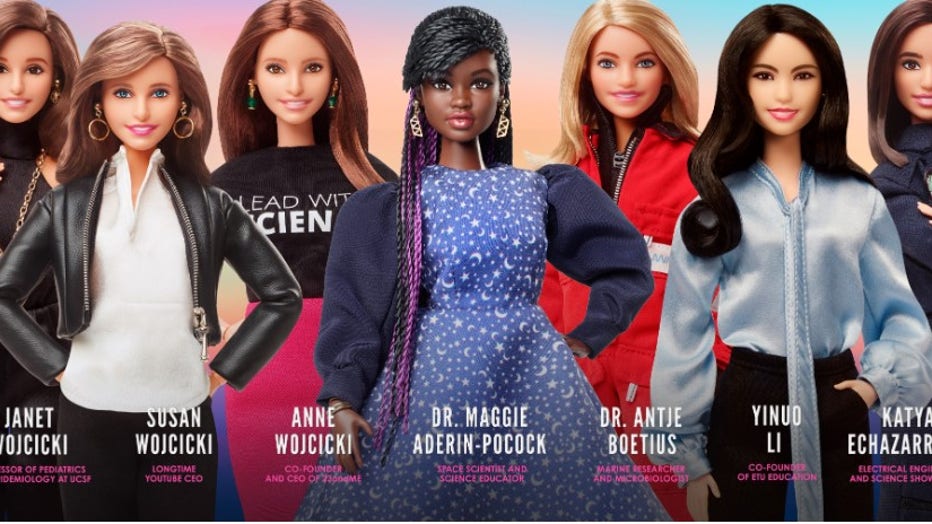 The 7 new Barbie dolls chosen in honor of women in STEM. Photo via Mattel.
Mattel said women make up less than one-third of the STEM workforce, and it's proven that girls are systemically tracked away from STEM throughout their education.
They wanted to show girls that they can be anything.
ALSO: The Warriors' secret weapon is a woman you've likely never heard of
"STEM is a field where women are severely underrepresented, and our hope is that honoring these seven leaders in science and technology will encourage girls to follow their passion in this field," said Lisa McKnight, Executive Vice President and Global Head of Barbie & Dolls. "This International Women's Day, we're proud to continue our work in closing the Dream Gap and reminding girls of their limitless potential."
Mattel said the dolls are not for sale, rather gifted to the women who inspired them.