Amid playoffs, Warriors Gary Payton II quietly celebrates earning his college degree
SAN FRANCISCO - While the Warriors headlines have focused on their fight in the Western Conference Playoffs on a road to another possible championship, Golden State guard Gary Payton II (GP2) has quietly celebrated an off-the-court feat of his own: The 30-year-old NBA star has earned his college degree.
SEE ALSO: Warriors fans stunned by blowout loss to Lakers in Game 3
SEE ALSO: Klay Thompson says his father will probably be rooting for the Lakers
Last week, GP2 posted a photo of his degree on Twitter from Oregon State University, where he played for two seasons before going to the NBA in 2016. He left Oregon State shy of enough credits to earn a degree, but it was a promise that he made to his mother that ensured he would finish what he started.
The Warriors celebrated the moment, delivering a message of congrats to the grad and retweeting Payton's degree. 
Last month, GP2's mother expressed her pride and joy for her son when she learned that he had indeed kept his promise.
On Instagram, Monique Payton shared the news along with a photo of the degree and images of him playing at Oregon. In the caption, she wrote moving words from a proud mom who was "on top of the world." She shared that she had thought she'd done something wrong, "but in fact he did everything right!" 
The tribute to the Warriors star went on to say, "I couldn't be more proud of you Son!!! There's absolutely NOTHING you can't do. You didn't have to prove anything to anyone but yourself. Whatever you want it's there for the takin… as you know 'Young Glove' Ha! I'm screaming from the top of the world! You are amazing, talented, smart, funny, respectful, considerate and just a genuine human being. You already know how proud I am of you! What's next Champ?! I love you so much!! Congratulations Oregon State University Graduate of 2023!!!!"
About two weeks later, on the morning of April 28, ahead of Game 6 of the first-round playoff series against the Sacramento Kings, GP2 surprised his mother by presenting her with the hard copy of his diploma.
"I was so surprised!!!" she expressed to the Associated Press last month.
And GP2 acknowledged his mother was his inspiration and driving force. "It's really for mom," he said. "I made her a promise to get it done and finished when I left school, so just keeping my word and got that to her. Hope you enjoy it, love it, and it was for you."
Oregon State Beavers men's basketball head coach Wayne Tinkle expressed his pride for his former player, noting that the achievement was one that took work and dedication.
"He kept his nose to the grind stone - it was important to him and his family and he got it done. It just goes to show it's never too late," Tinkle said.  
When current coach, Steve Kerr heard the news, he had high praise for Payton II and said that like Stephen Curry, who received his degree from Davidson College last year, these players demonstrate what it means to continue to grow and evolve not just on the court.
"We have a lot of guys who are really committed to the game but committed to themselves and trying to better themselves and do things in the community and try to impact the Bay Area," Kerr said. 
For GP2, the accomplishment was perhaps even more notable given the tumultuous year he had. After winning a championship with the Warriors last season, he was traded to the Portland Trail Blazers in July, only to be reacquired by Golden State in February. He then unexpectedly failed a physical, which nearly derailed the deal. Ultimately, the trade stood, and GP2 sat out recovering from a core muscle injury until the end of March.
Payton II, who has was diagnosed with dyslexia in the second grade, has served as a stalwart advocate for dyslexia awareness, pushing for early screening and assessment for children and young adults with languages-based learning challenges.
The non-profit he established as part of that effort, Gary Payton II (GPII) Foundation, celebrated the new college graduate. "Hard work definitely pays off. It's never too late!" the organization shared on social media along with words of congratulations and inspiration. "Anything is Possible!" 
The Associated Press contributed to this story.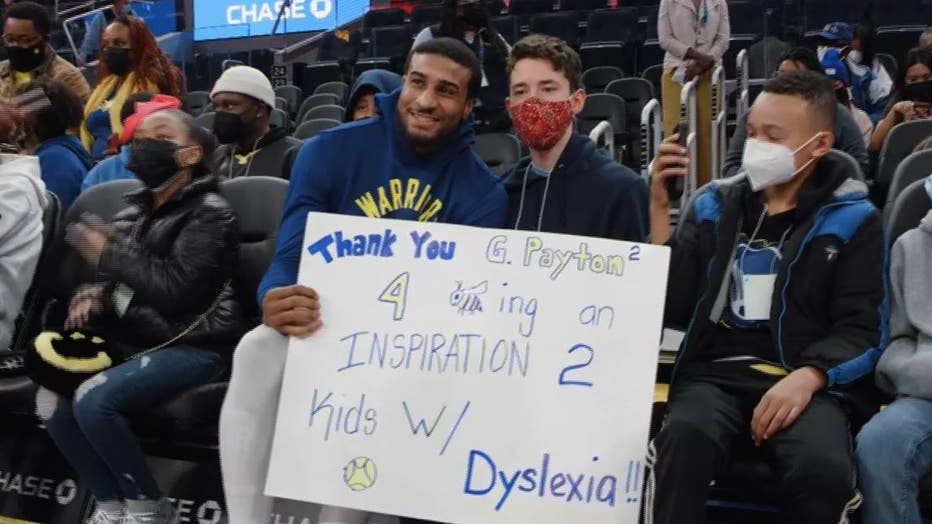 Gary Payton II Receives NBA's Seasonlong Bob Lanier Community Assist Award on May 31, 2022.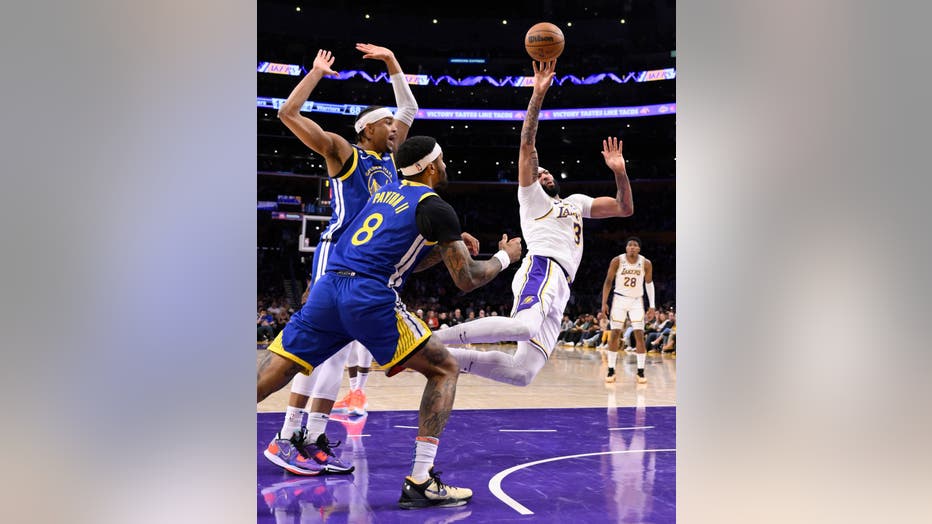 Los Angeles, CA - May 06: Anthony Davis #3 of the Los Angeles Lakers shoots against Gary Payton II #8 and teammate Moses Moody #4 of the Golden State Warriors in the second half of game 3 of a Western Conference Semifinals NBA playoff basketball game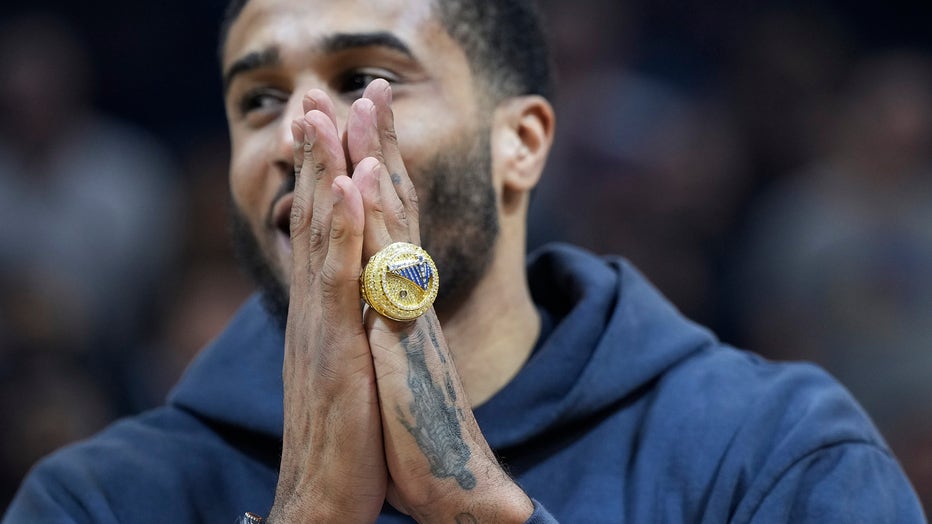 SAN FRANCISCO, CALIFORNIA - DECEMBER 30: Gary Payton II of the Portland Trail Blazers shows off his Golden State Warriors 2021-2022 championship ring after he received it from the Warriors prior to the start of their game at Chase Center on December