Attorney for Monterrosa family vows to hire private security to monitor returning officer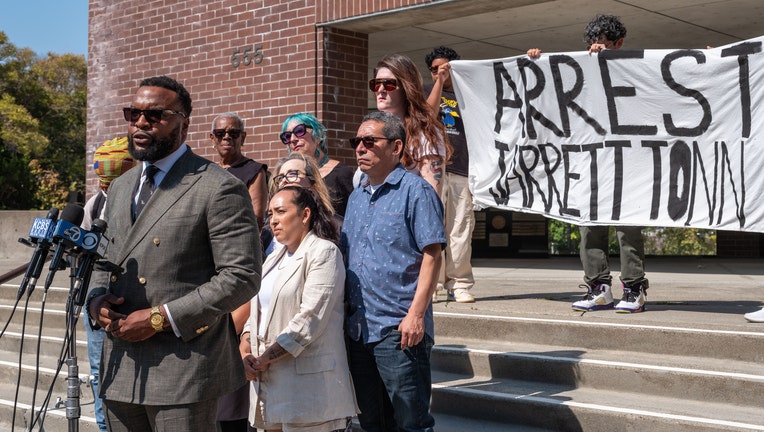 article
VALLEJO, Calif. - The family of a man shot and killed by police in 2020 during the unrest surrounding George Floyd protests in Vallejo held a press conference with their attorney Thursday to decry the reinstatement of the officer that shot him. 
Around 75 people gathered on the steps and surroundings of Vallejo City Hall, some with signs that read "Justice 4 Sean Monterrosa" and "Arrest Jarrett Tonn."  
Detective Jarrett Tonn was fired by then-Chief Shawny Williams in 2021 after he found that Tonn had fatally shot Monterrosa while the 22-year-old was on his knees with his arms raised.  
This week it was announced that Tonn will be returning to the force with full back pay after prevailing in arbitration about his termination.  
The Monterrosa family's attorney, Lee Merritt, spoke to the crowd and made a bold promise in the wake of Tonn's return: they would hire a private security team to monitor him on his shifts.  
"When he clocks in, we'll clock in," said Merritt. "When he clocks out, we'll clock out."  
Merritt said it was necessary to keep watch on Tonn because the community needs to know that they are not safe when he is present.  
Tonn shot three people during his time on the Vallejo force, none of which were found to have had firearms on them.  
The attorney also said the safety of Tonn should be considered as well, because Merritt said he has "already began to receive reports about people who want to do harm to him."  
Merritt said he has placed $10,000 in an escrow account to pay for the security and Vallejo civil rights attorney Melissa Nold said she would match that amount. Nold is representing the family of 20-year-old Willie McCoy, who was riddled with 55 bullets in just over three seconds after he fell asleep in a Taco Bell drive-thru in Vallejo in 2019. 
Monterrosa's two sisters, Michelle and Ashley, spoke at Thursday's gathering.  
"Ashley and I have had to put our bodies on the line to bring attention to what happened in our brother's case," said Michelle, "but also what's been happening here in the city of Vallejo before Sean. Sean is just a piece of the puzzle."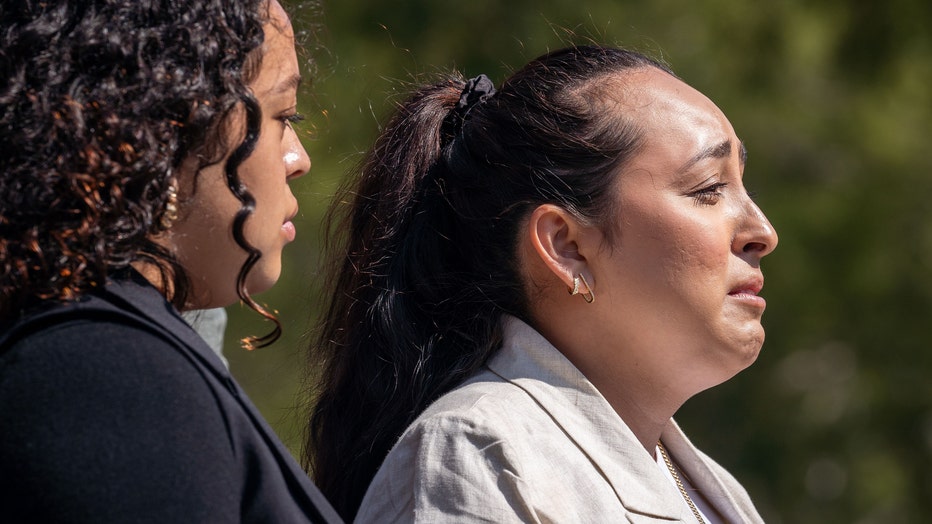 Michelle Monterrosa (right) tears up as she speaks about her brother, Sean Monterrosa, alongside her sister Ashley Monterrosa (left) during a press conference outside Vallejo City Hall in Vallejo, Calif., on Aug. 31, 2023. (Harika Maddala/Bay City Ne
The sisters demanded that the city release a report about the Police Department's badge-bending scandal, which was completed in 2021 but has yet to be shown to the public.  
Officers in Vallejo bent the tips of their badges to mark the killing of citizens in what some call a macabre ritual but the attorney for the Vallejo police officers' union Michael Rains said was meant as a way to signify officers "surviving officer-involved shootings." 
The American Civil Liberties Union filed suit last fall against the city to compel it to release what they say are public records regarding the report. The city claims it's a personnel issue and therefore not for the public.  
Other family members of people shot by police were in attendance, including Addie Kitchen, whose grandson Steven Taylor was killed by police in San Leandro in 2020 during what she said was a mental health crisis.  
Stream KTVU on your TV by downloading Fox Local on your Roku, Amazon Fire, AndroidTV or AppleTV device for free. More details here.
"I want the family and the community to know that I support the Monterrosa family," she said. "We are a family -- there are more people that are impacted by law enforcement than you can imagine ... our brothers and sisters and children and grandchildren should not be murdered by law enforcement." 
The Monterrosa family has filed a federal civil rights lawsuit against the city, which Merritt said is currently in the discovery phase and depositions are being taken.  
The California Department of Justice is also investigating the shooting and could file criminal charges against Tonn, though the case began over two years ago and there has been no update released in the case. 
The Monterrosa family said they and their supporters will be at the Sept. 12 City Council meeting to demand that the badge-bending report be made public.  
"No more delays, no more. Now!" said Michelle, who specifically called out "people in positions of power" in Vallejo.  
"It's up to you," she said. "You want to be on the right side of justice or if you want to be bird-dogged next time?"  
From left, Sean Monterrosa's younger sister Ashley Monterrosa, mother Laura Monterrosa and elder sister Michelle Monterrosa tear up during a press conference outside Vallejo City Hall in Vallejo, Calif., on Aug. 31, 2023. (Harika Maddala/Bay City News/Catchlight Local)
The shooting death of Monterrosa gained national attention after an already embattled police department known to have killed 19 people in the span of a decade appeared to have shot another person of color. 
On June 2, 2020, Tonn and two other officers were responding to alleged reports of looting at the Walgreens store on Redwood Street. The officers were in an unmarked pickup truck. Body camera footage shows Tonn, who is seated in the backseat of the vehicle, stick an AR-15-style assault rifle in between the two officers and fire five times through the windshield at Monterrosa as the police vehicle approached the store. 
Monterrosa died a short time later. 
Vallejo police have maintained that Tonn mistook the wooden handle of a hammer in Monterrosa's sweatshirt pocket as the butt of a gun.  
Recently the Vallejo City Attorney's Office was found to have broken the law by deliberately destroying records related to officer-involved shootings, many of which are embroiling the city in expensive lawsuits.