California races to prepare for next round of severe storms
SACRAMENTO, Calif. - Officials are warning residents in the Bay Area and beyond to prepare for next round of severe storms barreling through California.
More turbulent weather is expected Sunday evening as extreme rain, thunderstorms, and damaging winds sweep into the northern part the state.
The National Weather Service warned a "relentless parade of atmospheric rivers" — storms that are long plumes of moisture stretching out into the Pacific capable of dropping staggering amounts of rain and snow.
Gov. Gavin Newsom and other officials with multiple emergency and utility services spoke at a press conference Sunday warning California citizens about the upcoming weather.
Authorities said residents need to stay connected to local emergency agencies for the latest updates, even if located outside the Bay Area. Residents also need to be prepared for evacuations.
Officials said multiple agencies are organized with the state and federal government, equipped to handle the upcoming storm.
Newsom shared during the conference that research on atmospheric rivers and bomb cyclones have been conducted, and investments upward of $700 million have been dedicated to flooding protection infrastructure from the U.S. Air Force and federal government.
"Stay safe, stay dry, and stay home," said Secretary of Natural Resources Wade Crowfoot.
Acting commissioner for CHP Sean Duryee said CHP officers and first responders will be deployed throughout the state. 
Office of Education says most schools closed Monday for the upcoming storm, including Sonoma County.
"Hot's getting hotter, dry's getting drier, and wet's getting wetter," Newsom said. He also said in the last 10 days, at least 12 people have died due to the storms-more than those who've died in recent wildfires.
Officials also ask residents to create an emergency plan. Templates for such can be accessed on their website.
Formal requests have been made to the White House and FEMA, and resources are being brought as far as Canada to assist. Newsom said what the state is asking for is unique, due to the fact the State is aware of what's to come.
"Nature of the times…preview of things to come," Newsom said.
Drivers should not cross through water, no matter how shallow it appears to be. Cars can float in depths as small as 12 inches; added with a current, cars are easily swept away, officials said.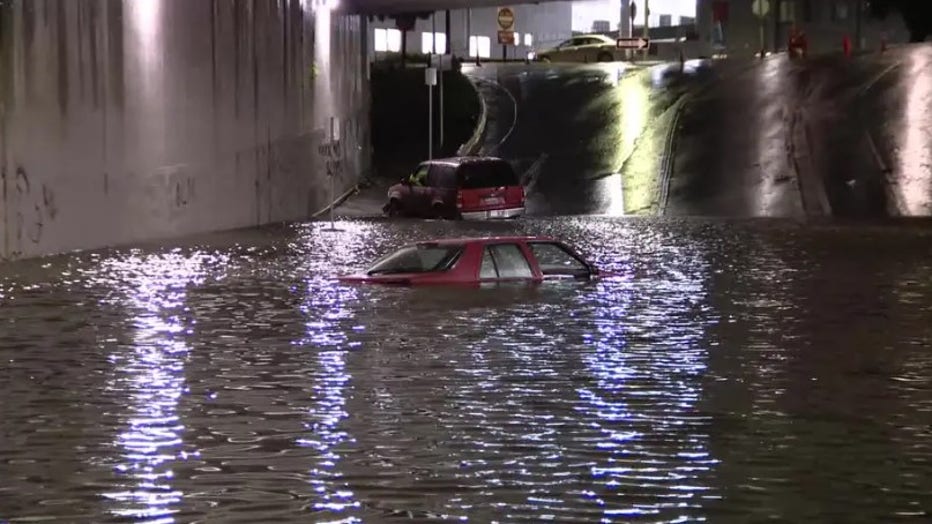 A car is submerged under an overpass in Oakland. Jan. 4, 2023
Since Dec. 26, San Francisco received more than 10 inches (25 centimeters) of rain, while Mammoth Mountain, a popular ski area in the Eastern Sierra, received nearly 10 feet (3 meters) of snow, the National Weather Service reported.
Evacuation warnings were in place for about 13,000 residents of a flood-prone area of Sonoma County north of San Francisco, where the swollen Russian River was expected to overspill its banks in the coming days.
The state Department of Transportation warned motorists to stay off mountain roads after closing a stretch of U.S. 395 in Mono County due to heavy snow, ice and whiteout conditions along the Eastern Sierra.
ALSO: Bay Area power outages reported after windstorm
"With the severe nature of this storm, Caltrans is asking all drivers to limit nonessential travel until the peak of the storm has passed," the department said in a statement.
The storms won't be enough to officially end California's ongoing drought — but they have helped.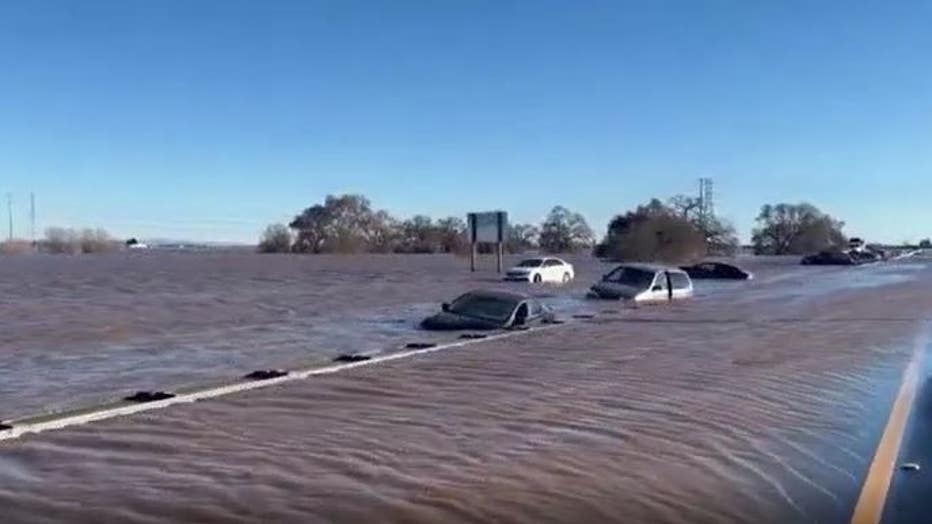 Flooding on Highway 99 in Sacramento County. 
State climatologist Michael Anderson told a news briefing late Saturday that officials were closely monitoring Monday's incoming storm and another behind it and were keeping an eye on three other systems farther out in the Pacific.
For those feeling overwhelmed by the recent storm-related news and impacts, counselors are available to speak with at (833) 317-HOPE. 
Associated Press contributed to this report.