'Dollarita Steve' gets the last laugh, lands deal with Applebee's
SAN FRANCISCO, Calif. - The San Francisco transplant who broke the internet after "slammin Dollaritas" during an earthquake in the city last week has partnered up with Applebee's, the restaurant chain announced on Monday.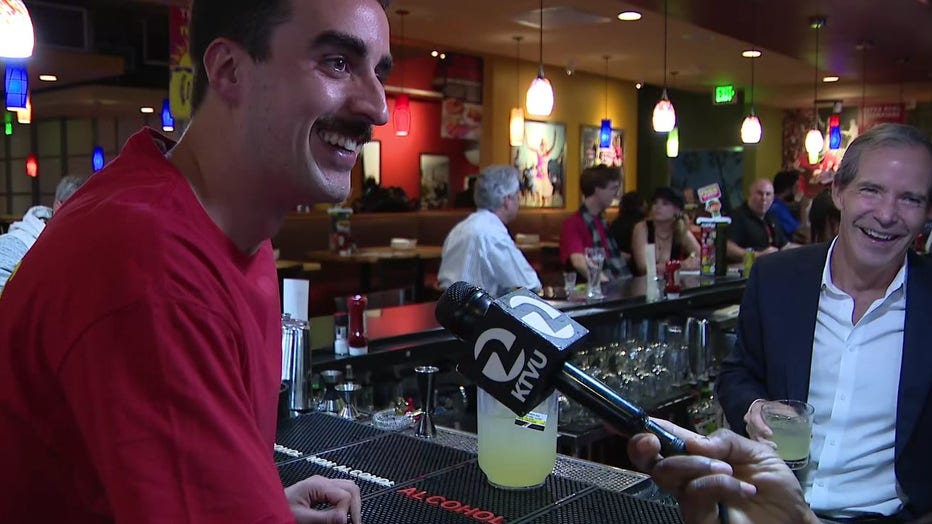 Steve Mazzari enjoys a Dollarita at the Fisherman's Wharf Applebee's
Steve Mazzari, now commonly known as "Dollarita Steve," captured the hearts of many when he gave his honest take about the 3.9 shaker. Maybe it was his strong Jersey accent, maybe it was his mustache, or maybe, just maybe, "Dollarita Steve" is the humble hero we didn't know we needed. 
Now, thanks to Mazzari's viral success, the Dollarita, a $1 margarita and staple of Applebee's, will officially be back for the month of November at the Fisherman's Wharf location in San Francisco. KTVU camera crews were there to capture the announcement. 
"I think this is my magnum opus. Beethoven had his Moonlight Sonata, I had bringing the 'Dollarita' back to San Francisco… I dreamed this into reality, I made it happen," Mazzari told KTVU. 
When asked how he feels about his new moniker, Mazzari said he's doesn't mind it, "Dollarita Steve? Oh, I'm rollin with it, I'm good. I'm talking with my legal experts about whether or not we are gonna make a permanent change," he said with a chuckle. 
The owner of the Applebee's at Fisherman's Wharf, Greg Flynn, was also on hand to make the announcement with Mazzari. Flynn told KTVU that he's excited to bring the affordable drink back to his location in Mazzari's honor. 
"This is definitely the weirdest week of my entire life, and if this is how I'm remembered when I die, then so be it," Mazzari said.