Dozens of Dublin prison sex survivors face deportation
DUBLIN, Calif. - The sex abuse between officers and incarcerated women at the Federal Correctional Institute at Dublin is well known -- it's been the subject of congressional hearings and earned it share of national headlines.
What remains in the shadows is how some undocumented and noncitizen women are being deported after sharing stories with authorities of sexual abuse. 
Nearly three dozen women at FCI Dublin have either been deported or are facing possible deportation, even though their attorneys say that as sexual assault survivors or witnesses of this abuse they are eligible for law enforcement to certify their U-visas, which can provide a pathway to citizenship. 
The purpose of a U-visa is to encourage crime victims to come forward without fear of deportation. 
The deportation issue highlights a divide.
Immigrant rights advocates argue that the women have suffered enough – including retaliation in prison for coming forward – and have helped the federal government charge five correctional officers with sex crimes, leading to four convictions so far, including that of the former warden. 
"It's not fair," Dolores Street Community Services deportation defense attorney Andrea Reyes Corena said in a recent interview. "The federal government has a responsibility and a duty to individuals who they hold in their custody. And federal employees committed these crimes. The federal government has to support those women to get the services they need and prevent deportation. This is just an additional layer of egregiousness when the crimes are perpetrated by federal police themselves."
The U.S. Attorneys Office counters that they have helped in some instances and they review each case on its merits. Legal observers note the federal prosecutors might not want to be seen as exchanging U-visas for testimony, which could discredit their witnesses on the stand.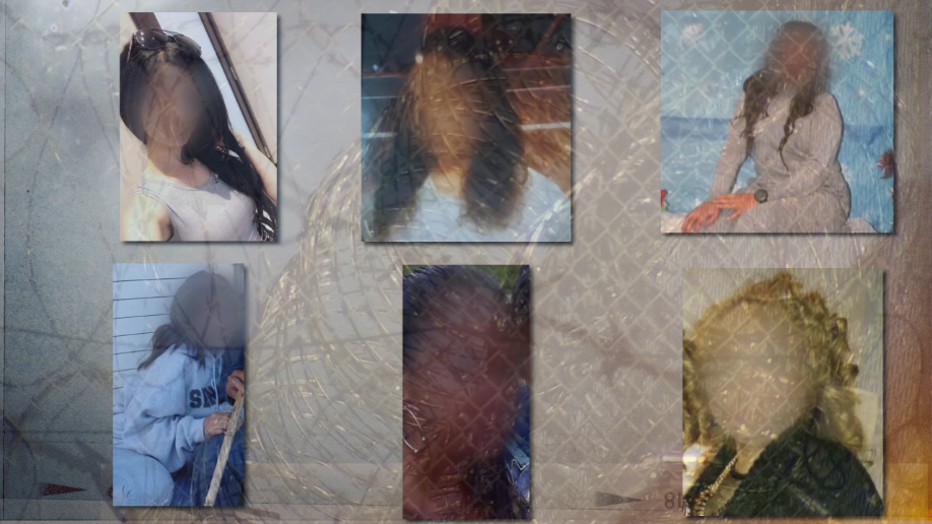 Collage of six women being held in ICE deportation facility in Tacoma, Washington. These women say they were sexually abused at FCI Dublin. 
35 women deported or facing deportation 
A coalition of about 120 human rights organizations and prison rights advocates from Centro Legal de la Raza in Oakland to Rights Behind Bars in Washington, D.,C, have compiled a list of 35 women who said they were sexually abused at FCI Dublin, or have provided relevant information to federal investigators about the abuse, and who are now facing deportation.
At least seven women who were sexually assaulted by officers at FCI have been deported already and 17 more are currently in deportation hearings.
Another nine sex survivors who were abused at FCI Dublin and are now in Bureau of Prisons custody have immigration detainers against them, meaning that ICE will try to deport them as soon as they are released from prison.
Eighteen of these 35 women were interviewed by the FBI and the federal prosecutors, relaying their stories of sexual assault, the coalition of attorneys said.
Overall, 140 women have come forward to these attorneys with stories of sexual abuse over the last five years.
Federal prosecutors have intervened in at least two deportation cases.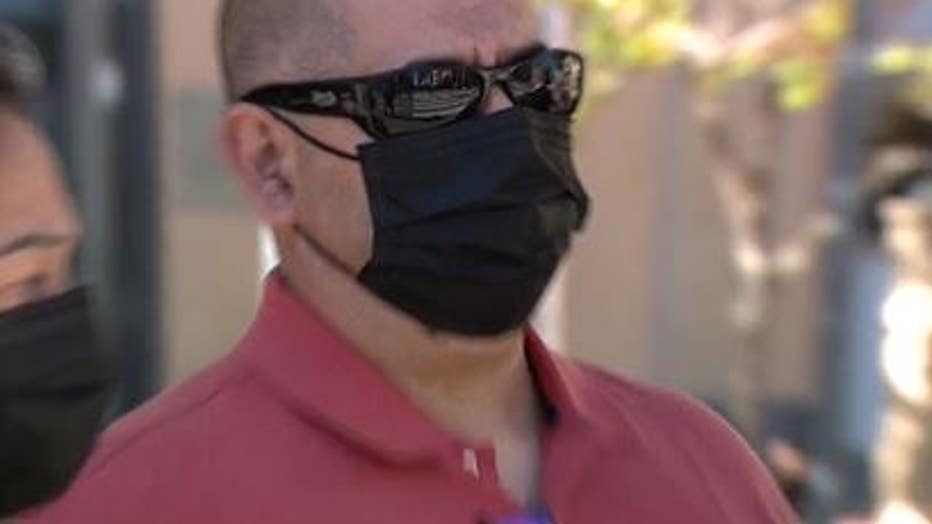 Former FCI Dublin cook Enrique Chavez declines to comment after pleading guilty to fondling an incarcerated woman. Oct. 27, 2020 
The organizations also provided some anecdotes of women they say were sexually abused at FCI Dublin and helpful to the government.
As one example, an incarcerated woman identified as T. was harassed by a kitchen worker for months, who repeatedly solicited her for sex. 
When she refused to have sex with him, he hit her, the attorneys said. 
T. also walked in on convicted former prison cook Enrique Chavez having sex with a woman in a closet, and saw another officer have sex with her cellmate. 
T. reported Chavez and the other officer to Internal Affairs and the FBI and "faced relentless retaliation as a result," her attorneys said. 
ICE has refused to release her from detention or halt her deportation, and federal investigators have not assisted her, her attorneys said. She is now being held in an ICE detention facility in Tacoma, Wash. 
Immigrant women at FCI Dublin were specifically targeted for abuse, the attorneys said, because officers knew that began of their non-citizen status, they had little power or recourse. 
"Federal employees specifically targeted non-citizen women because they knew that they had language limitations and might not report them or that they were going to get deported and then not be a problem for them," Corena said. "I mean, verbatim, he said 'You're no longer going to be a problem for me.' "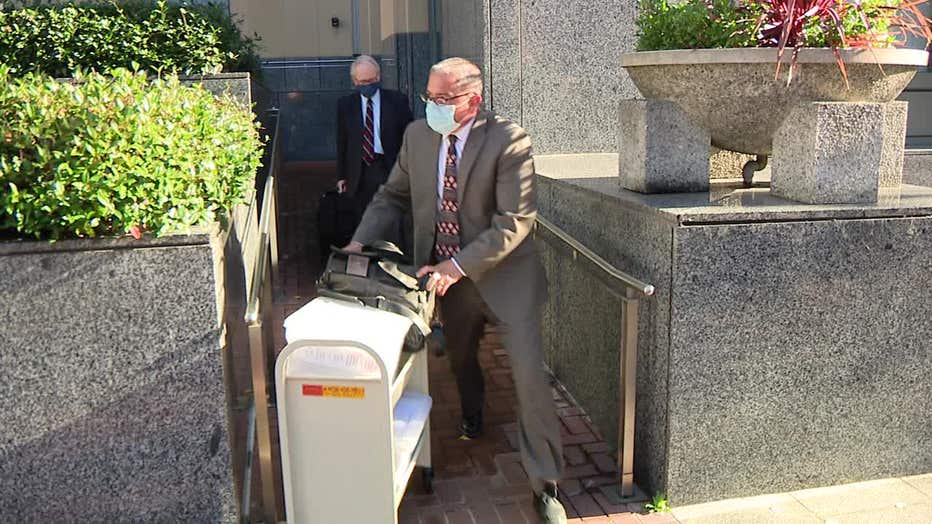 Former FCI Dublin warden Ray J. Garcia wheels out a caseload of files after taking the stand in his sex abuse trial in federal court in Oakland. Dec. 2, 2022 
Case-by-case basis 
For its part, U.S. Attorney for the Northern District of California spokesman Abraham Simmons told KTVU in an email that the agency considers requests for U-visa certifications on a case-by-case basis and certifies such requests "when appropriate."
For example, federal prosecutors signed a U-visa for a woman named Maria, who was abused by the former FCI Dublin Warden Ray Garcia and who testified at this trial. 
"Did the government request that your removal from the United States be paused?" Maria was asked at trial. "Did you apply for a U-visa?" 
"Yes," Maria answered.
"What is the status of your U-visa application?" 
"I truly don't know," she said. 
And federal prosecutors asked that ICE temporarily defer deportation for another woman, only until after the Garcia's trial, court records show. 
Garcia was convicted of seven counts of sexual abuse and one count of lying to the FBI in December. 
Simmons declined to say more. 
"The federal prosecutors have intervened for some cases," Corena said. "They have intervened to ask ICE to release some of the women who have testified, but not all. The federal prosecutors seem to focus primarily on individuals who they believe might be the most assistance to them."
Simeon Meyer, the jury foreman in the warden's case, told KTVU that his peers never seriously considered the women's past criminal history or the government's offer of a U-visa when they testified about their sexual abuse. 
"We did go through a deliberative and eliminative process discussing possible motives," Meyer said, adding that the jurors considered the women's immigration status as one possible rationale for them speaking out. "But we ultimately overruled them because the evidence was so strong."  
What are U-visas?
U-visas were created to protect noncitizen victims of crime from deportation, and encourage noncitizen victims to report crime to law enforcement agencies. 
To be eligible for a U-visa, a person must have been a victim of a qualifying crime, have suffered physical or emotional harm as a result, have information about the crime and have been helpful to law enforcement. Sexual assault is considered a qualifying crime. 
A U-visa applicant needs to obtain a certification from a law enforcement agency - such as a police department, prosecutor, judge, or prison officials - saying that they were a victim of a crime, and reported that crime to the agency.
A law enforcement agency can sign a certification even if no charges were ever filed, no prosecution or conviction resulted, the investigation is over or the case is closed. 
Under California state law, law enforcement agencies are required to sign U-visa certifications if a noncitizen victim reports a crime, and are prohibited from refusing to sign the visa "solely because a case has already been prosecuted or closed."
Federal prosecutors and the FBI are not bound by California law. 
"Any law enforcement agency can certify it," said Jean Reisz, co-director of the USC Immigration Clinic University of Southern California, who is not connected to the case.  "So it could be the FBI, it could be the U.S. attorney's office. And all that is required is that the victim didn't fail to cooperate with law enforcement. So you don't have to testify in court. You don't have to be part of the allegations and the charging document." 
Even if a U-visa is certified, immigration attorneys say it often takes between six and nine years to have that process formalized by the US Citizenship and Immigration Services. Only about 1/5 of the applications get approved. 
And what if a woman lies about her sexual abuse, just to get this signed piece of paper?
"If someone were to come with a false claim, law enforcement could ultimately choose not to certify," said Reisz, who had no prior knowledge of the situation at FCI Dublin. "So I don't think it opens the door any more than just having this law opens the door."
 
Frustrations mount against ICE, closed cases 
While immigrant rights attorneys also are frustrated with federal prosecutors, they are mostly upset with ICE, saying the agency isn't following its own policies and using the type of discretionary decisions they can make regarding victims of sex crimes. 
An ICE spokesperson did not address any specific questions about why these women would be deported.
In general, the agency stated they are "focused on smart, effective immigration enforcement that protects the homeland through the arrest and removal of those who undermine the safety of our communities and the integrity of our immigration laws."
There are some women whose stories will never be vetted because the officer who allegedly sexually assaulted them is dead.  
Several women who say they were assaulted by former FCI Dublin correctional officer Nicholas Ramos are now facing deportation, the coalition of attorneys said. 
Federal investigators have refused to even interview these women, the attorneys said.
That's because Ramos died by suicide in August 2022, about six months after he and two dozen others were placed on leave as authorities investigated him for alleged sexual misconduct. 
"They say, well, there's nothing that we can investigate at this point," Corena said. "But that doesn't change the fact that they were still victims of these crimes."
Reisz agreed.
"The fact that they aren't pursuing it or that he's no longer alive doesn't impact the eligibility for the U-visa," she said. 
Chilling effect 
Corena added that she understands to a point that prosecutors don't want to be seen exchanging testimony for visas.
But she said this approach could also backfire, and have a chilling effect on future cases.
Noncitizen women may not want to provide information and testimony about sexual abusers in prison, especially because the retaliation they face after reporting these allegations has been swift and severe.  
"I think the government not showing a clear stand at supporting these women in a way that is robust," Corena said, "will really prevent more non-citizen women to come forward."
 
Lisa Fernandez is a reporter for KTVU. Email Lisa at lisa.fernandez@fox.com or call her at 510-874-0139. Or follow her on Twitter @ljfernandez