Google to add pre-written text prompts to suicide-related search results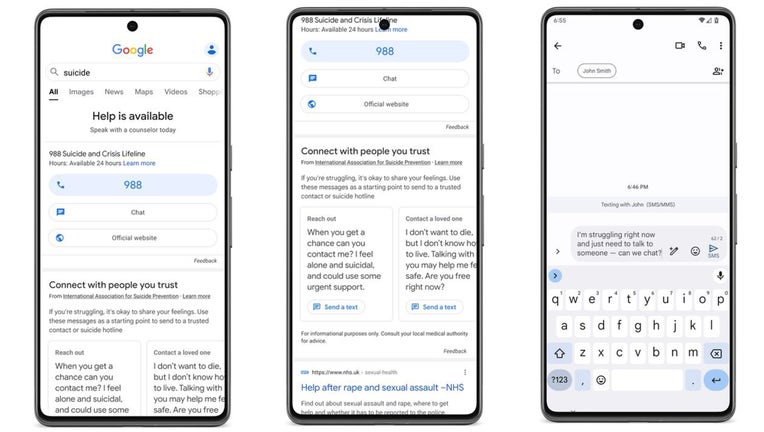 article
SAN FRANCISCO - Google is implementing new ways in which people struggling with suicidal thoughts can get support in a moment of crisis. 
The company on Monday noted how people often turn to Google Search "in some of their most vulnerable moments," adding how searches for "mental health crisis" continue to climb each year. 
For years, suicide prevention information has been visible at the top of relevant search results on Google. Last year, it was updated to include the 988 Suicide and Crisis Lifeline, a three-digit hotline funded by the U.S. Department of Health in which people can speak to trained counselors in a time of crisis.
RELATED: Google is adding AI to search engines: Here's how it will work
In honor of May being Mental Health Awareness Month in the U.S., Google said it's taking this support a step further. When someone searches for suicide-related terms, they'll soon see pre-written prompts in an effort to "reduce the stigma of reaching out to ask for help."
"When someone is in a vulnerable situation, it can be difficult to put this experience into words and know what to say to ask for help," Dr. Megan Jones Bell, Google's clinical director of consumer and mental health, wrote in a blog post. 
"To better support people reaching out to someone they trust, starting soon in the U.S., when someone searches for suicide-related terms, they'll see a prompt with conversation starters they can send via text message," Bell added.
The pre-written prompts, which include a button to easily send it as a text message, include: "I'm struggling right now and just need to talk to someone – can we chat?"
Another reads, "When you get a chance can you contact me? I feel alone and suicidal, and could use some urgent support."
Google said the prompts were written in partnership with the expertise of the International Association for Suicide Prevention and will appear below the 988 Suicide and Crisis Lifeline.
The company also cited data from the U.S. Centers for Disease Control and Prevention which showed suicide as the second-leading cause of death for teens and young adults from the ages of 10 to 34. 
Google, which owns YouTube, said it recently updated its approach to eating disorder-related content on the massive video-sharing platform. 
"In order to protect viewers from harmful content, we're removing certain content that shows or describes disordered eating behaviors such as binging or purging," Bell wrote. "We're also adding age-restriction to videos that are centered on eating disorder recovery to viewers 18 years or older."
"Crisis support panels" for eating disorders also now appear underneath videos related to eating disorders, in addition to the search results.
RELATED: Loneliness poses risks as deadly as smoking, US surgeon general says
If you or a loved one is feeling distressed, call the National Suicide Prevention Lifeline. The crisis center provides free and confidential emotional support 24 hours a day, 7 days a week. Call the National Suicide Prevention Lifeline at 1-800-273-8255, or text 741-741.
This story was reported from Cincinnati.