Man frustrated by Oakland sideshow gets attacked by crowd
Oakland - A man frustrated by a sideshow in Oakland lunged at a car spinning donuts around him and was then attacked by the crowd in an incident that was captured on video.
The incident happened at 34th and Adeline streets on Sunday. Videos posted on social media show the man hitting a careening white car. Several people then go after him, kicking and punching him repeatedly, even as he's on the ground. At one point, the man appears to go unconscious. The sound of screeching tires can still be heard as he lies motionless on the sidewalk. 
The man's condition could not be confirmed Monday. Oakland police said they were aware of the attack at one of numerous sideshows across the city on Sunday that led to one arrest, a gun recovered and two cars towed.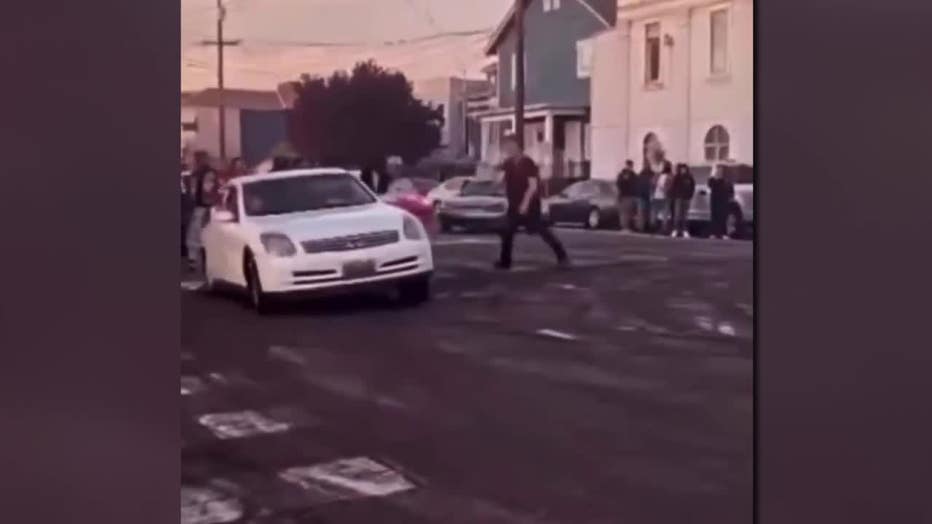 A man seen hitting a car in an Oakland sideshow was attacked moments later by other spectators.  (KTVU FOX 2)
At the same sideshow at 34th and Adeline, a red Mustang slammed into a fire hydrant, sending water shooting into the air.
Nia Navarro, who's visiting Oakland from out of state, sympathizes with the man who tried to stop the mayhem. 
"If he's fed up, he should speak up, right? But personally, I don't like to get involved in that. I don't recommend people [get] involved in that," Navarro said.
Oakland City Councilmember Noel Gallo, who has been trying to crack down on sideshows for years, agreed.
"Please do not, you know, interfere. Let the police officers respond to that," Gallo said.
Another video shows an Oakland officer driving slowly through a sideshow of dirt bikes and ATVs at 42nd Avenue and International Boulevard in East Oakland. The officer takes off while being escorted by bikers seemingly taunting the officer.
Gallo said he and residents are beyond frustrated. The council rejected his proposal to go after spectators. He's still trying to go after promoters and participants. 
"We're not trying to criminalize, we're trying to protect the residents of Oakland," Gallo said. "We're just trying to enforce the laws that we have and make it not only safe for the community, but also safe for the individuals that are involved in the sideshow."
It seems like no part of the city is immune. 
Another video shows people caravaning on dirt bikes and ATVs on both sides of International near 67th Avenue.
Other footage captured cars and bikes at another sideshow at Lakeshore and Hanover avenues at the edge of Lake Merritt.
Yet another sideshow took place at 5th Avenue and East 10th Street. 
Henry Lee is a KTVU crime reporter. E-mail Henry at Henry.Lee@fox.com and follow him on Twitter @henrykleeKTVU and facebook.com/henrykleefan