Man injured in shooting near Dumbarton Bridge, CHP investigating
NEWARK, Calif. - A car's windows were shattered and the driver was injured Wednesday afternoon after a shooting near the Dumbarton Bridge, officials say. California Highway Patrol is investigating what happened. 
A KTVU crew in the area saw that a car was damaged while on the overpass of Paseo Padre Parkway over Highway 84 near the bridge. Officials said the shooting happened at 12:36 p.m. on eastbound 84 just west of Thornton Avenue. 
A man was located on the eastbound lanes with minor injuries, CHP said. Shots were fired from one car to another. The driver was hospitalized and is expected to recover. A CHP spokesperson said it wasn't known if the victim was hit by gunfire. 
A forensic team examined the car and the car has been towed away. 
There was no further information about the circumstances of the incident. There was no word of any suspect information or their vehicle. No arrests have been made.  
CHP Golden Gate Division is handling the investigation. 
KTVU's Jana Katsuyama and Bay City News contributed to this report.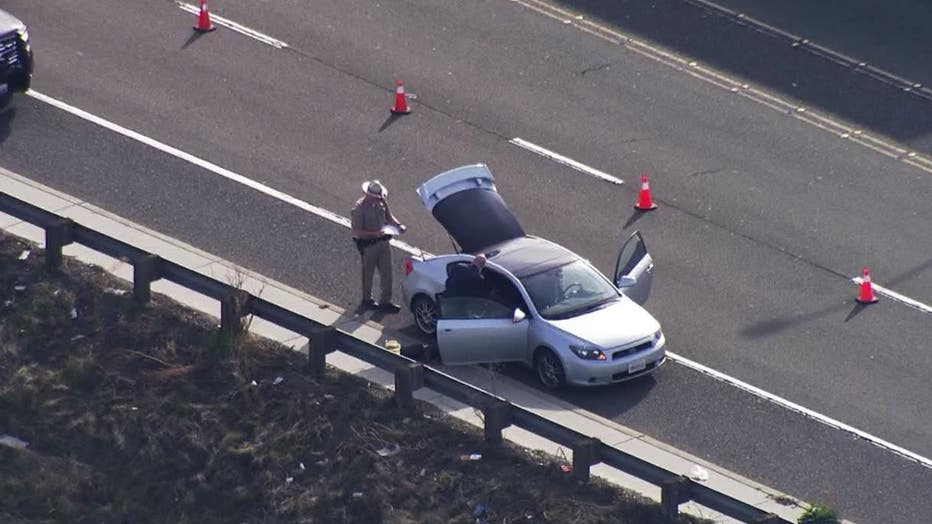 Car riddled with bullet holes after shooting on Dumbarton Bridge.