Nikki Haley proposes entitlement program changes for younger people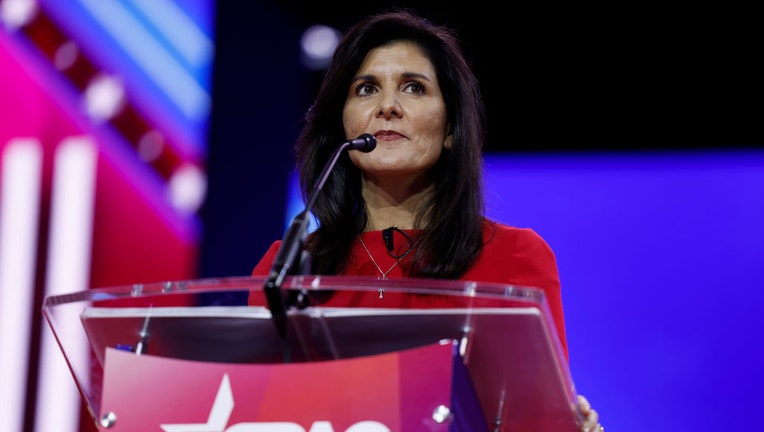 article
MYRTLE BEACH, S.C. - Republican presidential candidate Nikki Haley is proposing changes to entitlement programs for younger generations, opening the door to potential cuts to Social Security and Medicare if elected.
At a campaign rally Monday night in Myrtle Beach, South Carolina, Haley promised not to touch the benefits of older people who retired with certain guarantees of a financial future.
"We're not taking it from seniors," Haley said. "We're not taking it to anyone who's been promised anything. My parents are in their 80s. I don't want anybody touching theirs."
RELATED: Nikki Haley announces 2024 Republican presidential bid
But Haley, making her first campaign stop in South Carolina since launching her campaign last month, said her children, both of whom are in their 20s, are part of the generation for whom the benefits should be altered.
"Those are the ones we tell the rules have changed — anyone new coming in this system," said Haley, a former South Carolina governor and U.S. ambassador to the United Nations. "That's how you do entitlement reform. You let them know, it's not going to be there for you anyway, because Social Security goes bankrupt in 10 years, Medicare goes bankrupt in five. We have to do something."
Most leading Republicans have recently sought to signal their unwillingness to touch entitlement programs, though the GOP has a long history of threatening to slash the benefits. President Joe Biden, who has promised to "defend and strengthen" the programs, was met with boos from congressional Republicans when he said during his State of the Union address that "some Republicans want Medicare and Social Security to sunset."
RELATED: Nikki Haley faces 'high-wire act' in 2024 presidential bid against Trump
Democrats have pointed to a plan by Republican Sen. Rick Scott of Florida, introduced last year, that called for all federal spending legislation to sunset in five years, subject to votes in Congress that could preserve programs. After Biden's speech, Scott amended the plan to exempt Social Security, Medicare, national security, veterans benefits, and other essential services.
The programs are coming up against insolvency deadlines. 
Forecasters say Social Security won't be able to pay out its promised benefits in about a dozen years, and Medicare won't be able to do so in just five years. Economists say both programs will drive the national debt higher in the decades to come, forcing teeth-gritting choices for the next generation of lawmakers.
Others in the presidential field have taken the issue head on. On Monday in Davenport, Iowa, former President Donald Trump pledged to keep the programs as they are. "I will not be cutting Medicare, and I will not be cutting Social Security," he declared.
Speaking Sunday on Fox News, Haley proposed elevating the retirement age "so that it matches life expectancy," an idea she has mentioned during other campaign stops without delineating a specific age.
To Haley, entitlement reform should also include a move "to limit the benefits for the wealthy," as well as an expansion of Medicare Advantage, in which private companies offer plans that are reimbursed by the government for care.
"Let's create the competition," Haley said. "There are great programs — it will cause health care costs to go down. That's how you deal with the budget. That's what we'll do."
For the age limits, as well as the proposals for wealthier Americans, Haley has not specified details on what she has in mind.
Since opening her campaign Feb. 15, Haley has made stops in Iowa and New Hampshire, given speeches at the Conservative Political Action Conference and Americans for Prosperity gatherings and raised money in New York — although the campaign has said it won't release fundraising figures until the end of the first quarter.