Protesters occupy Oakland Federal Building, call for ceasefire in Gaza
OAKLAND, Calif. - Several hundred people took over the rotunda inside the Oakland Federal Building on Monday and hundreds refused to leave. The protest, tied to the war in the Middle East, ended with demonstrators either arrested or detained.
Protesters held signs that read "Jews say Ceasefire Now'. 
Shortly after 8 p.m., law enforcement began arresting demonstrators who refused to vacate. 
The protest is part of a national week of Jewish-led protests calling for a ceasefire. In a news release, the group Jewish Voice for Peace, said as many as 600 demonstrators are on hand who took action at 4 p.m. 
This also comes as President Biden is headed to the Bay Area for the Asia-Pacific Economic Cooperation summit. The president is scheduled to arrive on Tuesday. 
The demonstrators say this is the first mass Jewish sit-in on the West Coast, mirroring similar actions at Grand Central Station in New York and the Israeli consulate in Chicago. It's described as the largest Jewish protest over the Middle East conflict on the West Coast. 
Jewish Voice for Peace said they are calling on President Biden and Vice President Kamala Harris to follow the lead of Oakland Rep. Barbara Lee in her calls for an immediate ceasefire. 
Lee, in a statement said, "We demand an immediate ceasefire to protect innocent lives, deliver humanitarian aid to Palestinians, ensure hostage's safe return and stop the violence."
When demonstrators overtook the building, federal employees were forced to evacuate. But the protesters came in peace. They were armed with banners, they made a lot of noise by clapping and chanting. 
Among those protesting are allies including noted filmmaker, Boots Riley, of Oakland. On social media, he posted, "The govt of Israel does not act on behalf of, nor represent Jewish people." He followed up by saying, "A bunch of us are only leaving if it's in handcuffs." 
Rabbi Lynn Gottlieb, one of the first women to become a rabbi, according to the protest group, asked for U.S. government officials not to weaponize the people's grief by committing genocide. 
"We're asking that Gazans and Palestinians in the West Bank live and to stop sending U.S. military aid to Israel," Gottlieb said. She noted that more than 15,000 people have died from this conflict in the last three weeks alone – more than have died in the Russia-Ukraine war, she said. "We are here today because our religious tradition tells us to save one life is to save an entire world." 
Gottlieb said she has had friends who have died in Gaza during the ongoing conflict between Israel and Hamas. 
"We are not going away no matter what happens here today in this moment. We are joining with tens of thousands, if not, millions all over the world to ask our leaders to stop killing Palestinian people." She said the protesters believe Jewish safety and Palestinians' safety are linked. "We will get nowhere if we continue to fight wars against civilians." 
Last week, Israel agreed to a four-hour daily pause in Gaza to allow civilians to flee. 
Oakland Police Department officers are at the scene. Police said they are assisting the Federal Protective Service with the demonstration. Early in the protest law enforcement seemed to show restraint and did not make arrests. Streets in the area of the federal building, located at 1301 Clay Street, are closed and there is yellow police tape present. 
Shortly before 8 p.m., Riley said Homeland Security began giving orders to disperse. One of his posts shows video of an officer shouting out an order, but he's drowned out by seated peaceful protesters singing, "Ceasefire now…"
We've since been told by organizers that law enforcement has made multiple arrests after about 450 people refused to leave. We are working to get confirmed numbers on arrests or possible detainment of demonstrators from law enforcement.  
A mass sit-in at Oakland Federal Building comprised of Bay Area Jews and their allies calling for a ceasefire in Gaza.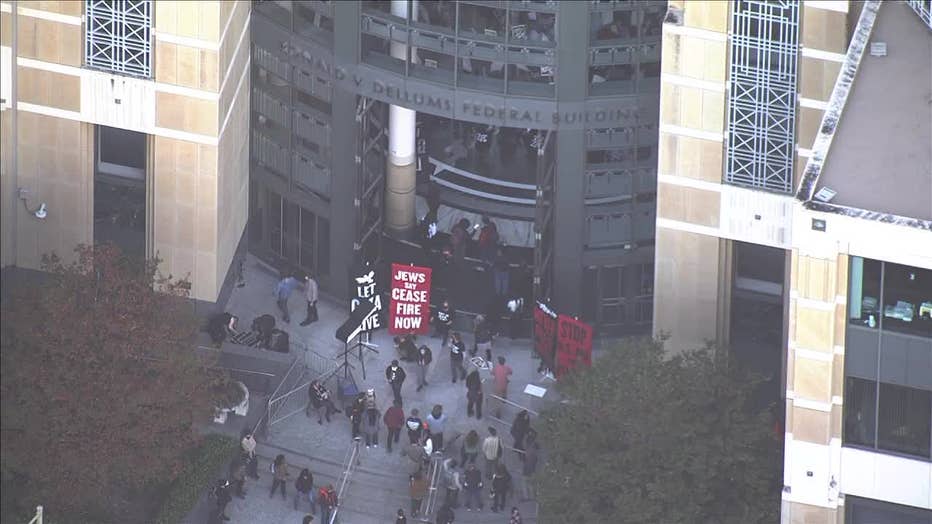 Oakland Federal Building protest.