San Francisco mayor, police chief provide update on crime prevention efforts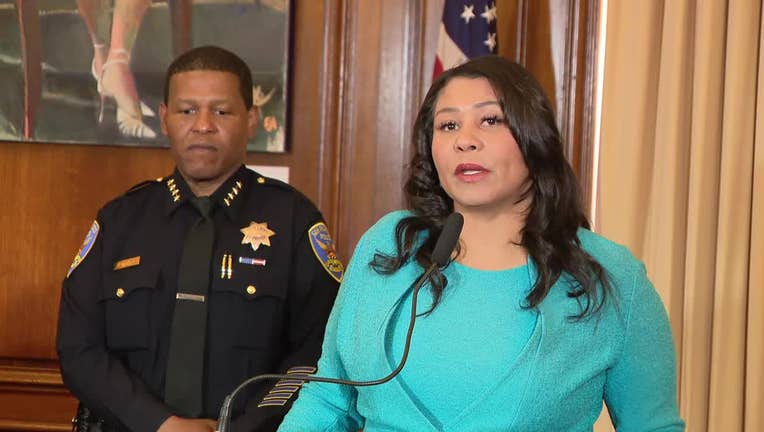 article
SAN FRANCISCO - Smash-and-grabs, drug dealing, car larceny and other public safety concerns in San Francisco were addressed at a news conference Friday by Mayor London Breed and Police Chief William Scott.
The tough-on-crime presentation provided updates on how the city is spending new state funds earmarked for organized retail theft, as well as new local initiatives and news on recent high-profile cases.
"San Francisco has one of the lowest crime rates of any major city and one of the highest clearance rates around homicide," said Breed, and Scott said that burglaries and thefts overall have been down compared to the previous year.  
"We're about 10% down in overall larceny burglaries, car break-ins are down year to date, about 7%," Scott said. "So, that's probably over a thousand less victims than this time last year."
In September, San Francisco received $17 million from the state, which distributed funds to local police and sheriff's departments and district attorney's offices to fight organized retail theft.
"That $17 million is going directly to pay overtime for police officers, for investigations and for the additional prosecutors in the District Attorney's Office," said Breed.
Some of that funding is also going to new police tactics, like "blitz" operations, which are used against groups of thieves that charge into a store and overwhelm security guards.
Scott gave an example of a case at a Walgreens store near Mission Street and Geneva Avenue, where a gang of thieves were met by a group of officers.
"Eight people run in with ski masks and a wagon, and they grab everything they can get their arms around and they try to run out of that store with the property," he said. "But our police officers were there running a blitz operation, and we were able to arrest six of eight."
Scott issued a warning to the two that got away. 
"You've got to be looking over your shoulders, because we're coming for you," he said.
On Thursday, the Dior store in Union Square was burglarized. A group of suspects drove a car into the store, smashed display cabinets and ransacked the store.
"Thanks to the quick response of San Francisco Police Department officers," Scott said, "we were able to arrest two of those suspects and recover over $150,000 of stolen merchandise.
Car break-ins are declining due to the police's bait car program, according to Scott. Officers are planted near cars with property in them, and when the thieves come and try to break in, the cops are waiting. He issued another warning to people who are breaking into cars.
"The next one that you break into may be ours and you will be caught," the chief said.
Stream KTVU on your TV by downloading Fox Local on your Roku, Amazon Fire, AndroidTV or AppleTV device for free. More details here.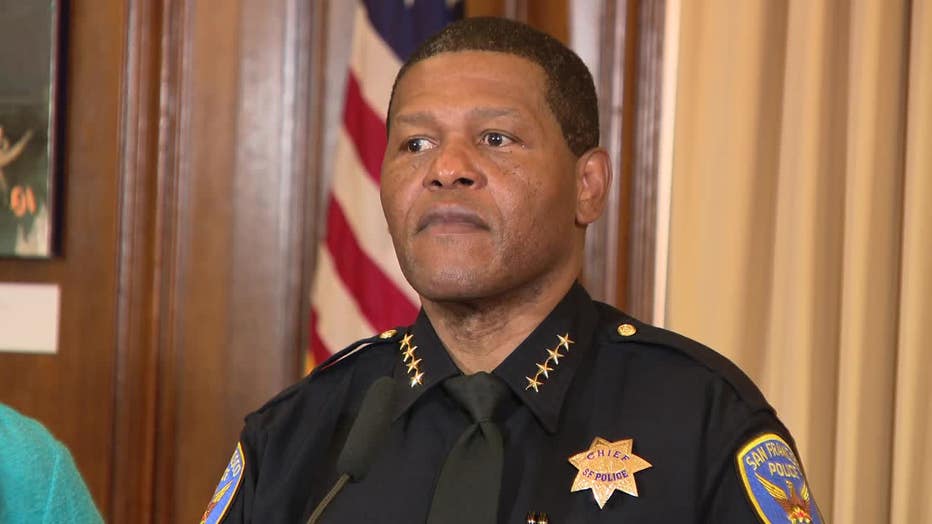 Regarding open drug markets in the Tenderloin neighborhood, Scott said police have arrested over 1,100 people since May and the majority of those have been drug dealers.
He said a Drug Market Agency Coordination Center that the mayor has set up has made a difference. The operation, which opened a station at a location on Market Street near Civic Center in April, was a program coordinated with the city's Department of Emergency Management designed to streamline the operations of multiple law enforcement agencies.
"We have had a steady flow of resources in the Tenderloin, including from the San Francisco Police Department, the California Highway Patrol, the Drug Enforcement Administration and the Federal Bureau of Investigation."
Breed said she may ask the San Francisco Board of Supervisors to help pay for a new reserve police officer force, which is currently funded from the city budget. Once they retire, police officers can join the reserve. They will continue to wear uniforms, will be armed, and they will be able to make arrests just like police officers can.
"I think we have about 30 of them and they are active out in the communities and helping with public safety," Breed said. "But we hope that by offering payment for their services, that we'll see that number increase."
On Monday, someone drove their car into the Chinese Consulate and a fatal officer-involved shooting occurred. Scott said a town hall about the shooting is planned for this coming Thursday, but at this point there is no further information to release.
"This is the most important thing that we are dealing with in San Francisco," Breed concluded. "We want to make sure that whoever you are, people who live here, people who work here, people who visit here, they need to feel safe."