Santa Cruz, Monterey counties evacuate towns as flooding strikes
FELTON, Calif. - As the rains pounded down, residents of Felton Grove, Paradise Park and Soquel Village in Santa Cruz County were evacuated and told to move to higher ground. 
Parts of Monterey County were also ordered to evacuate as flooding worsened on Friday. 
The evacuation order in Santa Cruz County, which came just before midnight on Thursday, came as no surprise. The sheriff provided a list of shelters for people who had nowhere else to go.
These Santa Cruz County towns, which are still recovering from January's atmospheric river that brought a relentless parade of rain and flooding, were warned earlier Thursday of a repeat weather event.
Monterey County's sheriff announced mandatory evacuations for Carmel Valley, Arroyo Seco and Pajaro due to flooding in these low-lying areas as well.
Meteorologists are expecting that this latest atmospheric river will unleash as much as 8 inches of rain in the county. 
In addition, Watsonville made evacuations mandatory for some neighborhoods.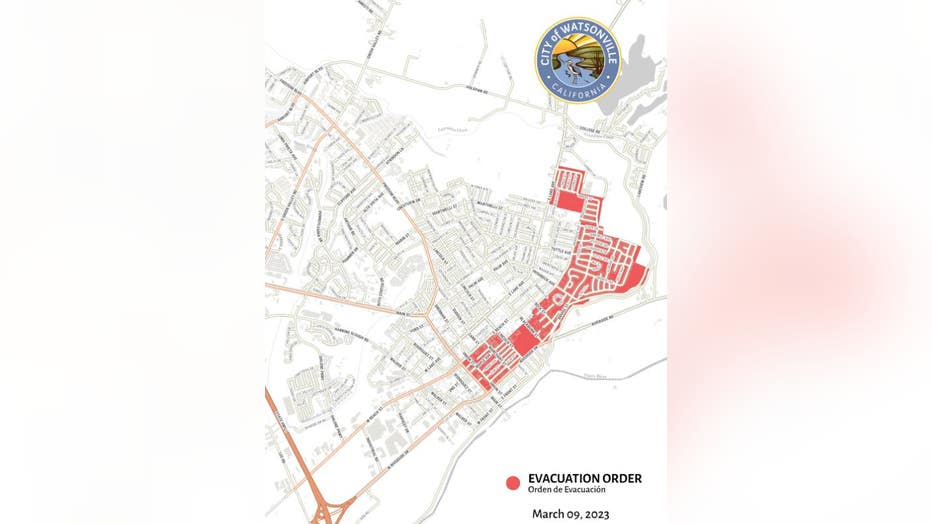 The City of Watsonville issues mandatory evacuations for the areas shaded in red.
Santa Cruz County has already been hit hard by the storms. 
In January, treacherous rains and winds ripped apart the historic pier in Capitola, deluged neighborhoods in Felton Grove and brought down mudslides on Highway 17.
Daniel Alexander, a Felton Grove resident, said he still needs to remove mud from his property from the previous floods. With six to eight inches of rainfall is expected this weekend, he's weary. 
"For me, this could be worse than any of the other floods we had in January," said Alexander.