Schnitzer Steel has history of fires renewing environmental concerns
OAKLAND, Calif. - A recycling scrapyard at the Port of Oakland where a massive fire broke out Wednesday has been the site of several fires in recent years, resulting in environmental violations, fines and renewed calls for the company to clean up its act.
Schnitzer Steel operates the recycling facility on Embarcadero West in West Oakland where a large pile of scrap metal was still burning Thursday evening. Nearly 24 hours after fire broke out, Oakland Fire Department said they had concluded their work at the scene and all of their resources have left the facility. 
The billowing black smoke from debris prompted the Bay Area Air Quality Management District to issue an air quality advisory in effect until midnight as firefighters continue to douse hot spots. The air district said the facility received two notices of violation due to the fire. In addition, the district's compliance and enforcement division said they received 47 air pollution complaints as of 7:45 a.m. on Thursday connected to the fire.  
Smoke and potentially toxic air was detected in Oakland, Alameda, San Leandro, Fremont and as far south as San Jose.
"Due to the nature of the fire at this facility, there could be other things in that smoke," said Erin Demerritt with the air district. "We are advising residents to stay indoors if they smell smoke in order to protect their health."
Some nearby businesses and Port of Oakland operations were shut down Thursday as a precaution.
This is sixth major fire at Schnitzer Steel since 2018 involving hazardous materials, frustrating several community stakeholders.
San Francisco Baykeeper tells KTVU the company has faced several environmental violation notices and fines in recent years but Schnitzer is just paying to pollute.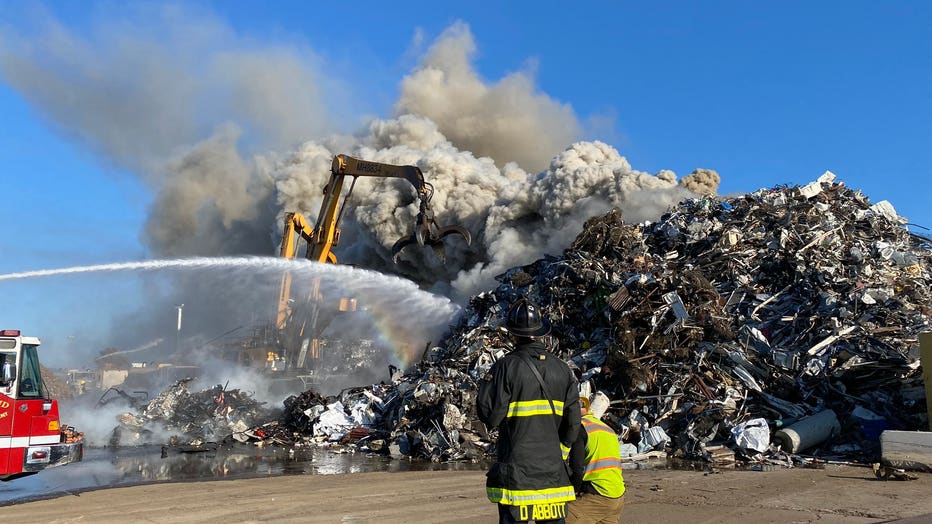 Pile of debris on fire at Oaklands Schnitzer Steel. Aug. 9, 2023. 
"It's just a real hazard and they shouldn't be operating in a way that causes this much pollution," said Executive Director Sejal Choksi-Chugh. "They're not really interested in cleaning up their operations and that's just not being a good steward of the West Oakland community and the Bay."
Portland-based Schnitzer Steel operates recycling and manufacturing plants across the U.S. and recently rebranded as Radius Recycling. Requests for comment went unanswered Thursday.
The company has faced many lawsuits claiming it violated emissions rules and failed to warn the community about pollutants in the air.
Schnitzer settled for $4.1 million in 2021 with the State of California and Alameda County following allegations hazardous waste entered the Oakland Estuary and polluted West Oakland neighborhoods.
In 2020, the Oakland A's filed its first of three lawsuits claiming the company created a danger if a waterfront ballpark was to be built at nearby Howard Terminal.
"We just want to ensure that they follow the law and that the air quality of folks in West Oakland and our employees and everyone with the A's is taken into account," A's President Dave Kaval said. "We're really sad to see the fires continue."
Stream KTVU on your TV by downloading Fox Local on your Roku, Amazon Fire, AndroidTV or AppleTV device for free. More details here.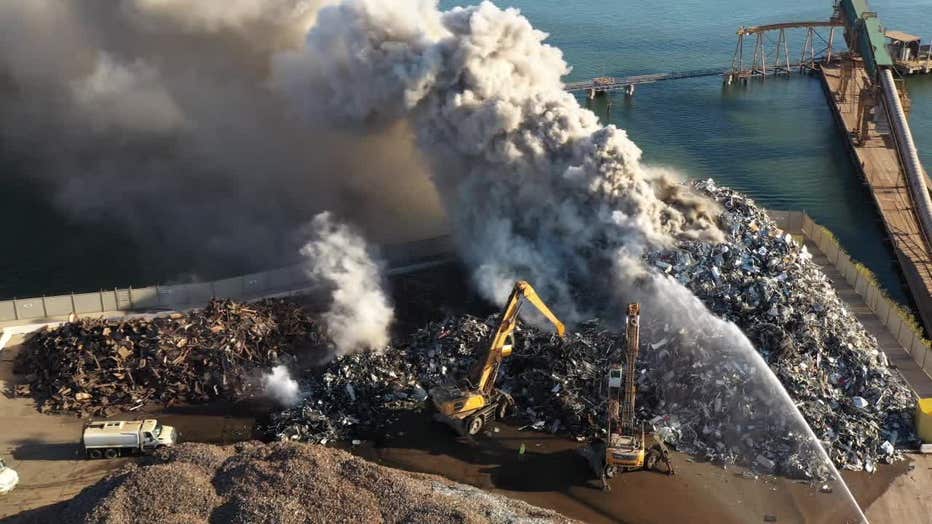 While firefighters have reported containing the fire at Schnitzer Steel, by Thursday morning, an air quality advisory remained in effect for nearby communities. Aug. 9, 2023
Kaval said the team will continue to pursue legal action against Schnitzer, despite plans to build a new stadium and move the team to Las Vegas.
The lawsuits also blast the Department of Toxic Substances Control, alleging the agency was not enforcing environmental laws at the scrap metal facility.
Roughly 23,000 people live within a mile of the facility, Kaval said.
"We're going to continue with these efforts to hold Schnitzer accountable," he said. "Hopefully prevent any future fires."
The cause of Wednesday's fire has not yet been determined and is under investigation by the Oakland Fire Department.
A spokesperson with the Port of Oakland said Thursday it will be monitoring the recycling facility and believes something need to be done.
"We would like to urge Schnitzer Steel to work closes with regulatory agencies," Marilyn Sandifur with the Port of Oakland said. "Such as the air district and also health and safety agencies so that this does not happen again."
Brooks Jarosz is an investigative reporter for KTVU. Email him at  brooks.jarosz@fox.com and follow him on Facebook and Twitter @BrooksKTVU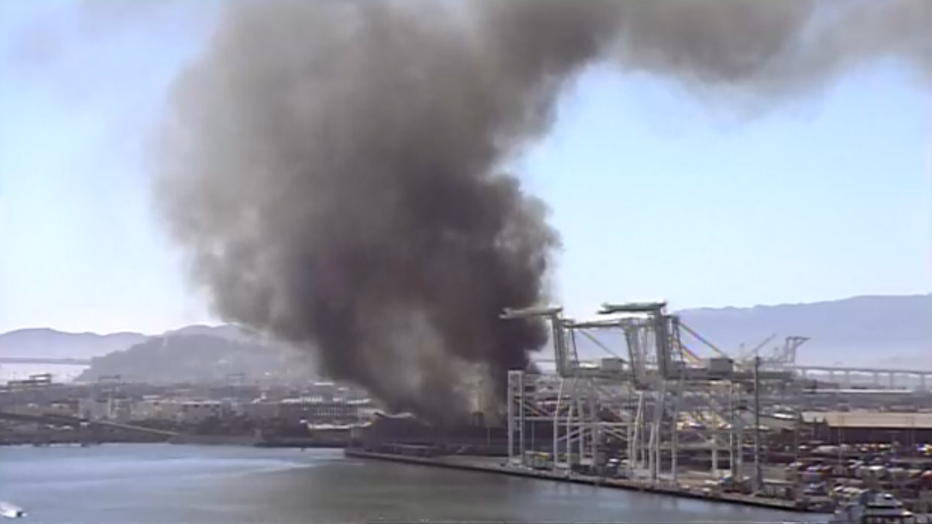 The As said there have been at least five fires at Schnitzer Steel since 2018, with the most recent one in June.