SJPD presence near street vendors following 2 attacks in 3 days
SAN JOSE, Calif. - This President's Day, there was a holiday matinee San Jose Sharks game at SAP Center. The streets around the arena had street vendors who were serving up their regular fare – hot dogs and veggies – for regular customers.
"Getting a hot dog before the game. Go sharks!," said fan Teresa Powell, as she prepared to eat a $10 hot dog purchased from a vendor.
Mixed in with the Sharks' team colors of teal and white, there was plenty of blue, as San Jose police had a visible presence around the arena, especially near vendors on Santa Clara Street.
"I feel more safe. If something happen, the police is here," said vendor Hugo Dosantos.
However, something did happen, Thursday night. A still unidentified irate customer hit, then kicked, vendor Saul Reconco in the head outside SAP following a concert.
"He came from behind, and he hit me," he told KTVU on Friday.
Then two days later, Kintex Ho was arrested for a bat attack on vendor Carlos Sanchez, near Hwy. 101 and Old Bayshore Highway in San Jose.
SEE ALSO: 2nd San Jose street vendor attacked this week, speaks out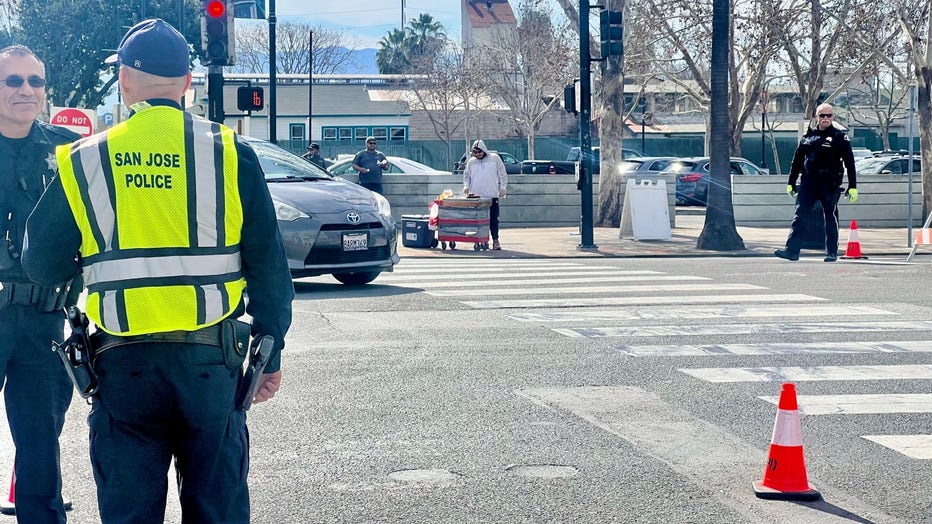 "They're hardworking, doing their deal. And I find it abhorrent. I'm disgusted by the fact that they would attack somebody like that," said Sharks fan Michael Steinrok in response to the two crimes.
Legal analyst and former prosecutor Steven Clark said the Ho case could include hate crime charges. This, after statements and postings were made about the victim's immigration status.
"Those are the kind of things prosecutors can review to see whether this is the type of case that not only was vandalism and assault. But should a hate crime enhancement be used?," said Clark.
He and others are calling for more security for this vulnerable group of workers.
MORE: Man savagely beats San Jose street food vendor
Many of those who work as street vendors said they realize they could never be more than one transaction away from trouble.
"The people (are sometimes) drunk (and) wanna take the hot dog for free, or something like that," said Dosantos.
Witnesses said that was the motivation behind the attack on vendor Saul Reconco Thursday. If you have information in that case, please call San Jose police.
Jesse Gary is a reporter based in the station's South Bay bureau. Follow him on Twitter, @JesseKTVU and Instagram, @jessegontv