Teen arrested after Berkeley High brothers killed at birthday party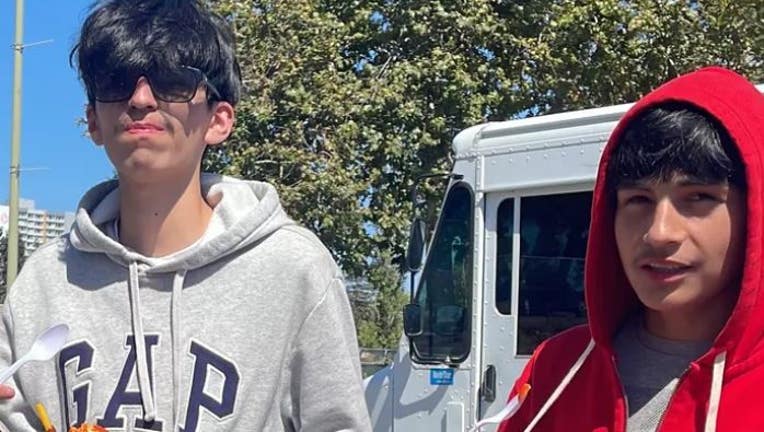 article
BERKELEY, Calif. - A teenager has been arrested on suspicion of killing Berkeley High brothers at a birthday party in a rented Airbnb rental in Oakland last year.
The Berkeley Scanner first reported that the 18-year-old — who was 17 at the time of the fatal shootings — was arrested Wednesday at Juvenile Hall in San Leandro where he was already in custody in connection with other crimes. He was charged on Tuesday.
He is accused of killing Jazy, 17, and Angel Sotelo Garcia, 15, at a birthday party in October 2022 at a home on Apgar Street.
Former Oakland Police Chief LeRonne Armstrong said police believed the brothers were targeted because of a conflict at school.  
At least two people opened fire, one with a rifle, the other with a handgun, the chief said. Two other teens were wounded. 
The Berkeley Scanner reported that the 18-year-old confessed to participating in the killings.
He was originally arrested by police in November 2022 in connection with an unrelated juvenile warrant, according to court papers.
At this point, his name remains confidential because he was a minor at the time of the crime.
According to Erika Galavis, a family friend of the slain brothers, Angel was the younger brother, a "gentle soul who loved and cared deeply for those around him."
He loved a good time, Galavis wrote, and was "constantly carrying joy and laughter wherever he went."
Jazy was the quieter older brother, Galavis wrote, and he "tended to naturally assume the role of protector."
Galavis called him funny and smart and had been excited to go to college.
The brothers had four other siblings, ages 13, 9, 6, and 3 years. 
Airbnb has banned all parties at its rentals for years. The party over the weekend was unauthorized, and the parent who rented it has been removed from the platform.