Volunteers find remains while searching for Alexis Gabe
OAKLEY, Calif. - The family of missing Oakley woman Alexis Gabe has been searching for her for months. 
Now, the family tells KTVU volunteer searchers found remains. 
Alexis' father, Gwyn Gabe told KTVU volunteers founds the remains in Pioneer, Calif., about 60 miles southeast of Sacramento. 
In a Sunday Zoom interview, Gabe said the bones were found on Old Defender Grade Rd. just off Highway 26.
 "They found more bones and they called the sheriff's office and they determined some of those were human bones," he said. "So they picked them up and sent them to forensics for a DNA test."
Alexis's family visited the site Saturday. 
"We looked at the place and yeah, it was very heavy when we went there," Gabe said. 
SEE ALSO: Race to find Alexis Gabe's remains: '$100k is yours'
The small town of Pioneer in Amador County has been on the family's radar for quite some time.  
The Amador County Sheriff's Office has collected the remains and is now working to identify them-- which could take months. 
The 24-year-old is believed to have been killed by her boyfriend, Marshall Jones, on Jan. 26. When police tried to arrest him for murder in June, he was killed in a confrontation with police in Seattle.
According to police, Jones wrote directions on where to dispose of Alexis's body in rural Pioneer. 
The notes were found crumpled up in a garbage can at Jones' sister's house. 
The directions in the notes were specific, detailing specific time estimates, landmarks to look for, and when to turn.
"Just thinking that is devastating," Gabe said. "But at the same time we are hopeful that if they really are our daughters remains than this gives us hope that we can finally bring her home."
Gwyn said they would like to finally have a memorial service and get closure. He said they are also planning a celebration of life which will be held on the one-year anniversary of Alexis's disappearance.
The Gabe Family and Oakley city officials are offering a $100,000 reward to anyone who can bring Alexis home.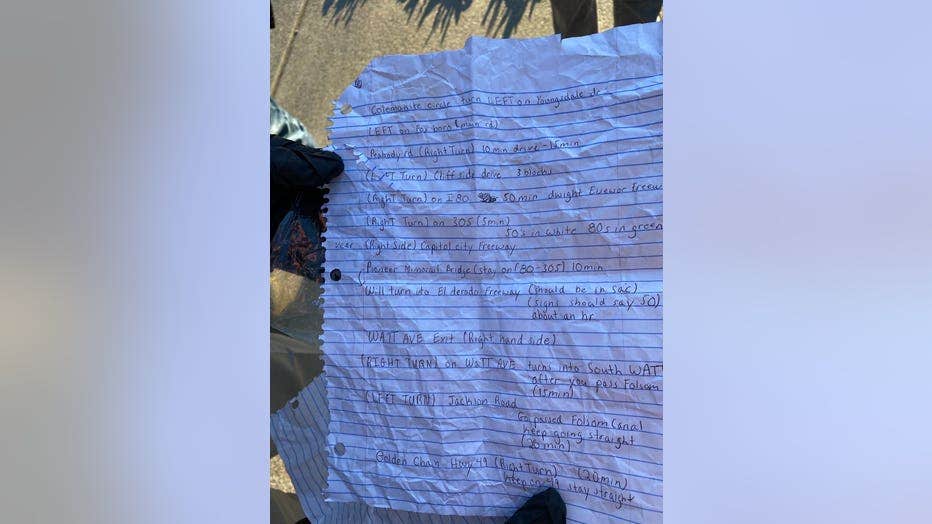 Handwritten notes, allegedly written by Marshall Jones, about where to dispose of Alexis Gabe's body.