2 lieutenants put on leave before Oakland police chief fired
OAKLAND, Calif. - Two lieutenants were put on paid administrative leave last month stemming from the mishandling of hit-and-run and gun discharge investigations, which also led to the firing of the police chief, KTVU has learned. 
Lt. Omar Daza-Quiroz and Lt. Joseph Turner were told to stay home and stripped of their normal duties, Oakland police confirmed. 
Efforts to seek comment on Friday from their attorneys and the police union were not immediately successful.  
Both had "sustained findings" against them recommended by the outside law firm, Clarence Dyer and Cohen, who was hired by the city of Oakland to look into how two cases involving the same sergeant were handled.
On Thursday, Mayor Sheng Thao fired LeRonne Armstrong based on how he responded to the outside investigation, his repeated denials that he had done anything wrong, and that there were deep problems and cover-ups in the department under his watch. 
Armstrong said his firing was unfair, the "gross dereliction of duty" sustained findings against him were an overreach and that he is weighing his legal options. 
A sustained finding means there was sufficient evidence to prove an officer violated a policy or law. 
Normally, these findings are private. The only time these types of reports have to be made public is if an officer is found to have been dishonest, been part of an on-the-job sexual assault, used deadly force, engaged in racism or conducted an unlawful arrest or search.  
And because these are personnel matters, the Oakland Police Department would not reveal what the recommended discipline is for the lieutenants.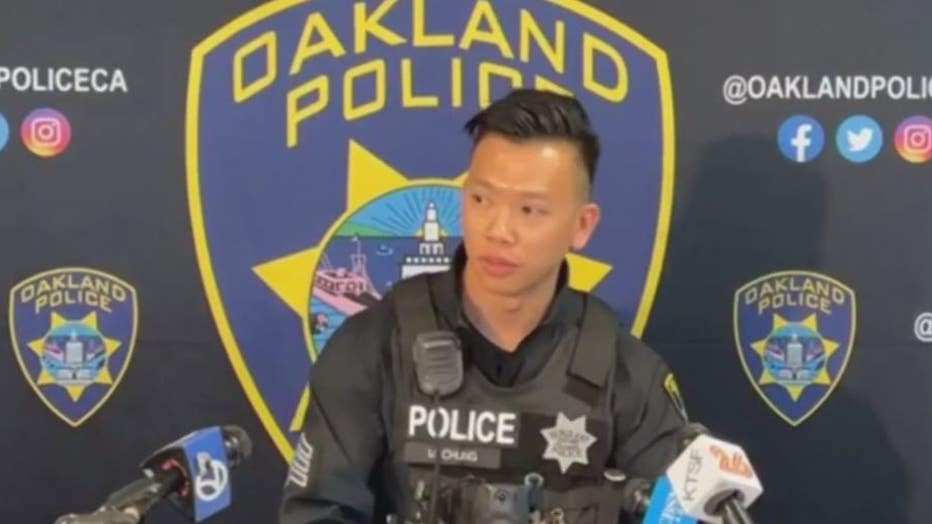 Oakland Police Sgt. Michael Chung has been placed on administrative leave in April 2022. He is speaking here at a news conference on drones. 
However, KTVU obtained a series of confidential reports totaling about 140 pages detailing the investigations into two separate acts by Sgt. Michael Chung. 
All the fallout stems from that. 
In one case, Chung fired his duty weapon in an elevator at Oakland police headquarters in April 2022. He didn't tell anyone about it for a week and when he did come forward, acknowledged that he had thrown the shell casings into the bay. 
He told Lt. Joseph Turner that he had no real recollection of what happened and intimated that he fired the gun in a suicidal act. 
Turner sent Chung home, which ended up thwarting any efforts to further investigate the truthfulness of Chung's story – a story that the Clarence Dyer and Cohen investigators didn't believe. 
The law firm pointed out that the way the gun was fired wasn't consistent with how someone would aim it if they were trying to take their own life, as one example. 
The Clarence Dyer and Cohen firm recommended sustained findings for Turner in terms of his performance of duty, reporting violations of law and compromising criminal cases, among others.
As one of their specific findings, the outside investigators called out the fact that Turner failed to report Chung's destruction of evidence to the Internal Affairs Division.
"Lt. Turner had an obligation to report the crime to which Sgt. Chung confessed in his presence," the law firm wrote in the confidential reports. "Sgt. Chung's act of throwing the bullet casing from the weapon discharge into the San Francisco Bay was an admission constituting a violation of law — and Lt. Turner had an obligation to report that violation within 24 hours." 
The law firm also found that Turner wasn't credible, giving "inconsistent" statements to Internal Affairs Division on why he recommended an administrative closure on the case and gave investigators the "impression that he wanted to protect Sgt. Chung and sought to minimize the repercussions [he] would face for his actions," according to one of the confidential reports.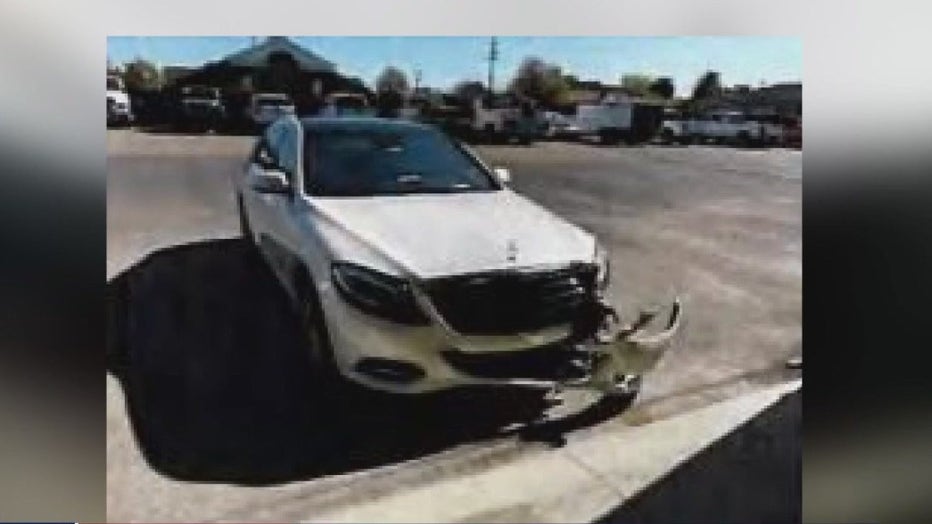 Nick Perry's Mercedes was struck by an OPD car on March 25, 2021. Photo: Insurance claim 
Before Chung fired the gun, he was involved in a hit-and-run in San Francisco nearly a year earlier in March 2021. 
He was driving an OPD-owned Chevrolet Tahoe with his girlfriend – an Oakland police officer – when he struck his neighbor's Mercedes in their shared parking garage, causing $14,000 in damage. 
Video at the scene shows Chung stopped to look at the damage for about five seconds and then drove off, according to the report.
Chung's captain, Wilson Lau, told a subordinate to water down the report, saying that Chung was involved in a "preventable collision" and not a hit-and-run, the Clarence Dyer and Cohen firm said. Lau also told the subordinate to keep the girlfriend's relationship to Chung out of it, the report said. 
In addition to Lau, a lieutenant – whose name has not been made public before – was also faulted as part of this investigation. 
The firm recommended sustained findings against Lt. Omar Daza-Quiroz for failing to command officers, failure to perform his duty and failure to report violations of laws. 
The Clarence Dyer and Cohen firm said that Daza-Quiroz violated his supervisory duties when he showed Chung the video of what happened – essentially the evidence against him – and failed to properly report the collision to Internal Affairs. 
"The investigation disclosed evidence that Lieutenant Daza-Quiroz's decision to inform Sgt. Chung of the facts of the incident and show him the video before IAD began its investigation obstructed, impeded, delayed, or undermined the internal investigation process," according to the confidential reports.
The law firm found similar performance of duty violations for another two other sergeants and one captain.  
But Oakland police said those three officers are not on leave and "still working in their normal capacity." 
KTVU is choosing not to name these three members of the department. 
In terms of Lau, the law firm recommended sustained findings against him that he failed to perform his duties as a commanding officer and failed to report violations of law.  Lau resigned last summer and was put on leave from his new job at the East Bay Regional Park District on Jan. 20.
As for Chung, he received a slew of recommended sustained findings, including lack of truthfulness, obstructing the Internal Affairs process, failure of authority, failure of performance of duty, failure to obey the law, false reporting of injury, physical fitness for duty, care of department buildings, use of physical force and compromising criminal cases. 
Chung was put on paid administrative leave last spring, which he is still on today. 
Lisa Fernandez is a reporter for KTVU. Email Lisa at lisa.fernandez@fox.com or call her at 510-874-0139. Or follow her on Twitter @ljfernandez