D.A. Pam Price charges 3 juveniles in connection to shooting at Oakland's Skyline High
OAKLAND, Calif. - Three juveniles are facing charges in connection to last week's shooting at Oakland's Skyline High School, the Alameda County district attorney's office announced on Friday. 
Because they are all minors, officials will not release the names of those who have been charged. 
One of the defendants was charged with assault with a firearm along with gun enhancements, including shooting at an unoccupied area. According to Alameda County D.A. Pamela Price's office, the maximum exposure for assault with a firearm is four years.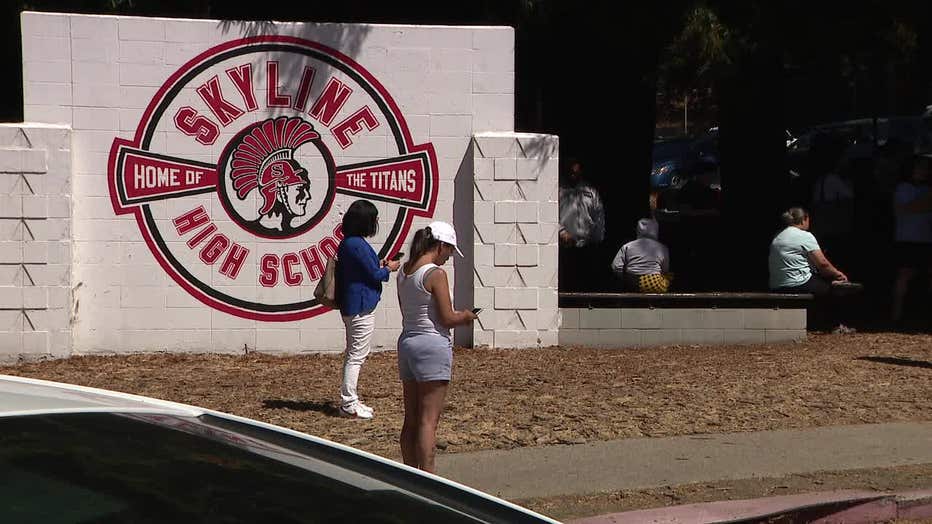 Parents wait outside Skyline High School after a shooting. No one was injured. Sept. 5, 2023
Another defendant was charged with being a minor in possession of a firearm within 1,000 feet of a school, along with gun possession charges, including carrying a loaded weapon in public. The maximum penalty for felony gun possession is three years. 
The third defendant is not being charged with any shooting, but is being charged for being a minor in possession of a firearm. The D.A.'s office said a gun was discovered at his home the day after the incident. The maximum penalty for this charge is three years.
The three juveniles charged have made their first court appearances and remain in custody, the D.A.'s office said. 
On the morning of Sept. 5, police responded to the high school at 12250 Skyline Boulevard for calls of shots fired. California Highway Patrol and Alameda County sheriff's deputies responded to the shooting in addition to Oakland police. 
No one was injured in the shooting. 
"Based on the prompt and thorough investigation by the Oakland Police Department, our office has charged three juveniles we believe were involved in the incident," D.A. Price said in a recorded video statement. 
Officials did not indicate if those charged, are students at Skyline High. In Price's video statement, she called it an "isolated incident" and that "other students and teachers were not the targets." 
The day following the shooting, classes at the school were canceled. When they resumed students and staff were greeted with an increased police presence. 
"Zero tolerance for gun violence is not just our policy; it's a promise to protect our schools and our communities," stated Price. "We are fortunate that no one was killed or injured in this incident, but we are sending the message that if you are in illegal possession of a gun and attempt to harm others, you will be held accountable."
Seemingly addressing those who say the D.A. is weak on crime, Price said minors who are arrested are taken into custody by the Alameda County Probation Department and are removed from the community. "They are not just getting arrested and walking away." 
The D.A.'s office will also make recommendations before the judge rules on consequences for the three minors. 
An effort to recall Price from her elected position has gained plenty of attention. Organizers of the recall have to make changes in their petition, as requested by the Alameda County Registrar of Voters. They hope to collect 93,000 signatures in time for the June ballot.