Dog owner arrested for beating pit bull mix in San Pablo; drugs and firearms found
SAN PABLO, Calif. - A dog owner accused of animal cruelty is in jail after neighbors captured videos of his pit bull mix being beaten on several occasions, investigators said.
The calls to Contra Costa County Animal Services began Monday from Montoya Garden Apartments in San Pablo. Residents reported seeing blood, hearing a dog cry out, and witnessing a man severely beating his dog several times.
"It initially started due to the noise of the animal being beaten – the screaming of the animal," Capt. Jane DeMay Andreotti said. "Seeing any animal beaten is just a horrible experience."
Melvin Broadway, 32, of San Pablo was arrested Tuesday following a search of his home for animal cruelty evidence. Police also discovered a large amount of marijuana, guns, ammo and cash.
Graphic videos detailed in an animal services report state Broadway appeared to beat the 1-year-old pit bull named Turbo with a stick or crow bar, while the dog cowered in the corner, unable to move away and crying out.
In another instance, Broadway held Turbo in the air while forcefully beating the dog with no way to get away or defend itself, according to the report.
"It's heartbreaking, especially a dog like Turbo who's just a very sweet pup," Dr. Katherine Mills, chief of shelter medicine for Contra Costa County said. "He had abrasions most visible on all of his limbs, his hind end, his face and ears."
Turbo was rescued Tuesday night after a search warrant was obtained. He was observed by investigators trapped in a crate, unable to move, without food and water.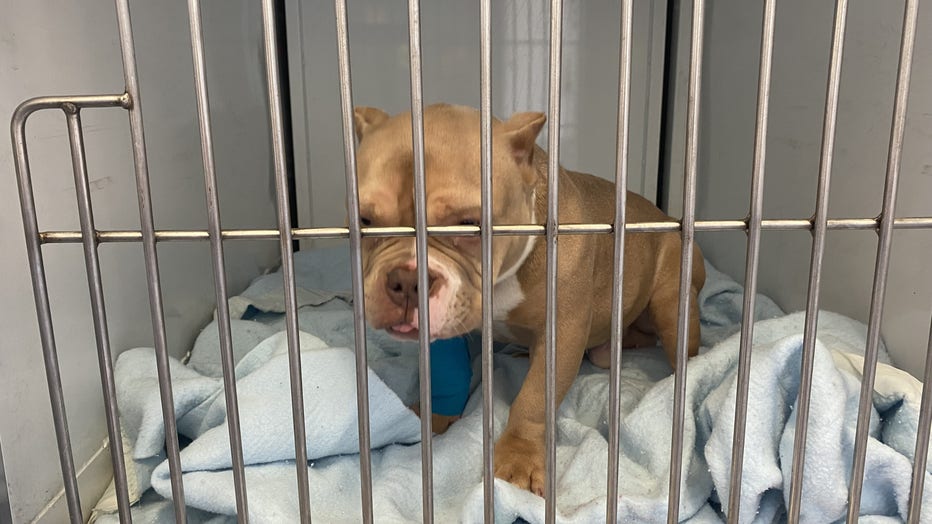 Police also uncovered marijuana packaged for sale, several firearms and an undisclosed amount of cash.
"We were surprised to uncover such a large amount of evidence and dangerous weapons," Capt. Brian Bubar with San Pablo Police said. "The weapons we found were high capacity assault rifles, a shotgun, Glock pistol revolver and some extended magazines that carried a lot of ammunition."
Broadway is expected to be charged for weapons, drugs and animal cruelty and is being held in the Contra Costa County Jail. It's not clear if Broadway has an attorney who can speak on his behalf. The district attorney is still reviewing the case.
Broadway told investigators he never hurt Turbo who was like a son to him, according to the report.
Turbo is currently being treated for his trauma including cuts, swelling and bruising at the animal shelter.
"He will recover from those," Mills said. "He seems to have a very resilient personality and that is quite encouraging."
Note: Turbo is not able to be adopted out until the owner is given due process through the court.
Brooks Jarosz is an investigative reporter for KTVU. Email him at  brooks.jarosz@fox.com and follow him on Facebook and Twitter @BrooksKTVU