Drag Up! Fight Back! rally for trans rights
SAN FRANCISCO - There was a huge turnout at the "Drag up! Fight Back!" march and rally in San Francisco Saturday. Thousands gathered outside City Hall and marched to Union Square to speak out against hate. 
"We know how to organize. We know how to get loud, and we know how to fight back, said Honey Mahogany, an activist and Chair of the San Francisco Democratic Party. 
Honey Mahogany said people's lives are in danger, and it's important for the LGBTQ+ community and allies to take a stand. 
"We have been absolutely horrified to see all of the legislation that is being lodged against our community. You know, over 400 bills being introduced in the last couple of months that attacked trans people's rights, that attack drag queens. It's unacceptable."
State Sen. Scott Wiener was also at the event. 
"The march and protest today was very inspiring," said Wiener. He said he's concerned about legislation calling for bans on drag queens, bans on trans people from playing sports, or getting gender-affirming health care.
SEE ALSO: Riley Gaines 'ambushed and physically hit' after Saving Women's Sports speech at San Francisco State
"It is a tidal wave of hateful bigoted legislation in these red states, and we need to push back," said Wiener. 
Organizers said drag queens and the trans community are being demonized. This rally was a response to all extreme queer rhetoric. 
Gabby Burgos-Colón with the Harvey Milk Club said, "Visibility is important, having space is important, being able to make decisions for our community for ourselves is important. I saw a lot of that today."
Saturday's rally came just days after the death of Heklina, a San Francisco drag icon. Heklina was honored at the event.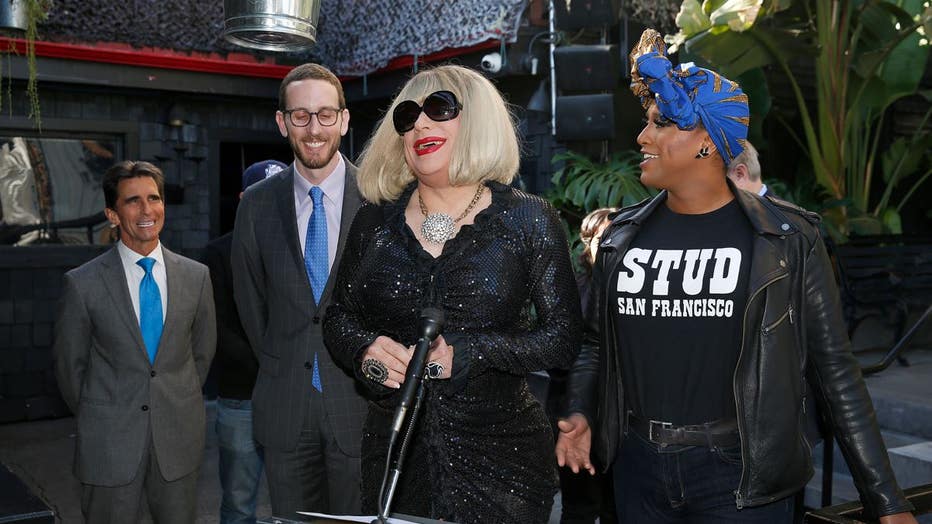 Left to right--Mark Leno, senator Scott Wiener, Oasis host Heklina, and Honey Mahogany comment as a bill that would allow bars to stay open until 4am is reintroduced at San Francisco Eagle bar on Tuesday, November 28, 2017, in San Francisco, Calif.
Many held signs with her picture. 
"In many ways, you know, this was in honor of her memory. The fact that she was loud and unapologetic and brazen," said Honey Mahogany.