Rep. Ro Khanna meets with Sunnyvale Starbucks workers ahead of union vote
SUNNYVALE, Calif. - A Sunnyvale Starbucks says it plans to vote to unionize later this month and today, Silicon Valley congressman Ro Khanna met with some of the employees in a show of support. Workers say their hours are being cut, preventing them from getting benefits, which often leads to a short staff.  
There are 9,000 Starbucks stores nationwide, and at least 290 of them have voted to unionize since 2021. A store in Santa Cruz and in San Francisco have already unionized and now here in Sunnyvale, workers say they want to join the fight for a living wage and benefits.   
"Since we've filed, I've been getting the hours that I requested, however before that, I was getting way below what I needed to qualify for certain benefits that I needed. I was getting between 12 and 16 hours when I needed 20," said Nathan Hanner, a Starbucks employee in Sunnyvale.     
Rep. Khanna met with employees who say they want to unionize at the Sunnyvale Starbucks on Bernardo Avenue Thursday afternoon.  
"They're asking for no retaliation and that should not be fired. They should not have their hours cut; they should not have their benefits cut; they should not have their schedules changed. They should not have short staff just because they want to vote to decide to be in a union," Khanna said.   
PREVIOUS COVERAGE: Employees of Oakland Starbucks, Trader Joe's file to unionize
Founder and former Starbucks CEO Howard Schultz testified before Congress last week after a federal labor judge found the company violated U.S. labor laws hundreds of times when its first store campaigned to unionize in Buffalo, NY. 
Schultz also told Congress that Starbucks offers competitive wages and does not need a union.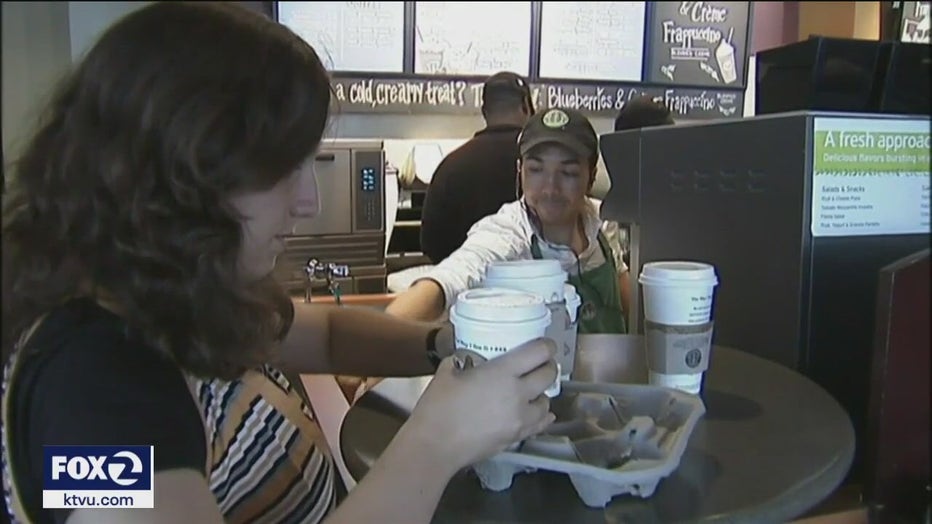 "Starbucks advertises that they offer full-time benefits for workers working over 20 hours per week…a lot lower than other employers. But what they don't say is that a lot of our workers aren't getting scheduled enough hours to qualify for these benefits such as free tuition through ASU Online, mental health care or healthcare in general," said Klara Daniaud, who works at Starbucks on Bernardo Avenue.
Starbucks says in the last fiscal year, it's invested more than $1 billion in wages and training, bringing the average hourly pay to nearly $17.50/hour nationally and with a range of $15-23/hour. 
Robert Ovetz, who teaches labor relations at San Jose State University, says Congress will have to step in to impact future labor disputes.  
"One of the limitations of the way Starbucks workers and Amazon workers are unionizing is they're doing one location at a time…the companies could isolate them…could theoretically settle with 300 Starbucks locations, but they've got another several thousand just in the U.S. alone," Ovetz said.   
Schultz denies that Starbucks has broken any labor laws and says they're willing to negotiate with workers. Workers in Sunnyvale will vote to unionize on April 21.