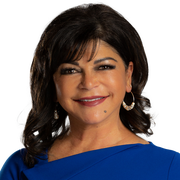 Roberta Gonzales
Meteorologist
Roberta has been at KTVU since 2021. Her most significant contribution has been her coverage to KTVU's ongoing drought series here in the Bay Area. 
Roberta grew up in the Mojave desert calling Barstow home, but graduated from San Diego State University. 
Prior to working at KTVU, Roberta was a reporter and meteorologist at KPIX-TV in San Francisco for 21 years. Prior to that, she spent seven years as a meteorologist at WMAQ-TV in Chicago after leaving KNTV in San Jose.  
When Roberta's not forecasting the weather, she loves being outdoors.  She has completed 31 marathons and 5 full Ironman races in 3 countries.
The latest from Roberta Gonzales