Bay Bridge overtaken by bicyclists on 'dangerous' ride
OAKLAND, Calif. - A group of young bicyclists apparently took advantage of the break in the storms to storm the Bay Bridge on their two wheels.
The California Highway Patrol said shortly before 2:30 p.m. on Monday, officers received calls of juveniles riding their bicycles on eastbound Interstate 80 near the span's center anchorage, west of Treasure Island. 
SEE ALSO: San Francisco bicyclist fumes over ambulance parked in bike lane
SEE ALSO: CHP says Pittsburg teen struck by hit-and-run driver; family says death doesn't add up
Video circulating on social media showed at least a dozen riders on the bridge, many doing wheelies and swerving through the lanes as vehicles whizzed by.
The CHP said officers from both its San Francisco and Oakland units responded to the scene.
"Oakland CHP units were able to engage the cyclists down toward the toll plaza area," CHP San Francisco Public Information Officer Mark Andrews told KTVU.
The young people were then led off the freeway onto the West Grand Avenue exit in Oakland.
"They were escorted off the bridge and were no longer an issue," Andrews said. 
The officer said there were no reports of injuries and no arrests. He followed up by strongly cautioning against engaging in such risky activity.
"Definitely unsafe and dangerous to both themselves and the remainder of the motoring public," Andrews stressed.
Similar incidents have occurred in the past involving cyclists on the bridge, including one that KTVU reported on exactly year ago.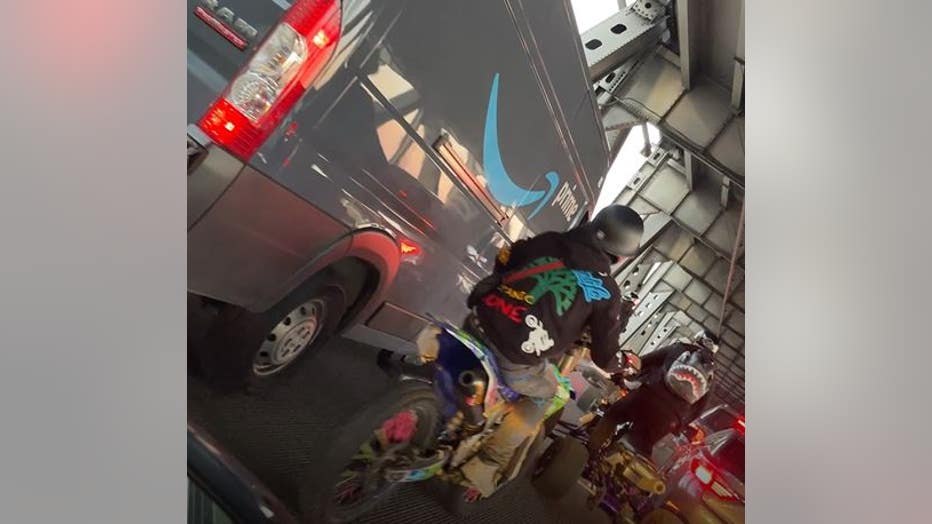 Image from Jan. 16, 2021 of motorcyclists and dirt bike riders swerving through traffic on the eastbound direction of the Bay Bridge. 
In that incident, video showed dozens, if not more than a hundred, motorcyclists and dirt bike riders darting around vehicles and going against traffic as they tried to evade police on the Bay Bridge.
The event caused chaos that disrupted the span for hours.
It's unclear if Monday's event was organized by or involved the same group of cyclists.