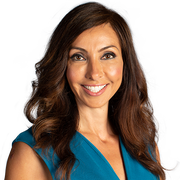 Rosemary Orozco
Meteorologist
Being a Meteorologist was not a lifelong dream of mine, yet now I can't imagine doing anything else! My work is fulfilling and fun. I feel so blessed to be able to share my passion with all our KTVU viewers and friends.
After high school, I thought about Law School so I first became a Paralegal. While Law was interesting, I found myself wanting something a little more artistic and exciting; acting and modeling fit the bill. I enjoyed doing both during college while searching for my true passion.
I've always had an interest in news. That, along with my fascination in current events led me to an education at SFSU in TV Broadcast Journalism. I was hooked! It was fun, exciting and gave me an opportunity to learn something new every day. Straight out of college I began my career as a TV news anchor and reporter. Later I attended MSSU for Meteorology. My career path has also included positions as a TV traffic reporter, California Lottery announcer, and TV show host.
My job is never dull; I could be at the front lines of a major wildfire one day, reporting on a major sporting event the next day and meeting the President of the United States the next. Although I've never met a U.S. President... at least not yet. These experiences are all amazing for different reasons. They have all played a role in the person I am today, including the privilege of receiving an Emmy Award for "Breaking News" coverage.
Outside of work, I'm a wife and mom. My husband and children couldn't be more loving and supportive. 
As for sports, I'm a hometown fan. I root for the A's and Giants, the 49ers and Raiders. I Love the Warriors and I'm a huge fan of the Earthquakes and the Sharks. I feel so fortunate to have one of the most incredible jobs on TV.
The latest from Rosemary Orozco
Here's what you need to know about the atmospheric river barreling toward the Bay Area.
Celebrate National Fajitas Day on August 18 with a fajitas fiesta with friends and family with a favorite shrimp version of the classic dish from Mornings On 2's Rosemary Orozco.
After a brief respite from the past week's atmospheric river soaking, the Bay Area is expected to see showers again on Monday through Tuesday.
This precipitation is welcome news to a region that has not seen significant rainfall in months.
Temperatures could rise to 102 for parts of the Bay Area where a heat advisory has been issued for Wednesday.