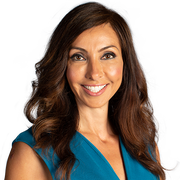 Rosemary Orozco
Meteorologist
Meteorologist, Rosemary Orozco started at KTVU when the Weekend Edition of "Mornings On Two" launched in January 2011. 
Rosemary attended college at San Francisco State University for Broadcast Journalism and later attended Mississippi State University for Meteorology.  
She started her career at KLBC in Laughlin, then went on to work at KEYT in Santa Barbara and KTXL in Sacramento before coming to KTVU. 
Rosemary is a Northern California native. She was born and raised in Sacramento.  When away from work, she enjoys being outdoors and in the community. She loves the diversity of the Bay Area and how each part has its own unique beauty and vibe. 
The latest from Rosemary Orozco
Here's what you need to know about the atmospheric river barreling toward the Bay Area.
Celebrate National Fajitas Day on August 18 with a fajitas fiesta with friends and family with a favorite shrimp version of the classic dish from Mornings On 2's Rosemary Orozco.
After a brief respite from the past week's atmospheric river soaking, the Bay Area is expected to see showers again on Monday through Tuesday.
This precipitation is welcome news to a region that has not seen significant rainfall in months.
Temperatures could rise to 102 for parts of the Bay Area where a heat advisory has been issued for Wednesday.