Interactive map: A look at Bay Area freeway shootings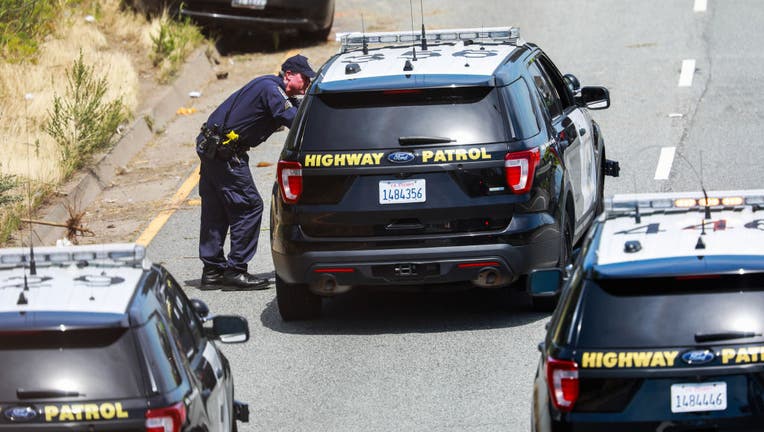 article
OAKLAND, Calif. - From the tragic shooting death of a 2-year-old boy on a freeway in Oakland to an Alameda County sheriff's deputy killed by bullets near the Bay Bridge, the California Highway Patrol has been hit by a barrage of freeway shootings across the Bay Area.
KTVU has been tracking the number since 2021, when there were 146 shootings. In 2022, there was 154. 
Not all the shootings were fatal, but all were traumatizing to those who saw the bullets whiz by them on the road. 
Here are some of the more notable freeway shootings in 2021, 2022 and 2023: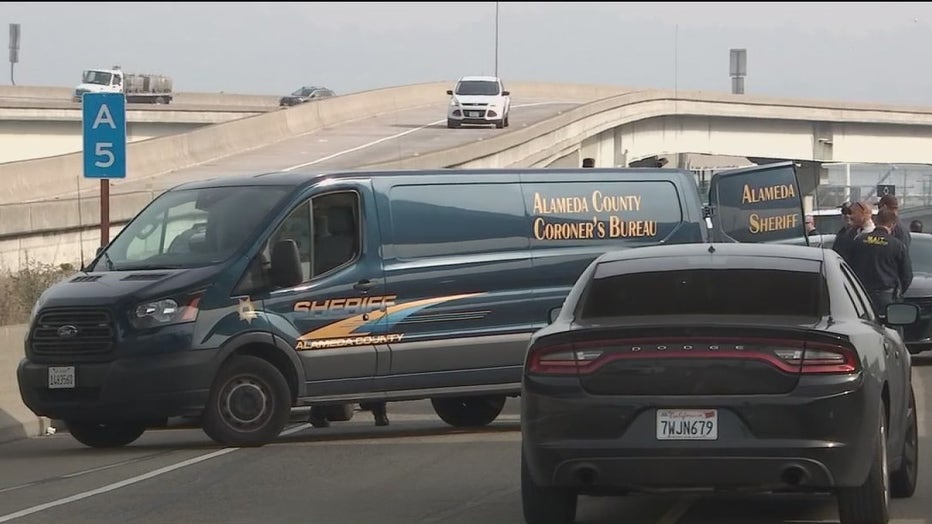 In November, someone shot into a burgundy and gray SUV near the Bay Bridge toll plaza, killing the female passenger. A law enforcement source has identified her as Amani Morris, 29, of Oakland. They also say the shooting appears to have been delibera
MORE: Interactive map: A look at Bay Area freeway shootings
In January 2021, the California Highway Patrol was contacted by two 18-year-olds, who were pulled over on eastbound I-580 at Hacienda Drive and were suffering from gunshot wounds. Police said the victims reported they had exited the freeway — police have not said whether it was I-580 or I-680 — and were driving westbound on Stoneridge Drive when at least one occupant of another vehicle began shooting at them. Police said the shooting is believed to be a targeted attack and not a random act of violence but did not give further details.
In March 2021, a 34-year-old man inside his East Oakland apartment was wounded by a gunshot fired from nearby Interstate 580, in the 4800 block of Calaveras Avenue in Oakland.
In May 2021, a person was hurt in a freeway shooting overnight on Highway 4 in Pittsburg, the second shooting on that same stretch of highway in just two days.
In May 2021, someone fired 70 bullets at a party bus filled with teenage girls and young women off Interstate 580 in Oakland near Foothill Boulevard at 68th Avenue, killing two and injuring multiple people.
In June 2021, Fremont police investigated a freeway shooting that led to a multi-car crash on I-880. The driver of a red Toyota pickup truck said he was driving south when he saw the driver of a black Kia driving erratically. Then he said someone inside the Kia started shooting at him. A bullet pierced his truck.
In July 2021, a husband and wife were shot at while driving on Interstate 580 near Golf Links Road. The couple told KTVU that a car pulled up behind them and started firing. Four bullets hit the car, and a fifth went through the back windshield, missing the wife by just inches.
In August 2021, the California Highway Patrol closed all southbound lanes of I-280 at Cesar Chavez Street and all on-ramps from downtown San Francisco as they investigate a possible freeway shooting. 
In September 2021, the CHP said that a Yukon carrying six people were heading south of Eastmoor Avenue when it was shot at by someone else in another car. Video at the scene showed the windows were blown out and the driver's side airbag had been deployed. The CHP said the Yukon sustained "multiple bullet strikes" on its left side.  After the shooting, the suspect or suspects fled the scene and the Yukon ended up slamming into a concrete wall along the right shoulder of the freeway.
In September 2021, a shooting between drivers of two vehicles on eastbound Highway 24, near the Caldecott Tunnel, led to massive traffic delays. A car sustained multiple bullet holes, but there were no reported injuries.
In October 2021, Monnie Price Jr. died on westbound I-580 near the 98th Avenue on-ramp in Oakland when someone shot into his white, four-door sedan. The CHP have yet to announce any arrests in that case.
In November 2021, someone fired shots into a Lexus driving from San Francisco to Fremont on Interstate 880 at Filbert Street in Oakland. Inside, was Jasper Wu, 23 months old. He was sleeping in the car and died from stray bullets. His mother and two other children were not hurt.
In November 2021, someone shot into a burgundy and gray SUV near the Bay Bridge toll plaza, killing Amani Moore, 29, who was with her family on the way to a job interview. A law enforcement source says the shooting appears to have been deliberate.
On Jan. 4, 2022, Alameda County Sheriff's deputy Daniel Nguyen was shot and killed near the Bay Bridge toll plaza.
Former Cal basketball legend Gene Ransom was killed in Feb. 4, 2022 on I-880 near Oak Street in Oakland on his way to pick up his girlfriend from the train station. Police arrested Juan Angel Garcia of San Francisco for his death. Officers said the motivation was road rage. 
On Feb. 15, 2022, a driver fired shots into a Honda CRV on I-580 west of Park Boulevard in Oakland in an apparent road rage incident. The Honda "sustained multiple bullet strikes and a shattered rear window," according to CHP. The Honda driver was not harmed and was able to call police.
On Feb. 18, 2022, Robert Abreu was brutally shot in the face on Highway 29 in Napa. A bullet went through the rear passenger side window of his truck. He was able to pull over and call 911 for help. The Napa County Sheriff's Department arrested Tuong Nguyen, 42, on suspicion of attempted murder, carjacking and felon in possession of a firearm. The two had no known relationship.
On Feb. 27, 2022, someone shot out the windows out on a white pickup truck on I-580 in Livermore, west of Livermore Avenue. No injuries were reported. Armando Perez, 24, of Hayward was arrested for this shooting and another earlier that day on westbound Interstate 205 near Interstate 5, near Lathrop.
On March 3, 2022, all westbound lanes of Interstate 680 in Oakland, near State Highway 13, were closed as the California Highway Patrol investigates a possible shooting.
On April 7, 2022, a person was taken to the hospital after they were shot on eastbound I-580 near 1st Street in Dublin. 
On April 9, 2022, Leisa Baker was shot while driving on eastbound on Highway 4 in Pittsburg off Railraod Road when someone pulled a gun in the car next to her and opened fire. She said a bullet barely missed her minivan with her 13-year-old daughter and niece inside thanks to her evasive driving. But she still can't shake the thoughts of what could have happened.
On April 10, 2022, two people were hit by gunfire on I-580 at MacArthur Boulevard in Oakland near Highway 13. Officials said a Nissan Murano with several people inside was traveling westbound on I-580 when an unknown vehicle pulled alongside of it and at least one occupant fired multiple rounds toward the Nissan.
On May 9, 2022, a 7-year-old was wounded in Vacaville during a shooting on Interstate 80, west of Alamo Drive. Video sent to KTVU shows a Honda Accord riddled with bullets holes towards the back of the vehicle, including the left rear passenger side.
On May 18, 2022, two people were shot and two were injured in on I-580 in Oakland off the Seminary offramp.  The CHP said one of the men died from gunshot wounds and the other died from crash-related injuries. Two other people inside the black Nissan sedan were injured by bullets Wednesday and they were taken to the hospital for treatment, the CHP said.
On June 14, 2022, a bullet from an oncoming car flew threw the car of Garrett Mason and Tino Do, who were driving on I-580 in Oakland to see a chiropractor in Pleasanton. The bullets flew around Grand Avenue and 150th Avenue. They weren't hurt but their dashcam captured the frightening ordeal. The CHP made an arrest. 
On July 21, 2022, CHP officers arrested Edwin Tobie III, 29, for allegedly firing his gun on I-680 in Pleasanton north of Stone Valley Road. 
On July 30, 2022, the California Highway Patrol said a shooting on Interstate 880 near the Marina Boulevard off-ramp in San Leandro injured two people.
On Aug. 30, 2022, the personal truck of a San Jose police officer was struck by gunfire on U.S. Highway 101 near the interchange with Highway 85. The officer said at least one bullet hit his truck, San Jose police said. The officer was not injured in the shooting.
On Aug. 30, 2022, the CHP said a 9-year-old boy was injured when shots were fired on I-580 off Fruitvale Avenue. The car he was in was later found with bullet holes Brookdale Avenue in Oakland.
On Aug. 31, 2022, a person died on I-80 in Richmond near Hilltop Drive. Shotspotter activation was detected.
On Sept. 12, 2022, police investigated a possible shooting on Highway 4 in Antioch in which a car with bullet holes was involved in a crash. A woman was injured by the bullets and her husband was injured in a subsequent crash.
On Sept. 12, 2022, a woman reported that her black Honda Civic had been shattered just before 10 p.m. on eastbound Highway 24 in Lafayette. She wasn't injured, but her car windows suffered damage.
On Sept. 21, 2022, a man was found dead in his SUV near the Fruitvale Industrial Center in Oakland in a shooting that authorities said began on the freeway.
On Feb. 1, 2023, a man was injured on the Dumbarton Bridge. 
On April 7, 2023, 5-year-old Eliyanah was killed on I-880 in Fremont as her family was going out to a birthday dinner in Milpitas. Three alleged gang members were arrested in connection with her death.
On April 12, 2023, a man was killed in a Toyota Tacoma truck off I-580 in Oakland at Lakeshore Avenue.  He was later identified as Claudio Joel Martinez, a father of four. What led up to the shooting remains unclear.